Press Sample
Affiliate Link
iFabbo Blogger
Hello my beautiful readers! It is time for another skincare review! This time, I dived into a complete system from
Rodan + Fields
. I get asked about Rodan + Fields quite frequently. In my stage of life as a stay-at-home Mom, direct sales companies like Rodan + Fields are quite popular. When the opportunity arose to try out a complete line from Rodan + Fields directly from the brand, I really couldn't pass up the chance! So, I am so glad that I was finally able to experience some products for myself and I am ready to report my findings to you lovely readers!
About Rodan + Fields:
Rodan + Fields
is a Dermatologist-created line from Dr. Katie Rodan and Dr. Kathy Fields, the creators of Proactiv® Solution. Originally launched as a department store brand, the line is now only available through direct sales consultants. The products are available in a variety of "Multi-Med Therapy Regimins". These are specific regimins (with a variety of products in each) to tackle specific skincare concerns. They are designed to take the guesswork out of your skincare. They use a variety of effective and active cosmetic and OTC ingredients to produce results for your skin. Each kit is a 60-day supply with everything you need for your morning and evening skincare routines. There are 5 kits each targeting specific skincare concerns.
My Skin:
Before diving into my review, you might like to know a bit about my skin type and concerns! I am in my 40s. So, I am naturally drawn to anything that boasts anti-aging benefits. I am lucky in that I have very few fine lines, no major wrinkles, and overall my skin is in great shape. I do attribute this to my religious use of sunscreen and careful selection of skincare products! :) My skin is classic combo skin: more oily in warmer months and more normal in the summer. I get an occasional breakout on my chin, but that is rare. With that said, my skin is going through a post-baby hormonal phase and is a bit unpredictable! My skin is sensitive and prone to redness.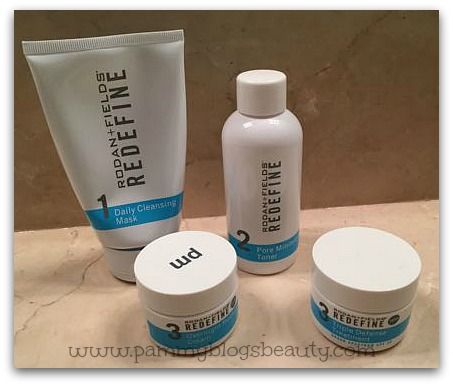 For my introduction to
Rodan + Fields
, I tried out the
REDEFINE
kit which is a "Regimen for the Appearance of Lines, Pores, and Loss of Firmness." This 4 product kit is designed to produce firmer, smoother, and more flawless-looking skin. I also tried out the
REDEFINE Acute Care
patches which are add-on products to the basic REDEFINE kit. To find out more details about each product in the kit and how they worked for me, please click "read more" below!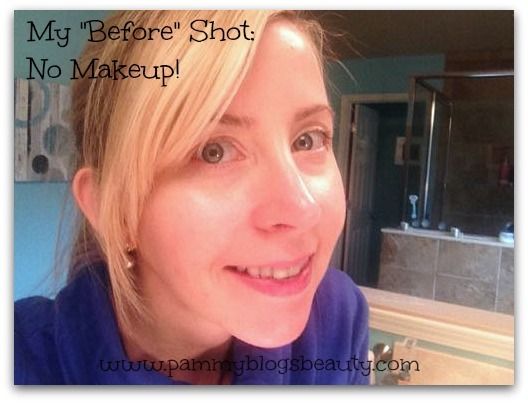 The REDEFINE Kit:
This kit is a complete system with ideally "everything" you need for your morning and evening skincare routines: Daily Cleansing Mask, Pore Minimizing Toner, Triple Defense Treatment Broad Spectrum SPF 30 Sunscreen, and the Overnight Restorative Cream.
This kit is designed as a complete regimen to target fine lines, pores, and loss of firmness. While firmness is not an issue for me, I do have some fine lines and have always had enlarged pores through the t-zone.
How is this kit going to work?
Here is the scoop: (from Rodan + Fields):
Refines skin's texture for spfter, smoother-looking skin
Effectively minimizing the appearance of pores by removing pore-clogging dead skin cells
Reduces the appearance of lines and wrinkles
Hydrates and increases skin elasticity
Helps to visibly firm the skin
Contains antioxidants and provides effective photostable broad spectrum UVA/UVB sunscreen protection
Replenishes skin's natural moisturizing factors through vitamins A, C, and E and other vital skin nutrients.
The products come packaged together in a box with an instruction manual to take the guesswork out of using the system. Lets walk through the steps together and I will give you my product impressions along the way!
The Steps:
Step 1:
REDEFINE Daily Cleansing Mask
:
This is a new concept for me...a mask that also does double duty as a cleanser (or vice-versa). It is a somewhat creamy kaolin clay-based cleansing mask. I love facial masks. However, I don't do them as much as I should as it is an extra step in my skincare routine and I often feel short on time. So, I love that about this cleanser/mask...since cleansing and masking is one step, it takes no extra time! Plus, the mask dries in just two minutes. To use, just wet your hands and then squirt mask onto fingertips. Then, I apply in circular motion gently massaging the mask on my skin and getting the benefits of the dimethicone microbeads that are in the mask for an exfoliation boost. Then, you just rinse off! It is designed to use in both the am and pm. However, I prefer to just use this at night. My skin is sensitive and I need to be precaucious about not over-exfoliating. It took awhile to get used to the feel of a mask for a "cleanser". It honestly is just a very different way to wash your face versus your basic gel or cream cleanser and water. To remove the mask, just rinse off with water. Sometimes I use a washcloth, too. The mask gets dry in two minutes. It is a dry feel, but not overly tight on your skin. It does not rinse completely clean (I mean it gets you clean, but you feel a slight mositurizing residue left behind...but, no worries, Step 2 will take care of that).
Step 2:
REDEFINE Pore Minimizing Toner
:
Step 2 is an alcohol-free clarifying toner. The active ingredients are poly-hydroxy acids which work to gently remove any pore-cloggers. I like how gentle this toner is. It is a soothing 2nd step after the cleansing mask. Plus, I feel like it removes any residue left behind from the Cleansing Mask. I just swipe this on with a cotton round all over my face. I even bring it down on my neck area, too (I mean, why not? That area ages, too! I need to start paying attention to it!).
Step 3 (daytime):
REDEFINE Triple Defense Treatment
:
This is the Step 3 for Daytime. I must say, this is one of my very favorite products in the regimen!!! I am always looking for a super creamy and hydrating day cream. I feel like that is always my best bet as far as protection, moisture, and providing a nice base for my makeup. This day cream has such a luxurious feel. I feel like it plumps up my skin nicely and does not leave me shiny. I really adore it! In addition to an SPF of 30, it is also packed with skin-loving peptides for anti-aging benefits. The cream also has optical brighteners to visibly reduce flaws and hyaluronic acid to moisutrize and plump skin.
Step 3 (nighttime):
REDEFINE Overnight Restorative Cream
:
This is your Step 3 for Nighttime! The REDEFINE Overnight Restorative Cream is a super rich and luxurious-feeling nighttime cream. It is ultra-hydrating and formulated with ingredients like peptides, niacinamide, hyaluronic acid, glycerin, and antioxidants A, C, and E. I feel like this cream really plumps up my skin. I even notice a difference the following morning when I wash my face and it feels so smooth and plump.
Left side treated with Acute Care. Right side is un-treated.
You can see that my fine lines are more apparent on the right size
in my outer eye area
REDEFINE Acute Care
:
O.M.G! These Acute Care patches are absolutely amazing!!! Acute Care is currently, if I understand correctly, only available as an add-on when you purchase the REDEFINE Kit. If you are looking to buy the REDEFINE Kit, absolutely do not pass up on the opportunity to try out Acute Care. They work so well!
What is Acute Care? The Acute Care patches apply directly to your "trouble spots" to deliver concentrated anti-wrinkle technology right into your fine lines and wrinkles to plump them up and smooth them out. They contain "propritary Liquid Cone Technology" that melts "line defying" peptides and hyaluronic acid directly into the wrinkle. You will see immediate results with these as well as long-term results with continued use.
How to Use Acute Care:
A couple times a week, you apply Acute Care after washing your face. It is important that your skin has nothing else on it for the patches to adhere properly. I just stick the patches right outside my eye area where my "crows feet" expression fine lines are around my eye area. Then I proceed with my usual skincare steps avoiding the patches. When you apply the patches, you gently press in the patches. You can almost feel the ingredients penetrating your skin like an injection of sorts. You wear these patches overnight. When you first apply, it feels kinda like a band-aid...but, you will totally end up forgetting you are wearing them. They are not uncomfortable. In the morning, simply remove when you wake up. You will notice how plump your skin is underneath the patch! I first tried these on one eye only to compare results. There is absolutely no question that my treated eye area was much smoother and virtually line-free as compared to my un-treated eye. These are amazing! I have never had botox...but, these seem to deliver almost botox-like results! Seriously amazing!!! The other amazing thing? These patches only have two ingredients: Hyaluronic Acid (a humectant that plumps wrinkles and keeps skin super hydrated) and Sh-Oligopeptide-1 (reduces wrinkles and increases firmness and elasticity).
Don't mind my dark circles! My baby has been teething and I haven't gotten much sleep, lol!
Overall, I am pleased with my results with the
REDEFINE Kit and Acute Care from Rodan + Fields
after about a month of use. There are even some real stand-out products! I definitely feel that this system, as a whole, has worked to reduce the appearance of my fine lines and has refined the look of my pores. In addition, my skin almost looks more plump and is certainly even more even-toned (less blotchy and more porcelain). I wasn't expecting that! Awesome!!!
Breakouts???
The only drawback for me (besides the items being expensive), is that I did experience a few breakouts during product testing in areas that I don't normally break out like on my cheeks, by my nose, and even under my chin. I think there was a combination of factors at play and it is not necessarily the products, alone, that broke me out. I had a baby 13 months ago and, hope this is not too much TMI, but my cycle did return during this product testing and I know my hormones have been going wacky! With that said, these products are richly hydrating, and might be too rich for my t-zone area. I found that adding a benzyl peroxide product to spot treat around my nose and chin helped to alleviate my breakouts during product testing. Also, I know that Rodan + Fields has an UNBLEMISH Regimen as well. It is possible that I need to combine elements of the UNBLEMISH Regimen with the REDEFINE Regimen for best results.
Moving forward, I am gong to stick with a few of the products from the REDEFINE Regimen but not necessarily use the system as a whole. As much as I would love to use the system as a whole, the pricetag is very expensive and not necessarily in my budget (the REDEFINE Kit plus the Acute Care is $413). While I do love and use high-end skincare regularly, I purchase them one item at a time...buying a high-price kit is a lot of money up front versus buying items piece by piece as you need them. Does that make sense? So, while I am no stranger to high-end skincare, it seems less expensive when you buy items one at a time (even though the cost probably ends up being the same). However, if you do have the luxury to spend the money all at once, this kit might be a nice option for you!
From the REDEFINE Regimen, I particularly like the Pore Minimizing Toner, the Triple Defense Treatment Broad Spectrum SPF 30 Sunscreen, and the Acute Care patches. I really like the Daily Cleansing Mask, too; however, I might like it more as a treat to use every few days. I was absolutely amazed at my impressive results with the Acute Care patches!!! They are almost like getting an in-office clinical treatment...right in your own home! There is no question that I will continue using these patches (like forever!!! they are that good!).
Have you tried
Rodan +Fields
? I would love to hear about your experiences with the products and the brand. I honestly would love to explore the brand further! I think that they really do have some good products!
#EXPRESSYOURSELF
#iFabboMember
FB: @rodanandfields
Twitter: @RodanFieldsHQ
Affiliate Link