Affiliate Link
Press Sample
Hello Lovelies! It is time for another beauty box opening! Aren't these fun? :) This time, lets take a peek inside
GLOSSYBOX's December and January boxes
!
GLOSSYBOX is a monthly beauty sample subscription. You get a gorgeously wrapped box of luxury or boutique beauty brands delivered right to your door! The subscription is $21.00 a month with free shipping (in the USA). The beautiful GLOSSYBOX is like a decadent beauty present that you get every month! :)
To find out what was in my
December and January GLOSSYBOXes,
please click "read more" below! :)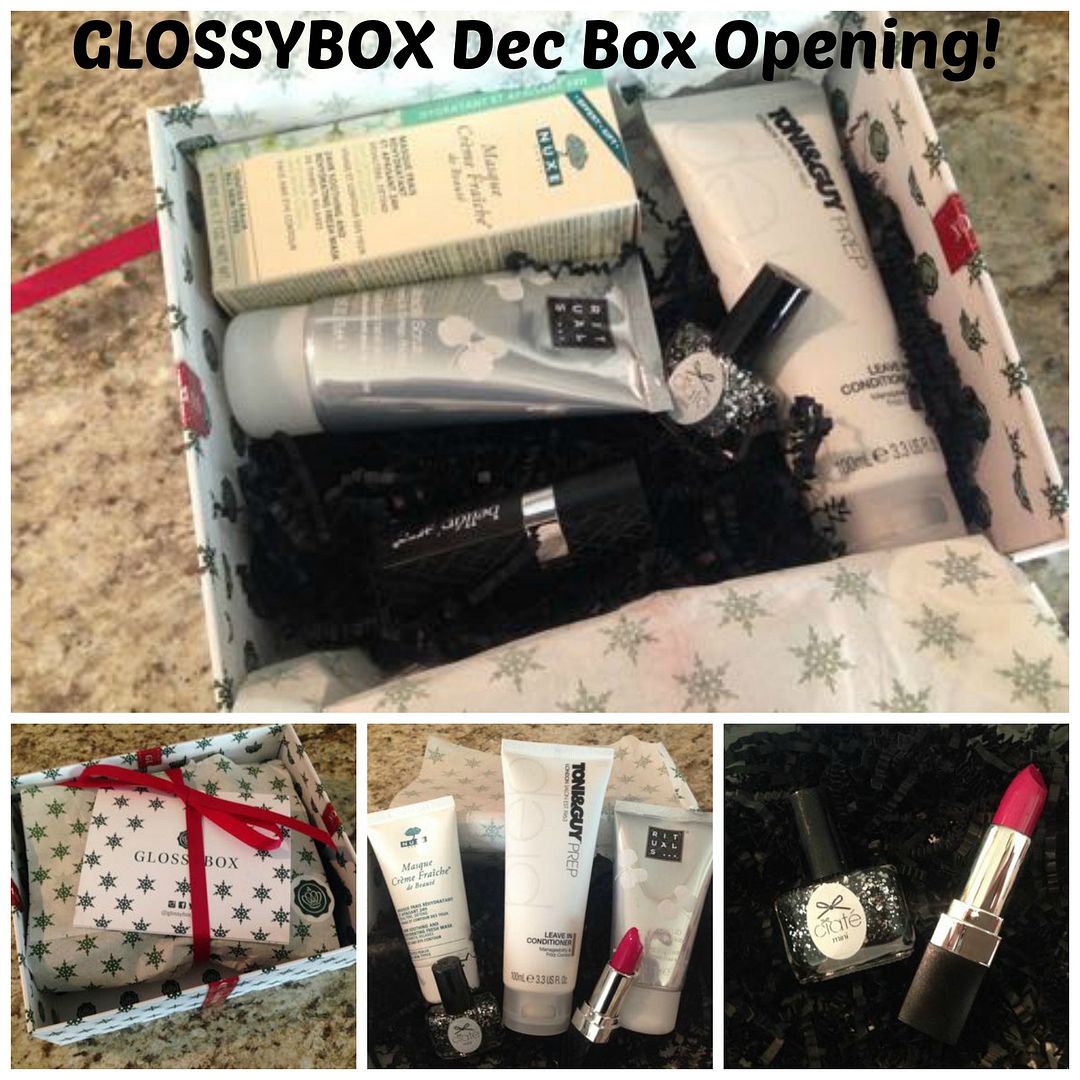 Inside the December GLOSSYBOX:
What an awesome box!!! Here is what I got:
Ciate | Mini Paint Pot in Hamburg: OMG! I have wanted to try Ciate polishes for so long! I am so thrilled to see this beautiful little polish!!! This multi-stranded, mulit-dimensional silver and black glitter can be layered for a 3D finish! (Full size is $10.00, sample size .17 oz)
Toni & Guy | Leave In Conditioner: This sample is full size! ($16.99 for 3.3 fl.oz.). As you can see, this product alone almost pays for this December box! :) I am just starting to explore the Toni & Guy line and am really impressed with their products. So, I am thrilled to try this one! I like the soft and clean scent. For the perfect pre-styling foundation, protect and prime strands with this leave-in conditioner. Inspired by a hair stylists' needs and created for all-day nourishment, this winter-combating formula helps taame frizz and improve manageability.
Bellapierre Cosmetics | Mineral Lipstick in Burlesque: I just love getting lipsticks in sample boxes! Especially when they come in a pretty fuchsia shade like this one! :) This lipstick is *full size*, wow ($19.99 for full size .12 oz lipstick)! The perfect pairing for your little black dress can be found in this little black tube. Formulated with natural pigments, iron oxides, and antioxidants, this silky, 100% natural bright fuchsia shade will last for hours, and is formulated without any of the bad stuff.
Nuxe | Masque Creme Fraiche de Beaute: Oooooh! A mask! Just what I need. My skin has been so dry. So, I am super excited to try out this moisturizing mask from Nuxe. I have sampled a product from this brand before. So, I am eager to explore the line further! This sample is full size as well, incredible! (full size $32 for 1.7 oz)...are you doing the tally? This box is worth $79 already and we aren't even done going through the samples! Get hydrated fast with this skin-calming rescue treatment, full of moisturizing ingredients like plant milks and aloe vera sap. Featuring the fresh scent of orange blossom, this hypoallergenic mask provides up to 24 hours of intense relief from winter weather.
Rituals Cosmetics | Miracle Scrub in Ginseng & Ginko Bilboa: oooh! I love Rituals! Have you ever tried products from Rituals? They smell sooooo good and are so luxurious! This hand scrub looks amazing! Talk about heaven scent! From the Dutch beauty brand, centered on turning daily routines into meaningful moments, comes this delectable hand scrub which combines the energizing properties of ginseng with nourishing ginko biloba for the softest hands possible. (Full Size $17.00, 2.5 fl.oz).
Inside the January GLOSSYBOX
:
The December GLOSSYBOX was so good, that (of course) I had high hopes for the January box. Did GLOSSYBOX meet my high expectations? I am happy to say yes (a thousand times YES, lol!). :) Lets dive right into the box, shall we?
Skin&Co Roma | Truffle Therapy Serum: Oh truffles, how I adore eating you...So, of course, I am curious about a truffle serum! This .17 fl oz sample is generous (full size is 1 oz and $80)! The Italian beauty brand, centered around the undiscovered beauty properties of the delectable truffle mushroom, utilizes potent skin-renewing ingredients in its signature collection. Carefully handcrafted in Umbria Italy, this complexion-perfecting serum brightens and firms skin on contact, fades fine lines, softens rough patches, and leaves behind a dewy, fresh-faced finished. Wow! This product sounds perfect! Can't wait to try! :)
Teeez Trendy Cosmetics | Beautiful Flat Brush Stiff: Wow! What a beautiful brush! This is a gorgeous short handled/travel size eyeshadow brush. The shape and size of the brush hairs are perfect for shadow application for the lid! I love using this exact size as it fits the shape and size of my lids very well. I am so excited and happy that this pretty brush was included in the box! I have never heard of this brand, have you? Made of premium quality natural hair and fitted with round edges, this soft shadow and liner brush features smooth, firm bristles which flawlessly apply powder and cream formulas to both upper and lower eyelids. (Full size, retails for $23.50)
Kueshi | Revitalizing Face Toner: Yay for another full-sized product! This one retails for $13.30. I can always use another toner. This beauty secret from Spain promises to re-balance skin with a blend of liquid moisturizers like aloe leaf and flower extracts. Designed to control shine in oily-prone areas and soften dry spots, this toner will leave skin feeling fresh and perfectly clean.
Vichy | Purete Thermale 3-in-1 One Step Cleanser: I love Vichy!!! Super excited to try out another product from this line! This is a generously sized deluxe sample (the full size costs $19.50 for 6.7 fl oz). The idea of a 3-in-1 Cleanser/Toner/Makeup remover really appeals to me. I hate doing multiple steps to simply wash my face. This product promises to do the work of 3 products. Word! Vichy's multifunctional, on-the-go formula acts as a cleansing milk, toner, and makeup remover in one. Named 2014's Best Cleanser for Normal Skin by Allure's Best in Beauty, it features a creamy, yet lightweight formula designed to leave skin purified and throughly cleansed with or without water (what???).
Lollipops | Eye Pencil in Goodbye Moon: Eyeliners seem to be a common addition to beauty boxes. Hey, we all use them, right? This is a retractable black pencil liner. I have never heard of this brand. So, I am curious to try it out. Bummed that the tip came smooshed. Oh well! This retractable midnight black pencil features a long-lasting, intense formula with a metallic finish. Enriched with Vitamin E to nourish the delicate skin around the eye area, it also is super smudgable for an on-the-go smoky eye. Full size! Retails for $17.70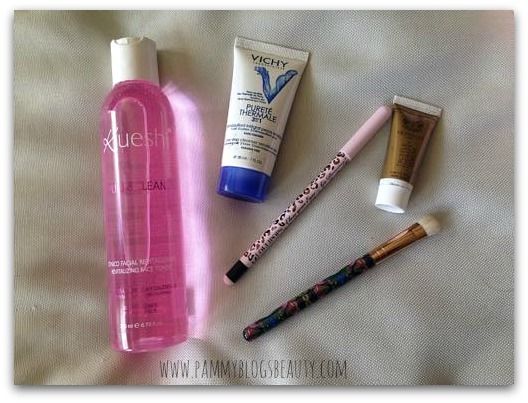 Overall, I loved the
December and January GLOSSYBOXes
! I think that the products were a really amazing value for $21 considering the price point of the items and the samples were very generously sized (or even full sized)! The box values were upwards of $80+ for a $21 price point. Amazing!!! Not to mention, these products are from such luxe brands. This box really is a high-end beauty lovers dream box! :) Also, in comparision to other beauty sample boxes, GLOSSYBOX really takes the cake with the beautiful packaging. The boxes are extremely sturdy and totally reusable. The December (and January) GLOSSYBOX boxes are all sold out. However, you can sign up for next month's box!
Affiliate Link