Affiliate Link
Press Sample

What Is Fab Fast Friday?
As ya'll know, I tend to get lengthy and sometimes overly verbose with my reviews. LOL, clearly a makeup and beauty-obcessed girl like myself can talk *all day* about any given product. However, often my readers are in search for the Skinny review: the Down n' Dirty straight talk on a product. Did I like it? Do you need it in your life? Where can I get it? How much does it cost?
Fab Fast Friday is my way of delivering to you short n' sweet reviews (and GIVEAWAYS!) for products that are really standing out in my daily routine. These are products that you need to scope out! Some might be new releases...and some might be old favorites that have re-entered (or have always been in) my routine.
Pucker up with Softlips this Valentines Day!!!
I absolutely adore these little lipbalm cubes from Softlips! They really do make your lips so soft. Plus, the really are cute. I have these scattered throughout my house...sitting on counters, on my nightstand, etc. I find that having them out and available tempts me to use them more: the more that I apply, the more my lips get into better condition!
Three things come to mind when I think of Valentine's Day – Hearts, Chocolates and Kisses. For the perfect kiss, pucker up this Valentine's day with the Softlips Cube. Available in three fun flavors, Softlips Cube provides 5-in-1 lip care formula to hydrate, replenish, smooth, protect and add a subtle shine to lips, giving you kissable lips for Valentine's date night. Function meets fashion with the stylish glass-like shape that is the perfect size for any date night purse or clutch.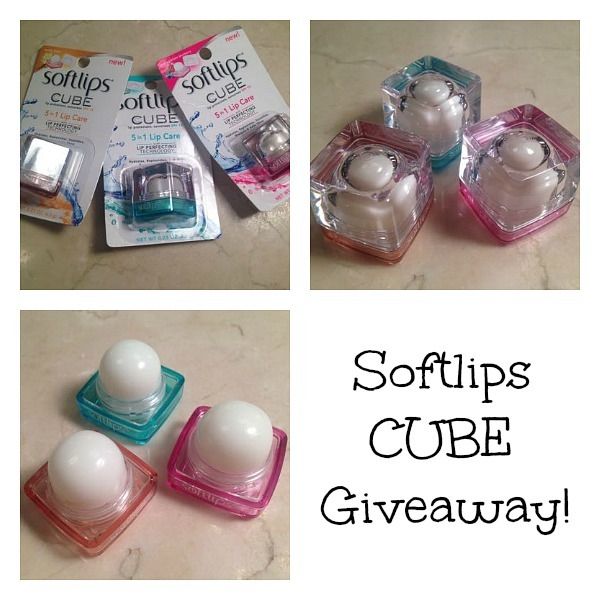 Guess what? For today's Fab Fast Friday, one reader will have a chance to win one Softlips Cube! To enter, please fill in the form below! Also, please note the Giveaway rules listed on the Rafflecopter form (USA only, ends Feb 27th, etc...please see form).
Enter Here:
a Rafflecopter giveaway
Affiliate Link