Affiliate Link
Press Sample
What better time of year to get sparkly and dazzle-y? One of my favorite affordable nail polish lines,
SinfulColors
, has some gorgeous new shades for this season! The best part? These beautiful shades are only $1.99 and they are exclusive to Walgreens for Holiday 2014! :) What great stocking stuffers!
From an assortment of gorgeous blues, to hints of gold, to stunning glitters, this collection gives you quite the variety of shades!

Holiday Faves:
Gilded: A transparent shimmer with gold & red
Ice Dream: Cerulean glitter with a translucent silver base
Lets Talk: Royal Purple
Out of this World: Perfect silver with swirls of glimmer
Pine Away: Metallic glittering tree green
Red Eye: Metallic holiday red
Snow Me White: The snowiest white
Sugar Sugar: A candy cane, red-hot red

Blues & Hints of Gold:
All About You: A sheer shade glimmering with gold
Cinderella: An illuminating pastel blue
Endless Blue: A deep wave of cobalt
Gold Medal: The perfect metallic gold
Hotttie: Clear azure blue twinkling with silver
Ice Blue: soft indigo exploding with silver sparkles
Midnight Blue: The deepest blue indulgence
Decked with Glitter Flakes:
Decadent: Dazzling red metallic flakes
Galax-Sea: Magical green flakes
Holiday Rebel: Green & Red flakes laced with black
Twilight Twinkles: Brilliant flakes of Gold
Unwrap me: Decorative black & red flakes
To find out more details about the polishes I tried and see swatches, please click "read more" below! :)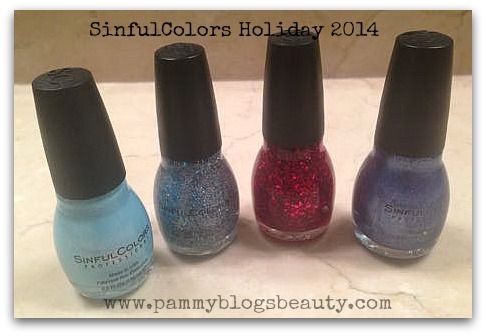 I was able to try out 4 shades from this
Holiday 2014 Collection
:
I absolutely love all of the polishes that I have tried from this collection! I am especially obcessed with blue polishes and glitters right now. So, this assortment was just perfect for me!
Decadent: From the "Decked with Glitter Flakes" Collection, Decadent is a sheer polish with red metallic microglitter and chunky round glitter. It is great for a sheer glittery look (that you can build for more glitter coverage) or for a glittery topcoat.
Ice Blue: From the "Blues & Hints of Gold" Collection, Ice Blue is a gorgeous indigo with silver sparkles. Very pretty and unique.
Cinderella: I am wearing a combo of this polish and Ice Dream in the nail look above. This is my go-to manicure lately. I will fully admit that this look was inspired by my daugther's Frozen-themed b-day party! ;) It is perfectly festive without being the typical red and green for this time of year. I totally love this look and people always compliment it! :)
Ice Dream: This really is one of the prettiest glitters in my collection. The transluecent silver with blue glitter is gorgeous layered on its own (I like 2-3 coats) or as a topper over another shade. So pretty!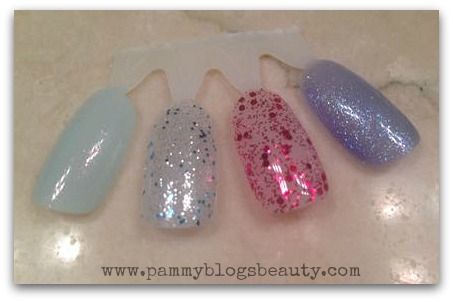 Have you seen any of these gorgeous
Holiday 2014 SinfulColors
polishes at your local Walgreens? Which ones are you wanting to try?
Affiliate Link