Affiliate Link
Press Sample
Introducting
Scentbird
: A Monthly Beauty Subscription for Perfume!!!
Beauty Sample Subscriptions are everywhere! I will fully admit to being a complete beauty sample subscription addict. However, how many does one really need? Plus, I am really satisfied with my current rotation of beauty sample boxes. With that said, Scentbird really does offer something unique and different...a monthly service for perfume! A fragrance-lover's dream!
I do adore perfume and love trying new ones. However, perfume really is expensive! As much as I enjoy little sample vials. They are really too little to use more than a handful of times. My other beauty boxes offer these little glass vials but those only offer a few uses.
Well,
Scentbird
has found a genius way for fragrance-lovers to really try a scent: 8 ml. purse-size vials filled with 100% authentic designer perfume that fit into a travel-friendly case. These vials are sent out monthly and provide enough perfume to keep you scented all month long!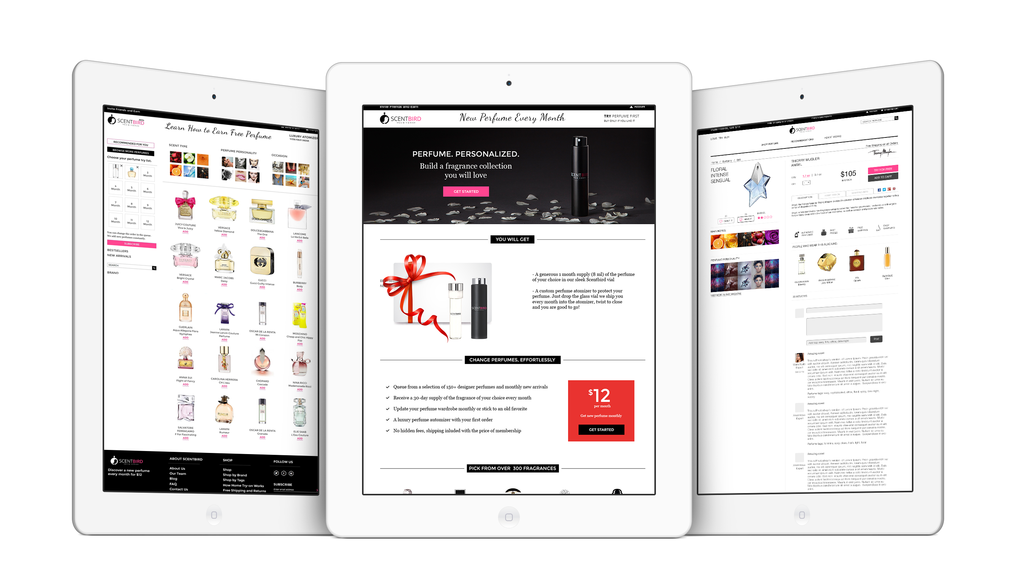 The Scoop:
Just $14.95 a month gets you a 30-day supply of a designer perfume of your choice right to your door. Choose from 300+ top brands. The selection really is amazing! They have many scents that I have had my eye on for quite some time!
The perfume you select comes in a sleek purse-size spray that is super portable. Each month you just swap out the old scent and pop the new one into your Scentbird purse spray container.
Scentbird
was born out of the frustration with the "perfume graveyard"- all those scents you once loved but got tired of wearing, all those scents you got as presents and never really loved, all gathering dust on your dresser.
"
60%
of women who wear perfume switch between multiple fragrances. In fact, the
#1 reason
women buy perfume is to get something new or di
ff
erent,"
says
Mariya Nurislamova, Scentbird's CEO
.
Go to www.scentbird.com and answer a few quick questions.

Scentbird

gets to know your scent preferences in minutes. You can search for something in particular that you have been wanting to try...or you can go with their monthly featured selection.

Set up a "Perfume Calender". Think of this like your trusty "Netflix queue. You can add favorites here if you like to be consistant or switch it up by adding new fragrances each month (Scentbird is always adding new scents!).

$14.95 gets you a monthly purse spray. You get a complimentary perfume case with your first order.

Drop purse spray into the case, twist and it's ready to go.

Shipping is free and you can cancel anytime!
Curious to find out what scent I got from Scentbird this month? To hear that info and get my discount code, please click "read more" below!
Aquolina by Pink Sugar:
So, what did I choose for my first Scentbird experience? Aquolina Pink Sugar Sensual. I actually have never smelled this scent before. I choose it completely based on the quiz on the Scentbird site. I love how the site helps you to select scents based on fragrances that you already love and fragrance categories that you like. My favorite perfume ever is Angel by Thierry Mugler. Based on this, I know that I love deep sexy scents with notes of vanilla and chocolate. I also like sweet and woody notes, too. The result? I absolutely adore the seductive sweetness of this scent!
Top notes of the fragrance introduce sweet-tart sparks of black currant, tangerine and bergamot, as a fresh-fruity overture to a heart composed of orange blossom, light nuances of pink jasmine petals and tiare flowers. Base notes seduce with sweetness of vanilla, black sugar and woody accords of sandalwood.
OMG! I am so obcessed with this scent! I adore wearing it and really want to purchase a full bottle...or, plan to add this to my Scentbird queue to wear for another month! They really matched me with an ideal fragrance...not to mention, I choose it without even ever smelling it. I am amazed!
Great news for you readers...a Discount Code:
Scentbird is offering an amazing discount code for Pammy Blogs Beauty readers: 50% off discount for the first month's subscription (just $7.50) - enter BIRD50 at checkout (expires10/31).
What do you think of Scentbird? Does it sound like something that you would like to try? I think it is a great concept for a monthly service! Now you guys know me...I love the pretty packaging of perfume bottles. Do I miss the lovely bottles when using the Scentbird vial? Well, yes...BUT, I only miss using a pretty bottle momentarily. The true pleasure with fragrance is wearing the lovely scent all day! Plus, I must say, I am completely sold on the Scentbird travel vial! I really like being able to take my scent with me to refresh during the day.
Affiliate Link