I Bought It
Press Sample
Affiliate Link
Blogger Ambassador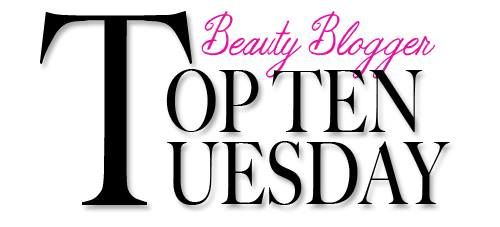 It is time for another edition of Top Ten Tuesdays. This time the Top Ten Tuesdays bloggers are sharing their Top Drugstore Products! As a drugstore barganista-at-heart, I not only had fun making my list, but also I am excited to see what my fellow bloggers picked!
I don't know about ya'll, but I keep running makeup "wish lists" on the notes app on my phone. I have both drugstore and Sephora/Ulta lists. Whenever I hear of a great product, I add it to the list. That way, when I am out shopping I always know what I want to look for. Scrolling through these Top Ten Tuesdays posts are a great way to see what beauty bloggers are using and loving. So, get out those lists ladies (and gents) and enjoy reading through these Top Ten Drugstore Products posts. :)
To find out all the details about my list, click "read more" below! :)
My Current Top Ten Drugstore Products:
First of all, I must say that there are soooooo many products that I love from the drugstore. Narrowing the list to only 10 items was really difficult! I could have easily listed 30 things that I really love. However, I am playing by the rules here and only picking 10. ;) These are my current Top 10 Drugstore Products. These are items in my everyday beauty routine that I really love and adore!
CoverGirl LashBlast Clump Crusher Mascara: I *heart* drugstore mascaras...especially the ones from CoverGirl! I replace mascaras so frequently that it really makes more sense for me to purchase them from the drugstore. I adore the whole LashBlast line. The Clump Crusher version is my newest fave from CoverGirl!
Aveeno Daily Moisturizing Lotion: This body lotion is a total staple product for me. It moisturizes very well, soothes your skin, absorbs quickly, and is non-greasy. Love, love, love!
ecotools Concealer Brush: ecotools are my favorite drugstore brushes. They are so soft and are great quality! The concealer brush, which I got in one of these brush sets, is the one that I use everyday.
Aussie 3 Min Miracle: I have used and loved this since high school. High School people...that was a LONG time ago, lol! Anyways, I kinda forgot about it and have now "rediscovered" it again. There are quite a few different versions and I honestly like them all. Smells amazing, is super cheap, and works great! What else can a girl ask for? ;)
Herbal Essences Color Me Happy Cleansing Conditioner: I am so glad that the drugstore has jumped on the cleansing conditioner bandwagon. This is a great option for cleansing conditioner lovers from Herbal Essences! It smells great and is so affordable. I like using this in-between washing with regular shampoos. I like to wash my hair no sooner than every 3 days...so, if I end up needing to wash it before the 3 day mark (you know, if I have been to the pool or gym or something and just need to), I reach for this!
RoC Hexinol Multi Correxion 5 in 1 Daily Moisturizer: This 5-in-1 daily moisturizer with SPF from RoC is a true multi-tasker. You get moisture, anti-aging benefits, SPF, and more all in one step! I religiously apply SPF to my face every day and I love using SPFs that pack an anti-aging punch. RoC is one of my go-to drugstore brands for skincare. Their products are research-based and give results! I really love using this moisturizer!
Milani New Bella Eyes Gel Powder Eye Shadow: OMG! These new gel-powder eye shadows from Milani are amazing! Certainly the best you can get at the drugstore! These come in a full range of shades, have aweseome texture and pigmentation, and just look gorgeous on. I really love these and am reaching for them constantly!
Milani Baked Blush: These are old favorites that I am continuing to love! I probably have the whole collection. I like Luminoso the best (my Holy Grail blush shade!!!) and am also really enjoying the new matte shades Delizioso Pink and Bella Rosa (with a light hand).
Jergens Natural Glow Firming Daily Moisturizer: I use this 4-5 days a week on my legs. Sometimes I use it on other body parts. However, I primarily just want a little bit of color on my legs. While I like many of the Jergens Natural Glow products, I like to use the Medium-Tan version of the Firming Daily Moisturizer the best. As much as I love the results of a full self-tan with a regular self tanner, I just find these gradual moisturizers easier to use since you just apply them as you would a normal lotion.
AmLactin Foot Cream: My feet always struggle with dryness, rough skin, and callouses. However, after my recent beach trip, my feet got really dry and cracked (I know, ewhhh!). I was "this close" to going to a Dermatologist before just deciding to apply this AmLactin both day and night. I have always liked this cream and have mentioned it before. However, it was seeing the results this month that really cemented it as a favorite for me. Using it twice a day has completely reversed the dryness and cracking on my feet (previously, I only used it a few times a week). Amazing results!!!


What are your current Drugstore favorites? I would love to hear!

Be sure to check out what my fellow Top Ten Tuesdays bloggers picked for their favorite Drugstore products! :)