Press Sample
Affiliate Link
Blogger Ambassador

Beauty Box Five: August Box Opening!
Hey Beauty Box lovers, it is that time again...time for my monthly Beauty Box Five Box Opening Post! As a huge fan of beauty sample boxes, I always eagerly await their arrival. It is always interesting to see who has the "best box" each month. Not to mention, I love discovering the beauty gems inside.
Beauty Box 5 is a monthly subscription service that delivers 5 cosmetic samples to your door for $12 a month.
The samples are all deluxe and sometimes the boxes include full-sized products, too! Shipping is free on every box. :) When you subscribe to Beauty Box 5, each month you get a beauty box delivered right to your door! The boxes contain a mix of makeup, beauty accessories, skincare, fragrance, bath& body items, and nail products (Not all of these this month, but something from those categories). Beauty Box 5 is a great way to discover new products or get yourself out of a cosmetics rut!
This month's theme is "Radiant and Remarkable". Summer is almost over and Beauty Box 5 wants to add some finishing touches to your routine to carry you through till Fall: beaming skin, dazzling lips, and lustrous locks will keep you glowing! :)
To find out more details about what is inside the box, please click "read more" below! :)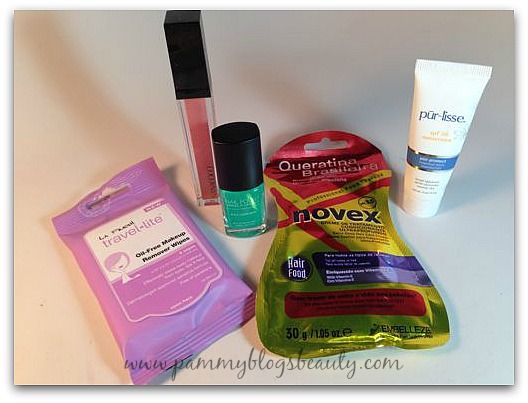 Inside the Box:
Purlisse | Pur Protect SPF 30 (Sample size: .5 oz, full size $55.00 for 1.7 oz): I always appreciate deluxe samples of high end skincare in my beauty boxes. Hey, skincare is pricey and this is a great way to try it out! I am religious about facial sunscreen application and am always looking for great ones that play nicely with my skin. So, I am super excited to try this out! #purlisse
La Fresh | Travel Lite Makeup Remover Wipes (sample size: 8 wipes, full size 48 wipes $19.99): I can always use some makeup wipes! I like carrying travel sizes like this on vacation so that I don't have to take my whole bottle of remover. These take off all my makeup without irritation. Plus, they smell great!
Nanacoco Lip Gloss (Full size sample! Retail $3.99): This is a new brand for me! I got this gloss in the shade "Secret Crush" which is a frosty nudish light peachy pink. The formula seems thick and slightly sticky and carries a vanilla-like scent. Looking forward to wearing this!
Novex | Brazilian Keratin (sample size: large foil pouch, full size $19.50 for 2 lbs): This product looks interesting! I have dry/highlighted/damaged hair. So, I am always looking for good conditioners and hair treatments. While I wish that the sample was larger (this is a single use packet), I am excited to try it out.
Style Essentials | Nail Polish (I believe this is a sample size polish .25 fl oz, full size is a 4-polish collection for $7.00): Another new brand for me! Nail Polish is my favorite item to get in a beauty box! I don't see a shade listed on this polish? It is a bright teal blue. Very Summery. This color will look pretty on my toes.
So that is this month's Beauty Box Five box! A little bit of everything: facial SPF, makeup remover wipes, lip gloss, hair treatment, and nail polish...yes, very well rounded! I am certainly being introduced to new brands and trying things out that I might have otherwise overlooked or not seen.
Thanks for reading!
XOXO!
Affiliate Link