Press Sample
Affiliate Link
Blogger Ambassador

Hey Beauty Box lovers, it is that time again...time for my monthly Beauty Box Five Box Opening Post! As a huge fan of beauty sample boxes, I always eagerly await their arrival. It is always interesting to see who has the "best box" each month. Not to mention, I love discovering the beauty gems inside.
Beauty Box 5 is a monthly subscription service that delivers 5 cosmetic samples to your door for $12 a month.
The samples are all deluxe and sometimes the boxes include full-sized products, too! Shipping is free on every box. :) When you subscribe to Beauty Box 5, each month you get a beauty box delivered right to your door! The boxes contain a mix of makeup, beauty accessories, skincare, fragrance, bath& body items, and nail products (Not all of these this month, but something from those categories). Beauty Box 5 is a great way to discover new products or get yourself out of a cosmetics rut!
To find out more about what is inside this month's Beauty Box Five box, please click "read more" below!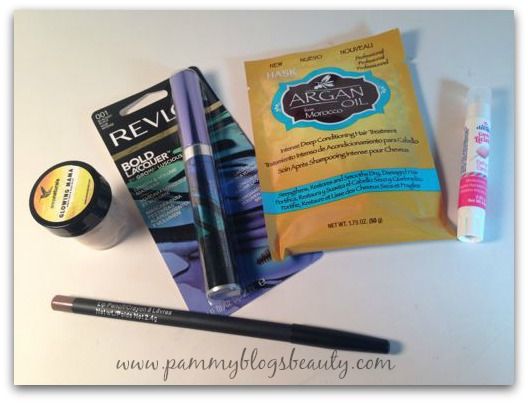 Beauty Box Five: July "Defining Moments" Box:
This month, Beauty Box Five wants you to celebrate the events that have made you the woman you are today! Treasure these amazing accomplishments, big or small, and celebrate! :)
Inside the Box:
Revlon | Bold Lacquer Mascara (Full Size! Retails for $7.99): Yay for a Full Size mascara!!! Mascara is the makeup item that I purchase most frequently (since you need a fresh one every 2-3 months because of bacteria). So, I am always happy to see mascara as a sample. I must admit, it has been awhile since I have used a Revlon mascara. So, I am super excited to try this new "Bold Lacquer" Grow Luscious version from Revlon. I have tried other Grow Luscious mascaras in the past and liked them (although they did tend to smudge on me...will have to see if this one does or not). This formula promises to actually "lift" lashes...therefore no need to curl. Wow! That sure would be a time saver. Can't wait to try this! :)
HASK Argan Oil | Intense Deep Conditioning Treatment (Full Size single use packet. Retails for $2.49): While this is a foil packet, it is still a full size treatment. You actually might get two uses out of this packet depending on how long your hair is (BB5 Suggests that you can get 2 uses). It will probably be single use for me since my hair is so long and thick. This treatment was designed for dry/damaged hair (me!!!). The results are supposed to last up to 2 weeks. I am seriously going to use this today! Update: I used this in the shower this morning. I applied after washing my hair and left it on about 5+ mins in the shower. I actually was able to use half of the packet for my hair. I absolutely loved the results! I found my hair to be very easy to style after with reduced frizz and increased shine and manageability. Love this hair mask!
Body Drench | Candy Licious Lips (Full Size! Retails for $3.99): I don't know about ya'll...but, I can always use a lip balm. Always! I have never heard of this line. However, I am already loving this lip balm as I am applying it right now. ;) It has a delicious cotton candy scent. If you like super sweet smelling balms, you will love it. It is very moisturizing and feels great on the lips. The formula contains beeswax, coconut oil, and Vit E.
Anna Naturals | Glowing Mama Walnut Face & Body Scrub (small sample jar, full size retails for $10.99): This is a line for expectant Moms! While I am not longer expecting, I am still nursing my 6 month old. So, I find that I am still using a lot of "mama" lines as they are often designed for not only expecting, but also nursing Moms. This is a vegan scrub that provides gentle exfoliation without any harsh chemicals. Plus, it smells great! Excited to use this. :)
Star Looks | Lip Pencil in Bare (Full Size! Retails for $12.00): I have never heard of this line! This is a full coverage liner in a light brown shade. This looks quite wearable for everyday when I am doing a darker lip. Browns are not my usual shade for my lips. However, this color will be great for Fall. If I can't use it, I will pass it on to my Mom who loves brown toned lipcolor.
So, there you have it....the July Beauty Box Five box! Overall, a pretty good box. It has a nice variety sample-wise, is an incredible value considering the cost of the box, and introduces me to some new products and brands.
What did you think of your Beauty Sample boxes this month?