Affiliate Link
Press Sample
essence cosmetics, the #1 value cosmetics brand in the world, is known for high-quality products at incredible prices ($0.99 - $4.99). featuring a wide range of fun and fashionable items, essence carries on-trend lipsticks, lip glosses, eye shadows, mascaras, nail polishes, and nail art. in addition to its standard range, essence releases new and unique limited editions every season.

I got to try out an assortment of items from essence's new Spring/Summer 2014 Collection: NEW Lash Mania Reloaded Mascara, NEW Long Lasting Lipstick, NEW Get BIG Lashes in Triple Black, NEW Sun Club All-in-One Bronzing Highlighter, and NEW Stays No Matter What Eyepencil.
Let's check out this new Spring/Summer Collection from essence!!!
NEW Lash Mania Reloaded Mascara:
Essence's new Lash Mania Reloaded mascara features an
"elastomer" brush with star-shaped bristles which separates and grips lashes. The volumizing formula gives a false eyelash effect.
This mascara can build both volume and length while giving lashes definition. I am a total fan of this mascara! It did make my lashes look big and volumized while not smudging nor clumping. Plus, what a deal at $4.99 a tube!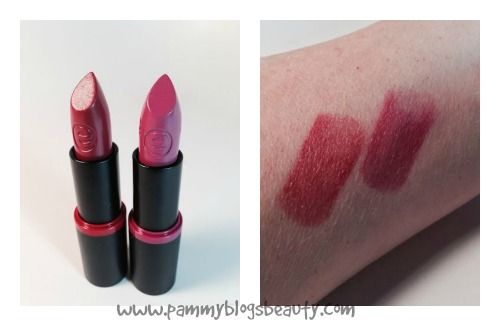 NEW Long Lasting Lipstick:
This smooth and creamy formula comes in 13 long lasting shades. It is a moisturizing formula that feels very good and smooth on the lips. My lips feel hydrated and soft while wearing this lip color. These lipsticks seem to have a very faint fruity-type scent. The packaging is basic and sleek. Overall, these are really fabulous from the $2.99 price. I love how these go on so smoothly and leave my lips feeling hydrated while giving them great color, too! I tried the shade #09 wear berries (a plummy pink) and #04 on the catwalk (a deep burgundy red).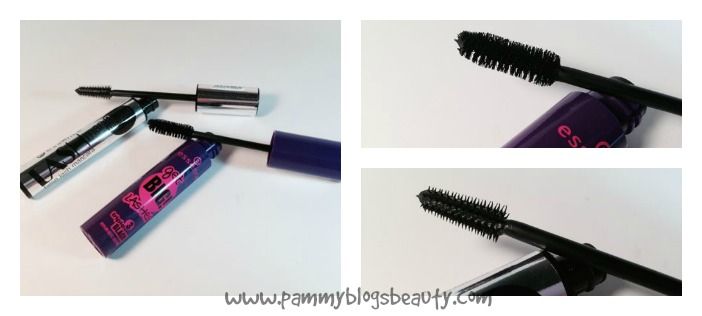 NEW Get BIG Lashes in Triple Black:
This mascara has a big fat fiber brush to give lashes great volume. The formula is an ultra rich carbon black. My lashes look much thicker and longer when I wear this. I am a fan of this mascara! I tend to love mascaras with these types of thick and fat brushes. Love the effect and it doesn't smudge nor flake on me. Another great mascara deal from essence at $3.99!
NEW Sun Club All-in-One Bronzing Highlighter:
Seriously, what a cute bronzer!!! Plus, it smells like coconuts! I love that! I tried the shade for "brunettes" (even though I am blonde, lol). It still worked on me. ;) This powder bronzer has a fun 3d pattern with different shades running through it. You can slightly adjust your color depending on how you swipe your brush through the pan. This product is like a blush, highlighter, and bronzer in one. The finish is luminous. I wear this either as a blush, bronzer, or a light dusting of overall color. I really like this! Retails for $4.49.
NEW Stays No Matter What Eyepencil:
This product is a winner of the "O-ward" from Oprah Magazine! So cool! This long-wearing chubby eye pencil can be worn as an all over color, a base, or a liner. Very versatile! The formula was truly long-wearing and waterproof on me. It did not crease either. I am very impressed with the performance of this product! Great for hot summer days! Retails for $2.99 each.
Giveaway from essence:
Essence has an exciting sweepstakes happening right now!
Click the link to enter to win
a $500 Walgreens gift card!
As you can see from the prices that I listed, essence is an absolute *bargain* at the drugstore...but, more importantly, you are getting really great cosmetics for the price! I continue to adore essence cosmetics and can't wait to see what they come out with next! For the price, you can justify indulging in some fun cosmetics trends without feeling at all guilty for your beauty spending. This is a brand that I really have fun with!