Affiliate Link
Press Sample
image source: Laura Mercier
Are you ready for Spring? I sure am! Seeing these lovely makeup releases for Spring 2014 have me wistful for Spring in the midst of this record-breaking cold Winter.
The inspiration for this collection is the Spring Renaissance: Spring brings a new day, a new beginning, and a new you! Its time to reinvent yourself with shades that shine and shimmer and colours that cast a happy, youthful glow.
The Overall Look of the Collection:
Warm and fresh tints of colour, with glowing, luminous skin
Cheeks are celebrated in fresh, pearly peaches and energetic corals
Sense of purity and innocence in the look
This new and limited edition palette includes four eye shadows in shimmering neutrals and two blushes in pops of colour to create the perfect look for the season.
Let me tell ya'll, this palette is gorgeous. I will admit that I swooned a bit when I first opened it! lol! ;) It has everything that I prefer in a palette: a sleek design, soft and lovely eyeshadow shades, pops of vivid cheek color...all in a slim and sleek palette design. Perfect!
Inside the Palette:
Lets start out by talking about the blushes. Holy moly, they are soooo pigmented! For my ultra-fair skin, I need to apply with an extremely light hand for them to look natural. I use a stippling brush and just lightly tap it against the blush powder and then apply to my cheeks. This allows for a light enough distribution of blush powder. These shades are total pops of color on my winter-fair skin! The blushes have a very subtle luminosity yet do not look shimmery on the skin. Blushing is a vivid coral and Awakening is a lovey soft peach. I am reaching for these blushes not just when I use the coordinating shadows but pretty much everyday! I love them!!!
Shades include:
- Pure Glow, a golden beige eyeshadow.
- Grace, a mauve brown eyeshadow.
- Innocence, a light pinky beige eyeshadow.
- Angelic, a light yellow/champagne eyeshadow.
- Blushing, a coral pink blush.
- Awakening, a peach-pink blush.
The shadows all have a satin/shimmer finish. These soft and pretty eye colour shades pair so nicely with the vivid blushes. I love wearing Angelic on inner corner and brow bone, Innocenceon the lid, and Grace in the crease. The only shade that I really don't use is Pure Glow (its a bit too warm-toned for my coloring).
Retails for $55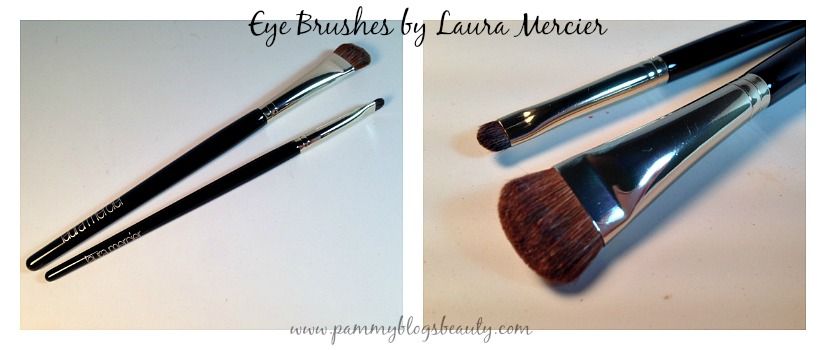 Recently, I have begun to explore Laura Mercier's brushes. As you would expect from Laura Mercier, the brushes are of fabulous quality!
Laura Mercier All Over Eye Colour Brush
: This is a very large eye brush with a flat head. It is perfect for application of base shades, washes of color, and application of browbone highlight. It is my new go-to everyday blush for brow highlight or quick washes of all-over color! It is so soft!!! Retails for $30.00.
Laura Mercier Smudge Brush
: Smudge brushes are such useful tools! This soft small brush is just perfect for getting precise color right at the lash line. I use it both for powder shadow application as well as for smudging out gel and pencil liners. Retails for $24.00.
Have you scoped out this new Spring 2014 Collection yet? What are you eyeing from the collection? Also, have you tried any of Laura Mercier's brushes? If so, which ones do you love? I think I might explore some face brushes next! :)

As always, thanks for reading! Lets hope Spring weather arrives soon!
XOXO!!!