Press Sample
Affiliate Link
Blogger Ambassador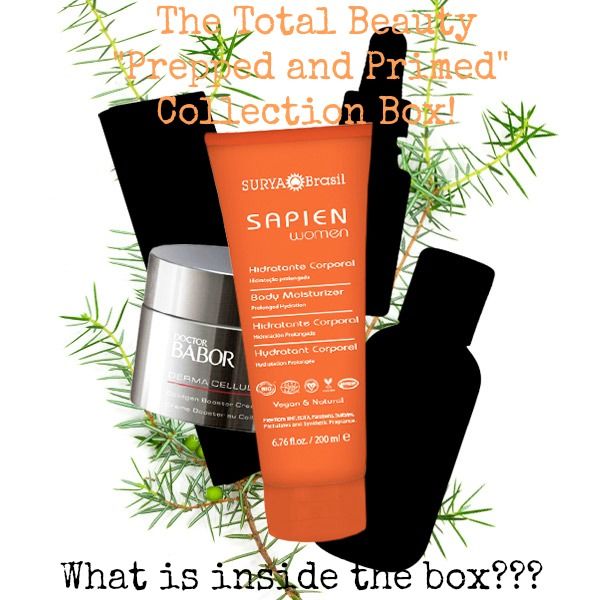 The Details:
The Prepped and Primed Collection by TotalBeauty.com is filled with beauty essentials to prepare and protect your skin during the winter season. It comes with 5 ALL NEW beauty products including 3 Full size and 2 Deluxe size products.
Over a $90 value + FREE Shipping
Cost: Only $30 before the Promo Code
The sale began on 12/13/13. There are a limited number of these boxes. Once they sell out, they are gone. So, don't delay if you are considering ordering! ;)
You can order a collection here: Total Beauty "Prepped and Primed" Collection Box
The
Total Beauty "Prepped and Primed" Collection Box
: Box Opening:
Wow!!! What an impressive box! I love that the product mix is peppered with both brands that I love as well as brands that are totally new to me. Plus, 3 full sized prestige brand products plus 2 deluxe samples for only $30? That is a very good deal. This is one of the best boxes that I have gotten from Total Beauty! :) Lets dig inside ladies!!!
Babor Collagen Booster Cream - Deluxe Sample, $46.25 value. The alternative to anti-wrinkle injections. Restructures the skin and plumps it up intensively from the inside. Reduces fine lines and wrinkles and inhibits the degradation of collagen fibers. Contains a hyaluronic acid complex, marine collagen and Collagen Booster Protein. I am soooo happy to see a Collagen cream. I don't know if it is just aging in general, my dry skin, being pregnant, or what...but, my fine lines are seeming a bit more apparent around my mouth. I just read in a magazine somewhere that Collagen creams help with this. What good timing! I really can't wait to try this cream. The sample is a .5 oz size glass jar. The cream is pretty heavily scented and has a nice creamy texture. While I wish the product was a little less scented, I am still very excited to give this product a try. I have never heard of Babor before, have you?
Surya Brasil Sapien Women Body Moisturizer - Full Size, $23.50 value. The ecofriendly Sapien Women Body Moisturizer is vegan, natural and rich in exotic organic Amazonian ingredients like Cupuacu and Murumuru butters, Pracaxi and Acai oils, Amaranth protein, Vitamin E and Aloe Vera juice that protect the skin and provide deep hydration. OMG! I adore the smell of this body moisturizer. Literally, the first thing I did when I opened this Total Beauty Collection box was open this tube and smell it, lol! It has an absolutely intoxicatingly good orange scent. Like, I want to it it ya'll!!! ;) My skin has been so dry lately with this cold weather. So, this lightweight lotion will be a treat to put on. This is another new brand for me. So far, I am impressed with this lotion at first sight.
Saint Germain Paris Eye Shadow - Full size ($5.99 value) Yay! A product from St. Germain! :) I have a couple items from this brand in my makeup collection. So, I am excited to explore the line further with this fabulous neutral/pinky palette. The palette has 5 nicely pigmented neutral or pinky shades that I would love to wear. Super excited! I think that the colors would appeal to many people and look good on a variety of skin tones.
Sibu Seed Oil - Full Size [$15.95 value) Major YAY for this product! As my regular readers know, I am a HUGE fan of Sibu Beauty skincare's natural and gentle products!!! The Sibu Facial Cleanser and Sibu Eye Cream are amongst my favorite products in my current skincare rotation! :) The whole line is designed around the Sea Buckthorn Berry. I am very intrigued by this Sea Buckthorn oil! I am really just starting to get into and explore facial oils. So, I am curious as to how Sea Buckthorn oil compares to other popular facial oils (like Argan). This rich oil carries the same pleasant "vitamin-like" scent that the rest of my Sibu products have. I can already see from inital testing on my hand that this oil is slow-absorbing. The Sibu site says to all 20 minutes to absorb and to apply before bed. Can't wait to use this tonight!
Cures by Avance Hydrating Body Wash - Deluxe Sample ($11.00 value) Here is another "new to me" brand! I am always happy to get a body wash sample as we go through these quickly in our shower. :) This deluxe sample is a generous 2 oz size. Perfect for travel! I like the scent. It is hard to describe, but very nice! It is a scent that I think both a man or a woman would enjoy. Looking forward to using this!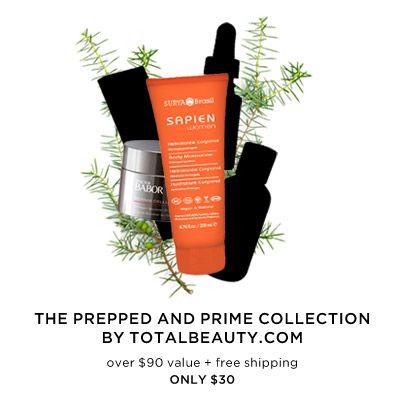 Giveaway:
The Prize:
One Winner will randomly be selected using the Rafflecopter form below. The winner will receive one Total Beauty Collection "Prepped and Primed" box.
The Rules:
You must be 18 years old to enter (or have your parents permission).
Prize is shipped directly to the winners by Total Beauty. Pammy Blogs Beauty is not responsible for items lost or damaged in mail/transit. Prize fulfillment is through Total Beauty. Prize is not redeemable for cash.
To enter the contest, you must fill out Rafflecopter form below. The winner will be chosen randomly through Rafflecopter. In the event of technical error, Pammy Blogs Beauty reserves the right to pick the winner. The entries will be verified as needed and individuals with multiple or falsified entries will be disqualified.
Only one entry per person. With that said, you may earn extra entries by tweeting, liking on facebook, etc on the Rafflecopter form (see details below on how to earn extra entries).
Contest is void where prohibited by law.
Contest runs from 12/26/13 - 1/3/14. Winners have 48 hours to respond to winning email from Pammy Blogs Beauty or a new winner/winners will be selected.
To Enter the Contest (required rules):
Please see the rules listed above.
1. You must be a follower/Subscriber of this blog in at least one way to enter. You have multiple ways to follow this blog: e-mail subscription, Google Friend Connect,
facebook
,
twitter
,
Pinterest
,
Google+
,
BlogLovin
, and
Instagram
. The more ways in which you follow this blog, the more chances that you have to win!
2. Fill out Rafflecopter form below.
3. Answer question in comment form below: What item are you most excited to try from this "Prepped and Primed" box?
4. You must like
Pammy Blogs Beauty's Facebook page
.
5. You must follow
Pammy Blogs Beauty on Google+
6. You must follow
Pammy Blogs Beauty on twitter
.
For bonus (optional) entries:

You can tweet about this giveaway (one time per day max please!). Please include a link back to this giveaway and @pammyblogbeauty

Do a Blog Post about this giveaway (must include a link back to this giveaway and giveaway photo/art)
Please let me know if you have any questions. Thanks so much for reading my blog! Good luck!!!
XOXO!!!