Affiliate Link
Press Sample
Hey Lovelies! I have a sale announcement and first impressions review for you today for the New Year
"Your Most Beautiful You!" 5-Piece Collection from IT Cosmetics
available starting December 28th on QVC! If you are an IT Cosmetics fan, this new collection might just be a must-have for you as it contains five *all new* for 2014 IT Cosmetics products!
The Collection Contains:
Heavenly Luxe Sensory Sweeping Fan Brush
Feel the Moment Anti-Aging Ultra Hydrating Sensory Awakening Primer Serum
Heavenly Luxe Double Airbrush Foundation Brush
Celebration Foundation Illumination
Eyelift In A Tube
To find out how I like this kit and to hear a bit more about each product, please click "read more" below! :)
New Year
"Your Most Beautiful You" Collection from IT Cosmetics at QVC
: Dec 28th's Special Value!!!
Box Opening and First Impressions:
As always, this Special Value kit is a great way to explore the IT Cosmetics brand! 5 Full sized cosmetics, skincare, and tools in one box. What a nice kit! The focus on this kit is clearly your skin. I strongly feel that great makeup begins with awesome looking skin. This kit should certainly help you to achieve that! :) Lets discover each product together!

This kit was sent to me in the shade "light" which is just a little bit too dark for my super fair skin. I think that I would be better suited with the "fair" version of this kit. So, if you have super fair skin like me, then you should consider ordering the "fair" shade.
Heavenly Luxe Sensory Sweeping Fan Brush: I am already a fan of IT Cosmetic's makeup brushes. So, I am always excited to see an IT Cosmetics brush in a kit! This fan brush was included specifically to apply the "Feel the Moment" Anti-Aging Ultra Hydrating Sensory Awakening Primer Serum (does this product have the longest name in history? I think so! lol! ;). Honestly, I have never applied a serum with a brush. This is an interesting concept! I think it might be extremely helpful to get the right amount of serum and to distribute it to the entire face. It seems as if it would allow for a precise application of a concentrated product. Plus, this brush is amazingly soft! It feels great when I brush it on my skin.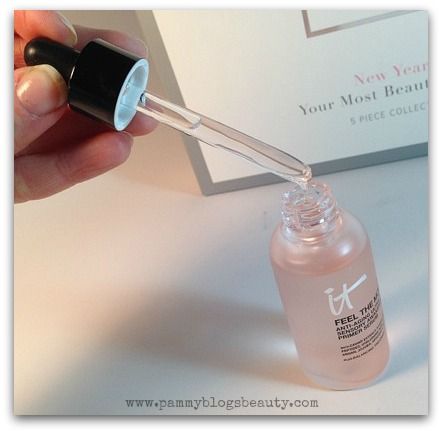 "Feel the Moment" Anti-Aging Ultra Hydrating Sensory Awakening Primer Serum: I love the idea of your primer doing double duty as a serum! This primer was designed to go over your moisturizer and under makeup. IT Cosmetics calls it a "Spa in a Bottle" because of its amazing ingredients like: Caviar Extract, Hydrolyzed Collagen, Hyaluronic Acid, Peptides, Silk, Vitamins A, C, & E, Deep Ocean Water, Argan, Jojoba, and Avocado oils. These ingredients work together to hydrate and prime your skin while infusing skin with anti-aging ingredents. The effect? A smoother and more airbrushed makeup application! The serum has a thick and slippery silicone-like primer feel. The primer carries a heavy essential oils scent. It is good that the kit includes the fan brush for application as I think this will help you distribute a small amount of product (too much would leave you looking and feeling greasy). The product does seem to take a few minutes to sink it. Once it does, it leaves you so soft!!!
Heavenly Luxe Double Airbrush Foundation Brush: The key to good foundation application is a great brush! This super soft brush is just the perfect size and shape for precise and flawless powder application. Plus, like all IT Cosmetics brushes, the brush is super soft!
Celebration Foundation Illumination: I am such a huge fan of powder foundation. Powder foundation is actually my foundation of choice! Just a simple sweep of a powder foundation seems to be the easiest way for me to achieve a flawless look with my skin. This Celebration Foundation is so nice!!! Like I mentioned above, I got sent the shade "Light" which is actually a bit too dark for my skin, I am realizing that "Fair" would have been the right shade for me. Shade aside, the actual formula is amazing. Like all IT Cosmetics makeup, this powder contains good-for-your-skin ingredients like Hydrolyzed Collagen, Peptides, and Antioxidants. The foundation gives you a nice candlelit glow with while infusing your skin with Niacin, Hyaluronic Acid, Rose, Silk, and Aloe. It gives great coverage while also being good for your skin!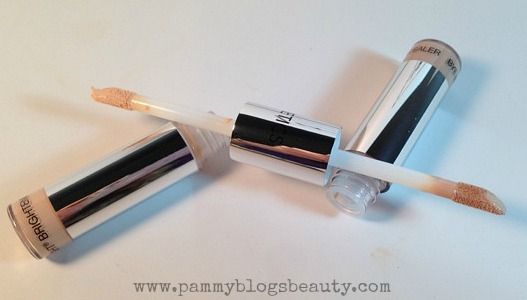 Eyelift In A Tub: This is such a cool product! It is a dual ended concealer and brightener: One side contains IT Cosmetic's famous "Bye Bye Under Eye Concealer" and the other side is the "Hello Light Liquid Brightener". Like the powder foundation, I got sent this in a light/medium shade and would be actually much better suited with fair. However, I can tell you that I am already a huge fan of the "Bye Bye Under Eye Concealer". The formula contains Hydrolyzed Collagen, Peptides, Niacin, and Antioxidants. Plus, the coverage is soooo good!!! You will totally eliminate even the darkest under eye circles with this super pigmented formula. Plus, it only takes the smallest amount to get great coverage. Then, take the other side of the wand to brighten and highlight your face with the Hello Light Brightener. Just apply it whereever you want light to hit your face: cheekbones, browbone, under eyes, etc!
Overall, this
New Year "Your Most Beautiful You" Kit from IT Cosmetics
is a fabulous deal! Not only is it a great introduction to the brand, but also if you are already an IT Cosmetics fan, you would love this deal, too! Fabulous brushes, a great primer, lovely foundation, and a fabulous dual ended concealer/highlighter!