Affiliate Link
Press Sample
Have you seen the new
Fall 2013 Collection from Pixi beauty
(
available at Target
, too!).
Pixi
really outdid themselves this year for the Fall season with a beautiful collection! I got a chance to try out quite a few items from the collection and am happy to share the scoop on these products with you lovely readers!
Here is what I tried out from the
Pixi Fall 2013 Collection
:
The Perfection Palette
Redness Reducing Primer
Crayon Combo
Nail Polish
Tinted Brilliance Balm
Fairy Light Solo Eye Shadow
To find out how I liked these products and to see tons of photos, images, and swatches, please click "read more" below!

Pixi's Perfection Palette:
I am quite a fan of this Pixi Perfection Palette! Not only is it packed with gorgeous shadows and face powders, but also it is in a extremely sleek and compact palette. What a fabulous deal for only $28. If you are new to Pixi, this would be a great introduction to the brand. :)
This palette has everything you need for face and eyes: eye shadows, blush, bronzer, and highlighter. Specifically, there are 16 eyeshadow shades, 3 blushes, and 1 bronzer, and 1 highlighter. The eyeshadows are a beautiful range of neutrals with a soft and semi-luminous finish. The shades range from light-to-dark and tend to be on the warm side of neutral. I find these shadows to be soft and decently pigmented. The 3 blush shades are extremely natural and have a soft luminous finish as well. There is a rosey pink shade, a cool toned light-medium pink, and a super light peachy pink (this can almost be used as a highlighter). Finally, there is one matte highlighter (a buttery vanilla shade) and one matte bronzer (a medium warm brown).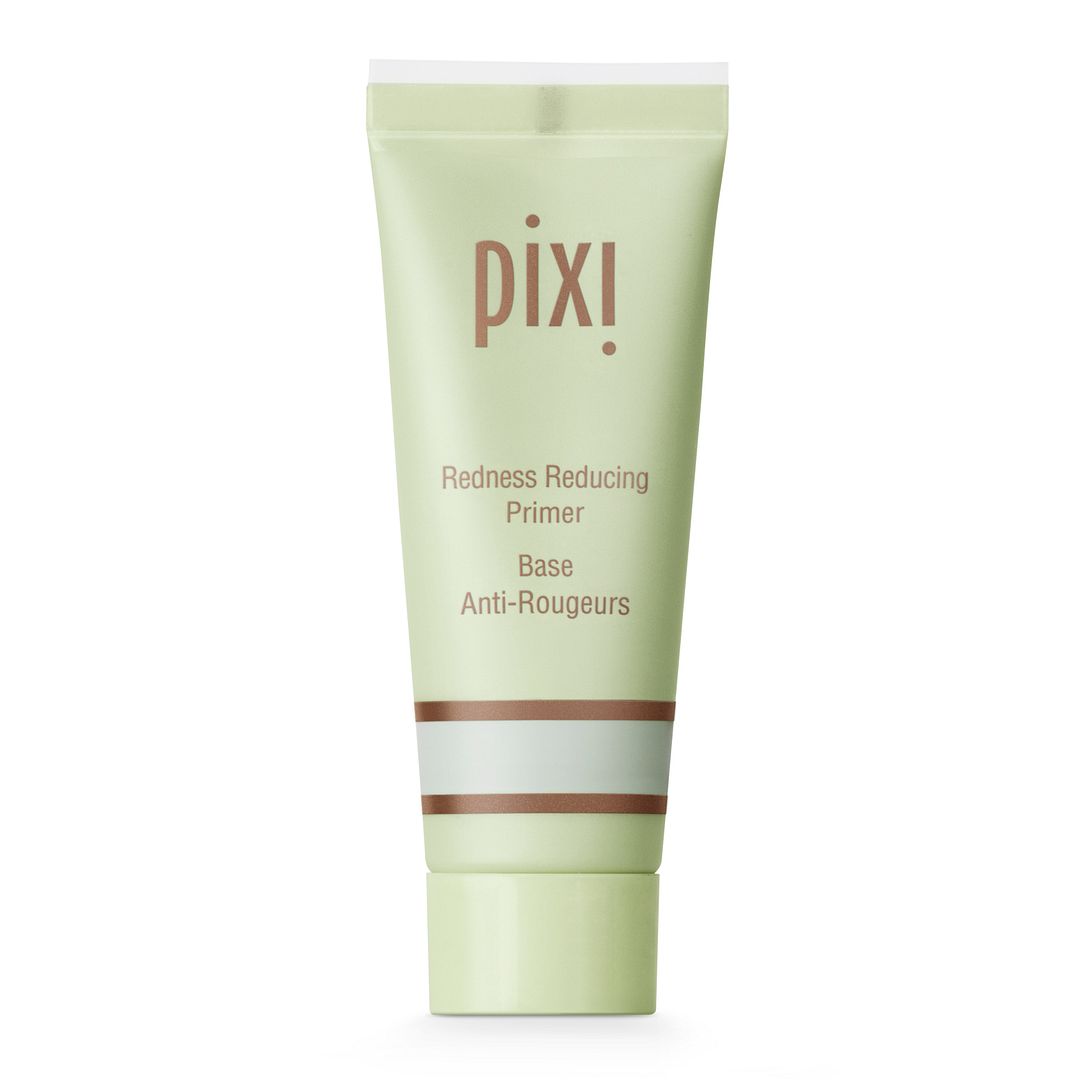 Pixi Redness Reducing Primer
:
This primer looks fabulous! I wish I could try it right now. However, it contains Vit A, which is an ingredient that I am avoiding while pregnant. I will tuck this item away to use after the baby is born!
Here is some info about this primer straight from Pixi:
Deluxe treatment primer that effectively reduces appearance of existing redness in skin while helping to prevent further skin irritation and discoloration.
The Redness Reducing Primer creates a stay-put base for makeup or can be used on its own for a picture-perfect porcelain complexion. Calms stressed skin with vitamins A & E and aloe vera extract. Formulated for extra sensitive skins.
Retails for $28 for a .88 oz tube at Target.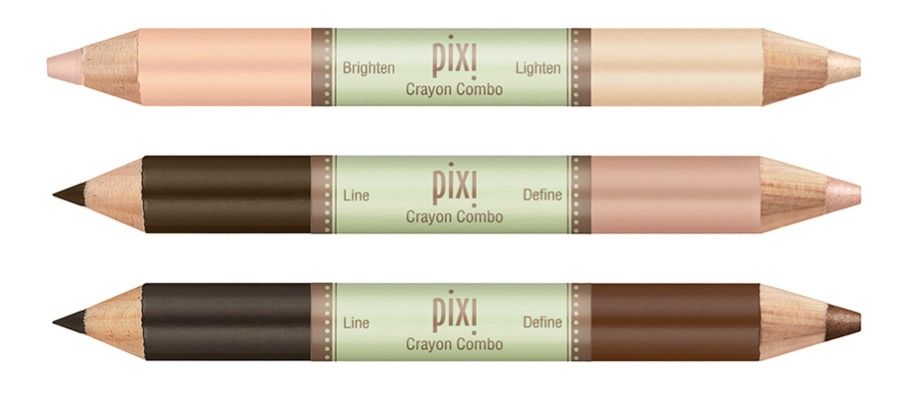 Pixi Crayon Combo
:
These dual ended chubby eye pencils are designed to either Line & Define your eyes or Brighten & Lighten depending on the shade you select. These pencils are super quick and easy to use. Just swipe on and you are done! Plus, the formula contains great skin-loving ingredients like caffeine, chamomile, and pearl powder. I have this pencil in the shade Super Natural which is the bottom one pictured above. I like using the lighter brown towards the inner corner of my eyes and the darker brown on the outer corners. I love this effect!!! I would love to try all of these pencils!!! :)
These pencils are both waterproof and long-wearing! They retail for $18 each.
Pixi Fall Collection Nail Polishes
:
Pixi has expanded their Nail Colour line with some new Fall 2013 shades! Introducing: Precious Pewter, Charcoal Celebration, and Deepest Dahlia! These gorgeous shades are deep and rich and perfect for both Fall and Winter. I certainly change up my nail color for the Fall and these polishes are just perfect! Hint: You will see one of these featured in an upcoming Nail-of-the-Day post! Can you guess which one is my favorite of this group??? :)
These polishes are Toluene, formaldehyde, and DBP free and they retail for $8.00 each at Target!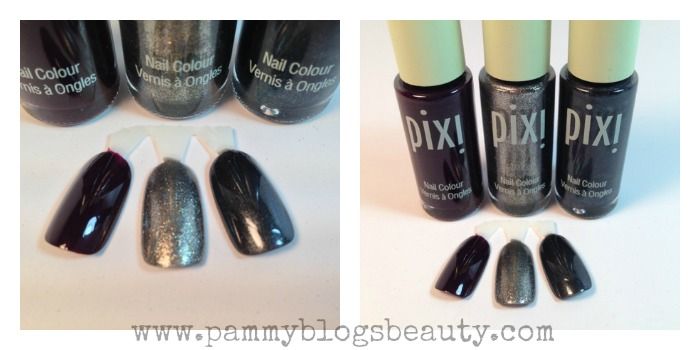 Pixi Tinted Brilliance Balm
:
Have you tried Pixi's Tinted Brilliance Balms? They are fabulous!!! My new shade for Fall is Nearly Naked which is a gorgeous and glossy nude. These hydrating tinted lipbalm stains are in cute twist-up chubby pencil form. The balm hydrates and smoothes your lips. After the balm wears off, your lips are left with a soft tint. These balms contain skin-loving ingredients like: Jojoba oil, Vit E, peptides, shea butter, etc! These are so easy to wear. Just swipe on!
These balms retail for $16.00 each at Target.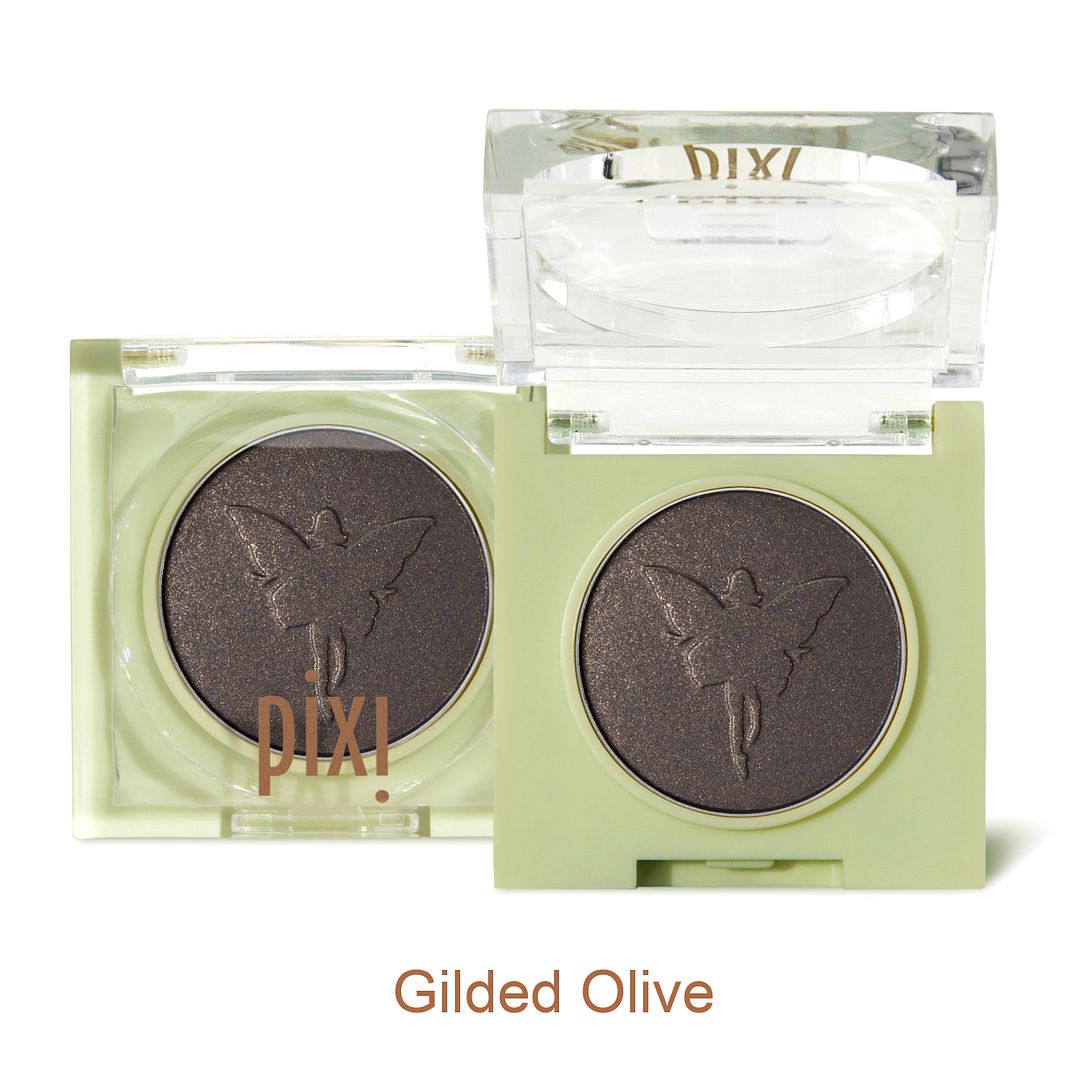 Pixi Fairy Light Solo Eye Shadow
:
I have always been a fan of Pixi's Fairy Light Solo Shadows. So, I am always happy to try out a new shade! For Fall, I tried the new Gilded Olive shadow which is a super deep and rich shimmery dark olive. This shade is fabulous for a deep and rich unique twist on the smokey eye! I also like using this shadow as a liner. The color is richly pigmented and smooth to apply.
These shadows retail for $15.00 each at Target.
Shop the Post:
Have you seen Pixi's Fall Collection at your local Target? What are you eyeing? I would love to hear what you have tried or would like to try! If you can only pick up a few items from the collection, I will recommend my favorites: The Perfection Palette (can't beat that fabulous deal for all of those shades!, the Crayon Combos, and a Nail Colour (I love Deepest Dahlia).
As always, thanks so much for reading!
XOXO!!!