Sponsored Post
There are certain times throughout the day that I love to freshen up a bit. Busy day-to-day schedules packed with swimming lessons, play dates, errands, house cleaning, grocery shopping, etc. often leave me feeling like I need to take an extra shower! Not to mention the heat and humidity of the Summer in Georgia! When I have the time, I do love an extra "rinse off" shower. However, it is hard to squeeze in a shower (let alone an extra shower) when you are taking care of a toddler. Sometimes you just need to get creative! Personally, I hate that "icky" feeling that you get when you feel like you need a shower...yet, you don't have the time to take one. So, what is a girl to do?
Feel Fresh Throughout the Day: Ideas and Tips!
Let's talk about ideas for freshening up throughout the day! I have discovered a few tips and tricks over the years. There are certainly ways that you can freshen up quickly: either with a quickie wash-up or without!
Body Splash: When in need of some minor freshening, body mist is the perfect solution! While perfume is too heavy to reapply throughout the day, body splash is light enough to mist on whenever you need it! I always keep a small bottle of body splash in my handbag. It is super easy to spritz on body splash while on the go.
Wipes and Cleansing Cloths: Sometimes a quick misting of body splash just doesn't cut it: you need real cleansing yet you can't actually shower or wash up at a sink. There are certainly times when you need cleansing during the day but can't literally wash up with water. Cleansing wipes are the perfect solution! I like carrying a variety of individually packaged wipes with me: anti-bacterial hand wipes (for before and after eating), baby wipes (for my toddler), and Summer's Eve personal (for gentle cleansing of your personal areas).
Sink Wash-Up: When I need some targeted freshening up after working out, swimming, or spending the day outdoors in the heat, a sink wash-up is exactly what I need! A full shower is often too time consuming for mid-day (especially if you are only looking to cleanse some "key areas"). So, a quick washing of underarms and/or your personal areas might be all you need! Since I don't want to use the anti-bacterial hand soap that is typically at the sink, I often reach for a gentle soap or my Summer's Eve Cleansing Wash for this task.
The Quickie Shower: There are certainly times when you need a super quick full-body cleansing. I have mastered the art of jumping into the shower for less than 5 minutes. I just throw my hair into a pony tail and don a shower cap. Then I jump in the shower for just long enough to cleanse my body. I pay careful attention to not get my face wet (who has time to redo their makeup?). I just wet my body and give it a once-over with body wash or gentle soap. The only downside to the quickie shower is that you also have the additional step of moisturizing your whole body afterwards. So, it is certainly not as quick as the steps mentioned above.
More about Summer's Eve Island Splash
:
I got to test out two products from Summer's Eve in their most popular "Island Splash" scent. Both of these items were great additions to my daily "freshen up" routine! I have sensitive skin all over my body, and I always have to be very particular with my choices for bar soap and body wash. I need products that cleanse gently, yet are also effective enough to eliminate odor causing bacteria. Summer's Eve accomplishes complete cleansing that is also very gentle! This is exactly what you need when washing those delicate areas!!!
Island Splash Cleansing Wash
:
This is a pH balanced gentle cleansing wash specifically formulated for cleansing your personal areas. It is gentle yet it also eliminates odor-causing bacteria. There is no question that this leaves me feeling fresh and clean in my delicate areas. Plus, it doesn't irritate my sensitive skin. I like the fact that it is gynecologist-approved for use in this area. I keep this right in my shower to use every day! Summer's Eve Cleansing Washes are available in 5 scents and most come in both 9 and 15 oz. sizes.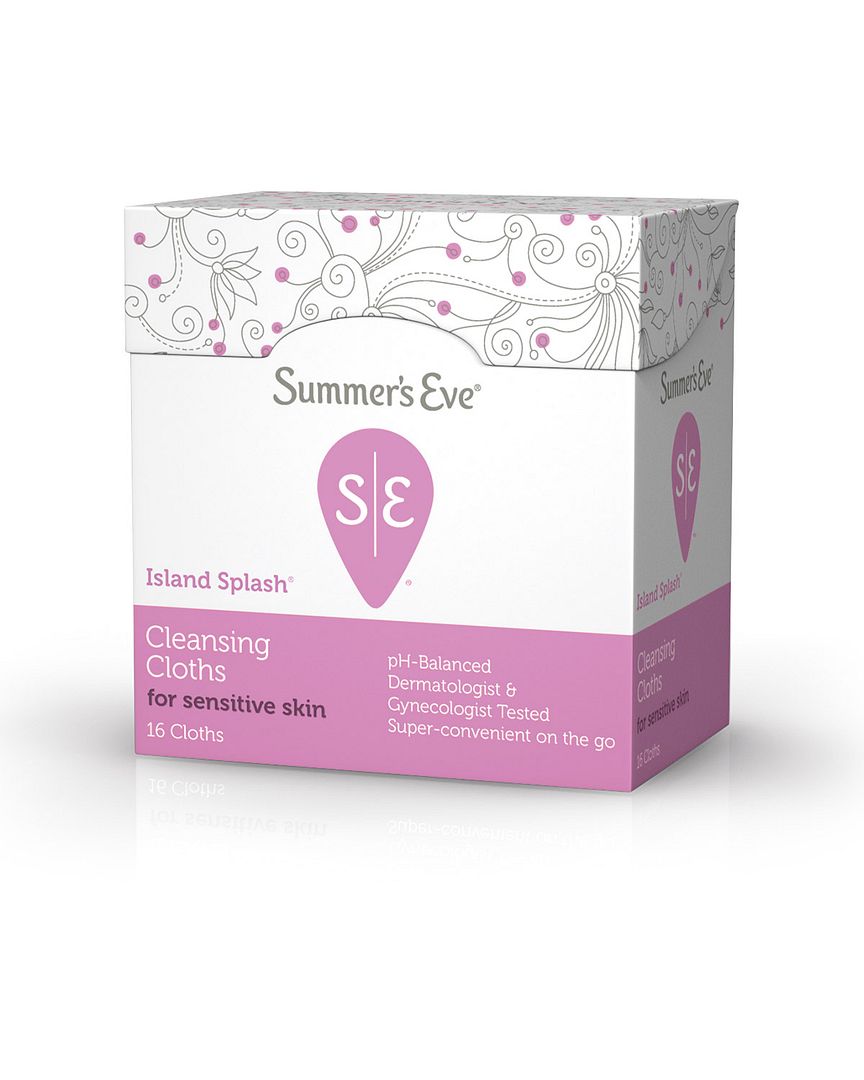 Island Splash Cleansing Cloths
:
Cleansing Cloths are the perfect solution for on-the go freshening! Unlike other cleansing wipes, these from Summer's Eve are alcohol-free and are gentle enough for your most sensitive personal areas. Honestly, I wouldn't trust any other cleansing wipe for my personal area cleansing. There were specifically made for that purpose! I like to keep the individually wrapped cleansing cloths with me at all times (right in my purse, car, and diaper bag). Summer's Eve Cleansing Wipes are currently available in 3 scents in the option of 16-count individually wrapped or (for some scents) 32-count soft pack.
I love the fresh Island Splash scent! It is so refreshing!!! I would love to explore the rest of the scents in the Summer's Eve line of products. :)
Learn More:
Get more info at the
Summer's Eve website
. Be sure to join their mailing list for exclusive news and special deals!
The Giveaway:
Don't miss out on this chance to
win a $100 SpaFinder Gift Card
!!! Please comment below! I would love to hear your answers to the following questions: "What do you do to stay feeling fresh and clean throughout the day? What are your freshen-up tips and tricks?"
Sweepstakes Rules:
No duplicate comments.
You may receive (2) total entries by selecting from the following entry methods:
Leave a comment in response to the sweepstakes prompt on this post
Tweet (public message) about this promotion; including exactly the following unique term in your tweet message: "#SweepstakesEntry"; and leave the URL to that tweet in a comment on this post
Blog about this promotion, including a disclosure that you are receiving a sweepstakes entry in exchange for writing the blog post, and leave the URL to that post in a comment on this post
For those with no Twitter or blog, read the official rules to learn about an alternate form of entry.
This giveaway is open to US Residents age 18 or older. Winner will be selected via random draw, and will be notified by e-mail. You have 72 hours to get back to me, otherwise a new winner will be selected.
The Official Rules are available here.
This sweepstakes runs from 8/5/13 - 8/31/13.
Be sure to visit the Summer's Eve page on BlogHer.com where you can read other bloggers' reviews and find more chances to win!