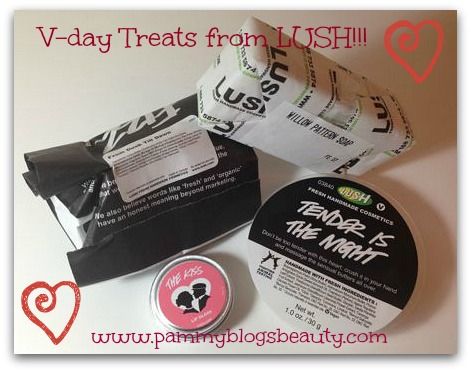 To me, self-pampering products are the ultimate gift to give yourself!!! :)
LUSH
has an absolutely amazing lineup of massage, bath, and beauty treats including these special and limited edition Valentine's Day releases. Sure, V-day is over; but what better way to say "I love you" to yourself? A self-pampering bath!!!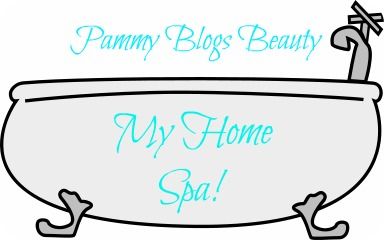 Often I am so tired at the end of my day that it is hard to motivate for a self-pampering bath. If I know that a lovely LUSH goodie awaits me in the tub, it inspires me to make that time for myself and allow for a decadent soak in the tub!
Next time you are near a LUSH store, be sure to scope out these amazing treats!!!
Here is what I got from the V-day Collection:
Tender is the Night Massage Bar: ($7.95) Wow!!! This massage bar smells amazing!!! Absolutely a divin

e

scent!!! Plus, it is super duper moisturizing. Love it!!! Massage bars are actually my favorite items from LUSH overall. LUSH has turned into the only place that I go when looking for a new massage bar. Both my Husband and I love these bars! (my personal fave is the Wiccy bar). Note: You really do h

ave to be "gentle" with this bar as it is softer than most LUSH massage bars.

A heart-shaped massage bar, that's crush able in your hand!

Either be gentle with your heart and break off a small piece or crush the whole thing in your hand and get right to the soft centre, for a really decadent massage.

This one uses fair trade shea and murumuru butters, instead of cocoa butter, for a lighter shell.

Inside is the soft core of almond oil, agave syrup, cupuacu and glycerine. Scented with vanilla absolute, jasmine and ylang ylang, it makes for a very seductive rub down! Vegan
From Dusk till Dawn Mas

sage Bar:

($7.95): This citrus-y smelling massage bar is supposed to give you an invigorating massage! The key is the shape! The pointed end is great for targeting those knotted spots. The smell is very refreshing and clean.
-->
When it's Valentine's Day, you don't want your partner falling asleep on you after you've just given them an amazing massage.

This one is designed to give you an energizing boost to keep you, up…from dusk 'til dawn!

Shaped like a cone, you can use the pointy end to rub out any knotted muscles.

Made with moisturizing and softening cocoa and shea butters, along with nutritious moringa oil. Scented with an uplifting blend of sweet wild orange oil and lemon oil, with ginseng and ginkgo powder for added kick! Vegan
-->
The Kiss Lip Gloss:
($8.95): OMG! Yummy!!! This gloss is not only amazingly moisturizing, it also smells and tastes great. The scent/taste is super sweet and fruity (a combo that I don't always love...yet, it works for this gloss!). To me, this is really more like a tinted lipbalm that packs a good shine. The texture is like that of a whipped shea butter. The gloss just melts into your lips when you apply. Instant hydration and a soft hint of light pink pearly shi

ne.
This gloss is a keeper for sure! Actually, I have been keeping it right on my desk to apply often. My lips have gotten into better condition since using this!
Perfect your pout for the most romantic time of the year with this new pink and sugary sweet unpreserved lip gloss.

This softening, moisturizing gloss feels lighter than the other balms, as it has a new aerated formula, and is totally preservative free.

It leaves a delicate pink hue on the lips and a delicious after taste, so your kisses will be candy sweet!

Vegan
Willow Pattern Bar Soap:
($9 for a 1/4 lb): As many of you know, I am a bar-soap girl. So, it is a special treat to take a break from my usual bar soap to induldge in a bar from LUSH! This soap is really moisturizing and has an amazing scent. I lo

ve it!
-->
Wash up with this gorgeous new soap that is reminiscent of a Willow Pattern china plate, depicting a romantic tale of star crossed lovers in an intricate carving in blue on the top.

The soap base has cornflour and talc which soften dry, sore skin.

There's also skin nourishing rose absolute, rose oil and rosewood oil.
I just love my new bath treats from LUSH!!! I swear, I have liked every single thing I have ever tried from LUSH! This is just a brand after my bath-loving heart!
My fellow LUSHies, What did you love from LUSH? I am always looking for recommendations as I continue to explore this brand. :)
XOXO!!!
-->