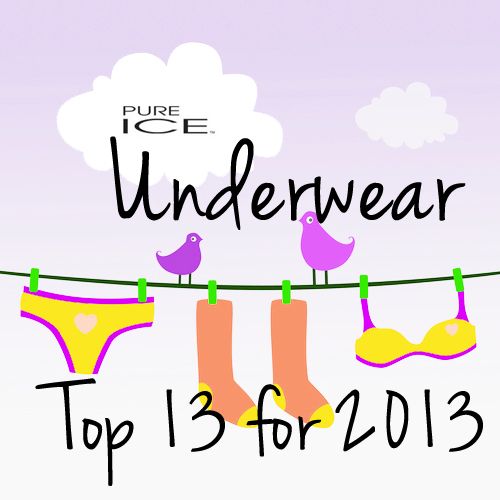 This is cute!
Pure Ice
has released a list of their
"Top 13 for 2013 'Underwear' Shades".
These are shades that look great either on their own or layered underneath glitter or special effect top coats. As a Pure Ice polish lover, I am excited to try these out!
How fun to kick off my new The NAIL Files nail series with a Pure Ice post! If you missed my The NAIL Files Intro Post. Be sure to check it out! Basically, I am motivating myself this year to get my nails back into better condition in conjunction with posting more nail polish reviews and NOTD features on my blog! No, my cuticles and nails will not always be perfect. However, I still want to post about the beautiful nail polishes that I love and adore! You see, for me, a pretty polish really does make me smile! What a great way to pull some color into your life. My nail polish love is all over the map. From lights to darks, drugstore to high end...I really love it all!
Pure Ice's Top 13 for 2013 "Underwear" Shades:
Sorry, I digress...back to Pure Ice and their "Underwear Shades"!
photos source: Pure Ice PR
Pure Ice sent me an assortment of 13 "Underwear" and/or top coat shades to scope out! For more details, photos, and swatches, keep reading!
In the wonderful world of nail polish, 'underwear' is the color you use under another color as a layering tool. Every fashionista knows that her underwear can make or break and outfit. So, Pure Ice went through the vaults and found the best for you!
1. Viva Las Vegas 845 (paired with Playtime 747) Micro Shimmer Gold
2. On His Saddle (paired with Cheatin 540) Bright Pearl Aquamarine Blue
3. Touch Me Softly 644 (paired with My Wonderland 768) Velour Grape Purple
4. All Nighter 977 (paired with Pardon My French 655) Deep Pearl Burgundy
5. Over the Top 641 (paired with Sea Quin 661) Velour Copper Shimmer
6. Monte Carlo 843 (paired with Twist & Shout 754) Raspberry Jelly
7. Jackpot 972 (paired with Twinkle 765) Glossy Bubble Gum Pink
8. En Vogue 652 (paired with First Party 713) True Fox Orange Red
9. Blue Midnight 649 (paired with Stop Flirtin 687) Velour Denim Blue
10. Ruffled Sheets 650 (paired with Material Girl 670) Velour Chrome Silver
11. Party Hard 753 (paired with Five Some 770) Creme Dark Navy Blue
12. Not Now 311 (paired with Party of Five 665)Pearl Emerald Green

...wait but that's only 12!
The #13 must-have underwear is Black Rage 980 - A classic creme black that is the perfect for all occasions.
I am having so much fun playing with this assortment of polishes! My niece got in on the action too when she recently visited and we had a bit of a "nail polish party" sleepover! We had so much fun creating different combinations with these polishes.
Favorite Top Coat/Underwear Combo???
My niece and I both ended up wearing and loving this beautiful polish combo. It was our mutual favorite! So, what combo did we choose???
#11 Party Hard 753 (Creme Dark Navy Blue) paired with Five Some 770 (deep fuchsia and blue glitter) *OMG! This combo is gorgeous!!! Five Some is one of my prettiest and most unique glitters. LOVE!
I have found another fave in this collection!!!
The Fave: Touch Me Softly 644:
I do not wear this one, in particular, as an "underwear" polish. I love this one all on its own. It is a medium purple matte finish textured metallic/liquid metal polish. The glittery metallic particles almost give it a red flash of sparkle. I am completely in love with this shade and I want to wear it all the time! To preserve the matte finish of the polish, I like to top it off with my Butter London Matte Top coat.
I found some really pretty combos with the "underwear" and top coat assortment that I got. I even found some new faves! :)
Thanks for reading!!!
XOXO!!!