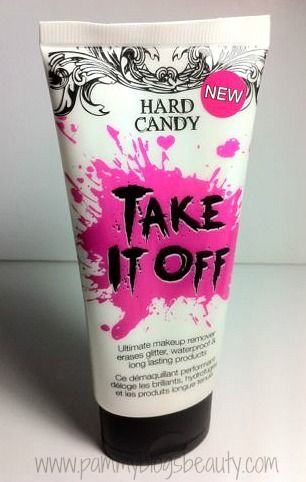 Just like the name states, this product allows you to Take It (all) Off!
Hard Candy's "Take It Off" cream makeup remover works incredibly well. There is not one single makeup item that it does not remove! Waterproof mascara, liquid liner, you name it and this product removes it!
This is honestly the first time that I have ever tried a cream makeup remover! Usually I use a bi-phase remover like Neutrogena's Oil Free Makeup Remover. It was strange for me to use a cream based product at first. However, I was blown away with how effective it is!
How I use:
I just apply a dab of this cream makeup remover to a cotton round and gently swipe over my eye makeup. It easily removes everything! I use one cotton pad per eye. After removal, I proceed with washing my face and my evening skincare routine.
I love that Take It Off is no-greasy! You get absolutely no greasy residue with this product. Plus, I find Take It Off to be incredibly gentle. It removes everything without you feeling like you have to "rub" your eye area.
This makeup remover is effective and inexpensive. You gotta love that!
Hard Candy's "Take it Off" is available at Walmart for $5.00 for a 2.7 oz tube.
Thanks so much for reading!
XOXO!!!