Tired of the deep and dark shades of Winter? Then
Laura Mercier's NEW for Spring of 2013 Arabesque Collection
is just for you! This new assortment of products is absolutely lovely! There is just such a feminine and romantic feel to these items. I absolutely love the shades!
This new for
Spring of 2013
collection contains an assortment of soft hues of pink, blue, and neutral. The overall effect is sweet and romantic and totally easy to wear. I grew up taking ballet lessons. So, I love the nod to ballet with the collection and product names!
The Arabesque Collection includes limited edition shades as well as already
existing
products.
The Arabesque Collection:
NEW Laura Mercier (Limited Edition) Free Spirit Baked Eye Colour Palette: $48
NEW Laura Mercier (Limited Edition Shade) Crème Smooth Lip Colour in Arabesque: $26
NEW Laura Mercier (Limited Edition Shade) Nail Lacquer in En Pointe: $18
NEW Laura Mercier (Limited Edition Shade) Eye Pencil in Stone Grey: $20
NEW PACKAGING (Permanent) Crème Cheek Colour in Oleander and Praline: $24
EXISTING PRODUCT Laura Mercier Lip Glacé in Bare Pink: $24
EXISTING PRODUCT Laura Mercier Lip Stain in Mulberry and Shy Pink: $20
EXISTING PRODUCT Laura Mercier Faux Lash Mascara in Black: $24
For this review, I tested out the
Creme Smooth Lip Colour in Arabesque
, the
Nail Lacquer in En Pointe
, and the
Lip Glace in Bare Pink
. To find out more, keep reading!
Crème Smooth Lip Colour in Arabesque: NEW Limited Edition Shade!
I am already going to tell you, I am absolutely in love with the lipstick from this collection! I wish that it was not limited edition!!! I know that you will be seeing it in an upcoming favorites list of mine. I just love it so much!
Arabesque
is absolutely the most gorgeous shade of pale baby pink (with a slight hint of peach) that I own!!! This is exactly the type of lip shade that I love to wear. Pale shades can be tricky on fair complexions. The trick is to find a shade that is a vibrant enough shade of pale so that you don't end up looking washed out.
If you have never tried Laura Mercier's Lip Colours, they are amazing! The lipstick is extremely moisturizing. The formula contains olive oil and vitamin E to keep your lips moisturized. They are so comfortable to wear!
This luxurious, comforting and rich lip shade provides rich colour with one smoothing swipe. The cushiony, lightweight texture can be layered to create full coverage with a lustrous finish.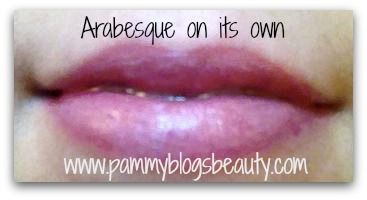 Nail Lacquer in En Pointe: NEW Limited Edition Shade!
This Nail Lacquer is a sheer milky light pink. It is that quintessential baby pink sheer nude that everyone should own! It gives a very clean ans soft "Your Nails But Better" look. It reminds me a lot of one of my essie polish favorites, ballet slippers (except I think the Laura Mercier is a little bit more sheer than the essie).
I have been going "dark and bold" all winter with my nails. So, this soft nude En Pointe shade is a refreshing change. Nudes are great to wear on your nails. It is a classic look that goes with everything!
Provides chip-resistant colour and long-lasting intense shine while adding a clean and polished look the nails. The ultra-smooth formula glides on evenly, allows precise application and is fast-drying.
Lip Glacé in Bare Pink:
Bare Pink is a subtle and semi-sheer nude milky peachy-pink. There is no shimmer, just glossy shine. This color pairs beautifully with the Arabesque Lip Colour. I love the scent of these Lip Glacés! They smell like sweet vanilla cafe (the remind me a lot of the scent of MAC lipglasses...yet, less sticky!).
A high-shine, perfectly pigmented lip gloss with rich, long-lasting colour and brilliant shine that creates the appearance of fuller lips. Any skin tone is virtually enhanced by creating a subtle contrast in texture.
What a beautiful collection! If you are looking for cosmetics to create a soft and sweet look, be sure to check out the Arabesque Collection from Laura Mercier! The collection is available now online and at your local Laura Mercier counter.
What items are you scoping out for Spring?
XOXO!!!