Are you ready to Deck the Halls and Ring In the New Year? These festive items from
LUSH
will certainly get you in the Holiday Spirit! Oh LUSH, how I *heart* you! There is no question, these items are just so fun! When I opened up my box of LUSH goodies, I literally squealed! These items are simply delightful! Not to mention, the scents? A-Ma-Zing! Yeah, I know, I am a gushy-LUSHie.
No matter what type of bath, body, hair, or skincare treat you are looking for, I am sure you will find something from this assortment of Limted Edition LUSH Holiday products! LUSH's Holiday assortment includes items to gear you up for some Holiday celebrations or to unwind after your New Year's night out. If you have never tried LUSH's fresh handmade cosmetics, now is a great time to scope out this fun brand!
The
Holiday Collection
includes the following:
Sandy Santa Sugar Scrub $5.95
Popcorn Lip Scrub $8.95
Emotional Brilliance Liquid Lipstick $18.95
Midnight Massage Bar $9.95
Mr. Punch Soap $6.95 for 100g
Golden Wonder Bath Bomb $6.95
Ponche Shower Gel $9.95-$27.95
From this collection, I was able to try out the Sandy Santa, the Popcorn Lip Scrub, the Mr. Punch Soap, and the Ponche Shower Gel. To find out more about these items and how I liked them, please keep reading!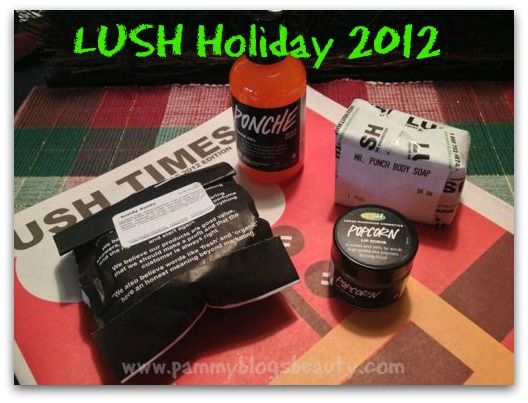 Sandy Santa Sugar Scrub:
OMG, this is soooo cute! It is a sugar scrub bar in the shape of Santa! This fun scrub helps to
eliminate all the over indulgences and toxins of the celebratory season.
You use this product in the shower by gently rubbing the bar in circular motions over your body on any areas you want to exfoliate. It feels great and smells so good. It has a very refreshing scent. You do have to be a bit careful with using and storing this item as the sugar does get loose.
Popcorn Lips Scrub:
I am a long-time fan of LUSH's sugar scrub! I have used it for years! So, I totally recommend it. Actually, use LUSH's lip scrub is the only way that I ever exfoliate my lips. The Popcorn scent/flavor really is unique! Just take a small amount of this product and smooth it over your clean lips after you brush your teeth in the evenings. The sugar gently scrubs away the flakes and jojoba oil soothes your lips. You can either wipe off or lick off the excess. I always follow up with a good lip moisturizer.
Mr. Punch Soap:
I am a huge fan of bar soap. This cute vegan soap looks like Sangria!
LUSH was inspired to make a fruity, tropical, boozy punch scent for this soap...with Juniper berry oil, Blackcurrant Absolute, lime oil, and a splash of gin.
The lather is nice and I really enjoy the refreshingly fruity scent.
Ponche Shower Gel:
This Limited Edition Shower Gel packs some major lather! Ponche is very concentrated. So, just a small amount produces enough lather to wash your whole body. Plus, it will last you a long time! Ponche is Spanish for Punch. LUSH was again inspired by a fruity drink: Mexican fruit punch made with seasonal fruits like oranges, plums and cinnamon and vanilla (there is even a dash of tequila in this LUSH soap!). This shower gel smells amazing: fruity with spice! The small size makes a great stocking stuffer!
Do any of these items catch your eye? If so, scoop them up while you can as they are Limited Edition!
Have you finished your Christmas Shopping yet? I still have more to do (ack!).
Thanks for reading!!!
XOXO