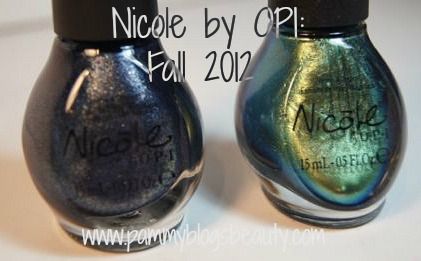 Are you ready for Fall? I sure am! I am ready to say goodbye to the heat of the Summer and hello to the beautiful early Fall weather.

I always mark the change in season with a shift in Nail Color! I like to both dig out past favorites from my nail polish collection and scope out new items from current collections.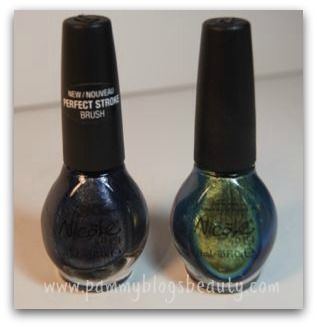 The collection includes the following jewel toned metallic rich shades: Mer-Maid For Each Other, For Gold Times Sake, Iris My Case, Just Busta Mauve, and If The Blue Fits. These shades have been available at Target since August and retail for $7.04 each.

I tested out two Fall colors from Nicole by OPI (one from the new collection): It's Not Me Its Blue and Mer-Maid For Each Other.
Mer-Maid For Each Other:
What a truly unique color! It is a medium green (almost a sage green) with a heavy metallic shimmer. The color flashes and changes as it catches the light (pictured above it almost looks teal with a yellow flash of color). Very pretty shimmer and boldly metallic. This pretty lacquer is great for adding color to a Fall look. Also, this shade would be pretty any time of the year.


It's Not Me Its Blue:
Here is another great Nicole by OPI shade for Fall! This is a very deep blue-based gunnmetal grey metallic. This one is a great option if you want to do a bold and dark look but aren't in the mood for black. Very pretty!
Have you seen these polishes at Target? What nail trends are you loving for Fall?