A line specifically designed for unruly, dry, and frizzy hair? Sounds like just what I need! I am so excited about the newly launched (July 1st!)
Smooth Lock line from Redken
!
Redken has for a long time been my favorite brand of hair products. Actually, I consider
Redken's All Soft
Line (Shampoo, Conditioner, and Heavy Cream) to be my Holy Grail hair care products! So, when I heard about this new
Smooth Lock
line by Redken, I knew that I just had to try it! It sounds like exactly what I need!
My Hair:
My hair is very long and heavily highlighted. Also, it is super-duper dry from highlighting and heat styling. I try to be as gentle with it as I can by letting it partially air dry and using deep conditioners and protein treatments. Most shampoos and conditioners are not moisturizing enough for my hair. While my hair is realtively fine, it is very thick. It can absorb a lot of product without being weighed down. Also, my hair is straight, yet my hair is prone to frizz (the worst combo in my opinion!).
All of the products in the Smooth Lock line by Redken have a brand-new heat-activated formula, which infuses nourishment deep into the cortex while evening the cuticle layer for a long-lasting, flawlessly polished finish.
I am just in love with this new line! To hear more about the products and my fabulous results, please keep reading!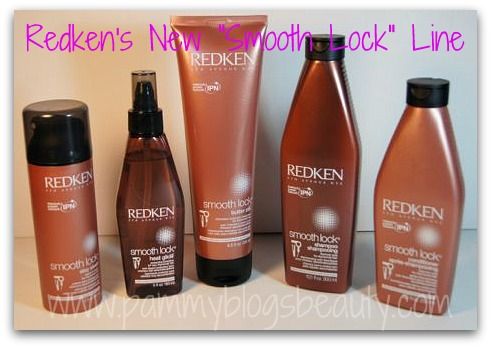 The Smooth Lock
Line
:
Redken's new Smooth Lock line consists of five at-home products as well as a in-salon treatment product. The at-home products include: . The in-salon Smooth Lock service is a semi-permanent treatment product that smooths hair strands for frizz-free locks and reduced styling time with results lasting up to 10 shampoos. The entire line works to refine the natural texture of your hair to create smooth results. It transforms unruly hair into shiny and easy-to-manage and style hair. These products all smell amazing: like sweet grapefruit!
Smooth Lock Salon Service:
While I did not try this service, it sounds amazing! I must find out if my salon offers this!
NEW Smooth Lock 2-step service dramatically improves manageability with long-lasting frizz control, amazing movement and incredible shine, and the service is fast and easy...It works in two steps. In Step 1, the Smooth Activator relaxes the hair by weakening the disulfide bonds that form hair's structure and shape. After processing the cysteine gel and rinsing, the application Smooth Sealer in Step 2 locks the newly relaxed, smooth form and finish into place. Heat drying secures the smooth results for up to 10 shampoos.

Redken Smooth Lock: The Heat Fuse Complex
:
One of the things that makes this line so effective is it's Heat Fuse Complex. This complex actually works with heat styling to improve your hair. The other key ingredient included in all the products in this line seems to be almond oil.
The Heat Fuse Complex specifically delivers a thermal active polymer that forms a humidity-resistant barrier on the surface to retain internal moisture and lock out frizz and almond oil to condition and coat the hair's surface for a silky, smooth finish with added shine. Secondly, the formula includes IPN to penetrate the cortex to strengthen and reinforce hair for improved manageability
Smooth Lock Shampoo
and
Conditioner
:
The
shampoo
is very rich and nourishing yet it also is not too heavy for daily (every other daily in my case) use. Also, it cleanses without tangling your hair. Shampoo seem to fall into 2 categories for me: ones that leave your hair a tangled mess and ones that don't. The shampoo is rich, creamy, and thick and it lathers up quite nicely.
Smooth Lock Shampoo:

Cleanses the hair without stripping natural oils; replenishes moisture while smoothing the cuticle for reflective shine

Smooth Lock Conditioner:

Instantly improves manageability while resurfacing the cuticle with tubular smoothness and lasting shine.
The
Conditioner
is also very thick and rich. Actually, it feels more like a hair masque than a daily conditioner. This is a huge plus in my book as it seems that no conditioner can be "too rich" in my book. This one is very rich indeed. I always wash my hair at the beginning of my shower and then apply conditioner. I then use a wide tooth "shower comb" to comb the conditioner through my hair to distribute. I leave the conditioner on as I finish my shower and then rinse out.
Smooth Lock Butter Silk Intensive Rinse-Out Treatment
:
Mmm...like butter! Seriously, this is a super-duper rich intensive hair deep conditioner. I love this stuff! Every few shampoos I will use this in place of the regular Smooth Lock Conditioner. I apply it very generously after shampooing (I completely coat my hair roots to tips), comb through, and then leave on for as long as I can. The directions say 5-15 minutes. Tip: Apply and then twist hair up and put on a plastic cap. Then wrap your hair in a warm towel and leave on for 20-30 minutes. Your hair will be so conditioned afterwards! My hair is extremely soft, shiny, and manageable after this treatment! This is a key product in this line. Seriously, if you only try one product in this line, try this treatment!!!
Butter Silk intensive rinse-out treatment:

Intensive rinse-out treatment provides deep, replenishing moisture and long-lasting straightness for a flawless, curtain-like effect.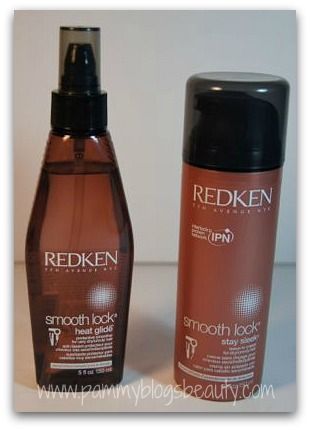 Smooth Lock Stay Sleek Leave-In Cream
:
What a cool product! This is a leave-in conditioner that dispenses out of an aerosol foam can (like a mousse except that the product that dispenses is a cream...such a creative way to dispense! lol, these little product details...love it!). This product is fabulous for shine! I apply a very small amount to my towel dried hair concentrating on the ends (not applying above my ears either). It is creamy and rich without feeling at all greasy. It appears that there are some silicones in this product to smooth and shine. Results are supposed to last through 3 shampoos. I find that I can use this every time I wash my hair (but I suppose you could use it every 3 times).
Stay Sleek leave-in cream:

Provides durable frizz control and intensive surface smoothing without weighing hair down; prolongs results of smoothing service for +3 shampoos
Smooth Lock Heat Glide Protective Smoother
:
This product is the final step in the Smooth Lock line. It is a heat-resistant smoothing and shine serum. It guards hair against humidity and locks in the shine and smoothness. Hair shine serums are a must for my dry and highlighted hair. The shine from this product is really amazing! I smooth one pump over my towel dried hair. I apply this after the
Smooth Lock Stay Sleek Leave-In Cream
.
Heat Glide protective smoother:

Works with heat to smooth and tame rebellious, frizz-prone hair and replenishes, nourishes and smoothes the cuticle. Forms a heat-protective barrier

and blocks

humidity to deliver a 92% reduction in frizz for up to 48 hours
The Skinny:
Available at Salons and at Ulta
Pricing:

Smooth Lock Shampoo

: $14.50 (10.1oz)

, Smooth Lock Conditioner

: $15.50 (8.5oz)

, Butter Silk

: $15.50 (8.5oz)

, Stay Sleek

: $16.50 (5.0oz)

, Heat Glide:

$16.50 (5.0oz)
My Results:
The combined use of all of the
Smooth Lock
products transformed my dry and somewhat frizzy hair into super shiny, smooth, and soft hair. My hair feels so moisturized and it looks so healthy! The shine is really amazing too. My frizz is drastically reduced and my hair feels very smoothed down (just like the name implies!). My hair is so soft that I just have to keep touching it! Plus, I can't get over the increase in shine! Very noticable! Even my husband noted, "Wow, your hair looks great...and smells good too!"
The frizz reductions is really quite impressive. I let my hair air dry about 50% dry before blow drying. Typically my hair frizzes up immediately when air-drying. Not with these products! My frizz was smoothed down and reduced even before heat styling. Wow! Impressive!!! Plus, my hair feels so moisturized and soft.
Note to those with thin or fine hair: These products will likely weigh your hair down. My hair is ever-so-slightly weighed down with these products (my hair is thick and coarse and hard to weigh down). However, I actually prefer how this product uses the "weight" to smooth down the frizz. I would much rather have slightly weighed down hair that is frizz-free, soft, and smooth than hair that is less weighed down and frizzy!
I think that the
Smooth Lock
line achieves a very delicate balance: it moisturizes hair and increases shine without leaving hair greasy! Often heavy shampoos and conditioners moisturize...but, leave hair feeling greasy. Not this line! I am really amazed at how these thick, rich, and moisturizing products achieve this without feeling greasy! I am really impressed!!!
This Smooth Lock line by Redken might just be my new favorite Redken line! Sure, I still love my Holy Grail Redken All Soft line; but, Redken's
Smooth Lock
will now be rotated with
All Soft
in my usual hair routine rotation (I rotate shampoos). I love the results of Smooth Lock and think that it is just ideal for my dry and damaged highlighted hair!