It is GLOSSYBOX time again!!! That is right, my eagerly awaited
August 2012 GLOSSYBOX
has finally arrived. Ya'll know that I love my monthly beauty box subscriptions!!!
"What is GLOSSYBOX" you say?
GLOSSYBOX
is a luxury beauty sample box subscription. You pay $21.00 per month and get a beautifully presented and wrapped box of 5 deluxe beauty samples (Which includes one full-sized item!). This beauty sample subscription is more than double the price of
Birchbox
. So, I can't really directly compare them since GLOSSYBOX is pretty much double the cost. Let me just say that I love them both! Birchbox continues to be my favorite beauty sample subscription in the $10 per month category (Birchbox is the beauty subscription that I compare all other subscriptions to: my "Gold Standard" of beauty boxes!). In the $20.00 beauty box category
Julep Maven
is great too if you love nail polish.
GLOSSYBOX is certainly a favorite. I mean, I have really narrowed down my monthly beauty box subscriptions to only ones that I truly love. Why bother continuing to subscribe if I don't love the products *and* the service??? My GLOSSYBOXes have been consistently good. I look forward to the GLOSSYBOX arrival each month!
Glossydots:
GLOSSYBOX's referral and rewards system
You can give GLOSSYBOX feedback on your GLOSSYBOX sample items to earn "Glossydots". You get 20 Glossydots for each feedback item. Currently, GLOSSYBOX members can invite friends to join through via email only. If you get your friend to sign up, you earn 200 glossy dots. There are no referral links available just yet. So, email is really your only way to earn points through people signing up. What do you do with said Glossydots? When you collect 1,000 of them you can apply them towards getting a free Glossybox.
Beauty Boxes? Why do I <3 You?
These little cutely packaged boxes of beauty goodies truly delight me. Maybe it is the element of surprise? The "feel" like you are opening a special present? The little bit of luxury with only a very slight financial splurge? The discovery of a new product?
Alright ya'll! Lets get to this box opening, shall we?
As always, the packaging totally makes me swoon. It is feminine and classy. Nothing beats the luxe feel of a GLOSSYBOX!
Summer Nights:
This month's theme is "Summer Nights". Here in Atlanta, GA, the heat is just sweltering! We are in the peak of Summer here. So, this GLOSSYBOX contains indulgent items to help you
show off your sunkissed skin and hair and enhance sultry eyes.
In addition to the actual GLOSSYBOX, you also get the mini GLOSSYMag. I just love these little magazines from GLOSSYBOX! They contain beauty articles and some product info too. New this month: the GLOSSYBOXMag is also available online. I personally love the actual paper copy! Birchbox does a digital magazine as well. I love Magazines on my iPad, computer, etc; but, there is just something about "holding" a magazine for me.
What is in the box? This month's box has two *full sized* items!!!
Alessandro International | Pedix Heel Rescue Balm (Full Sized cost $18.50 for 100 ml, Sample Size: 30 ml): I am so excited about this product! My feet are always in rough shape, literally. I live in my flip flops and get terrible callouses. I am always in need of foot creams and balms. This foot cream oil imported exclusively from Germany provides intenseive protection and nourishes skin, leaving it soft and supple.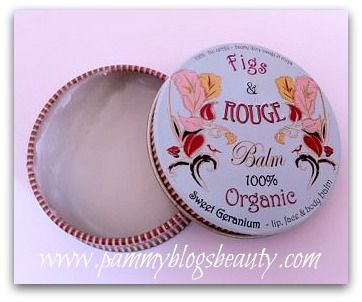 Figs & Rouge | Lip, Face, & Body Balm in Sweet Geranium: (Full Sized!!! Cost $6.00 for .26 oz): What a pretty old fashioned tin! I love retro packaging like this! This is one of those multi-use balms. It smells so pretty (just like Geraniums!). I love using balms like this primarily for my cuticles. I find that the tin is a bit hard to open. This gorgeous tin is filled with a 100% pure and natural skin care balm, a multi-use wonder product that will keep your skin feeling soft and beautiful throughout the day.
Sebastian | Color Ignite Multi Tone Shampoo: (Full Sized cost: $14.95 for 8.4 oz, Sample Size: 1.7 fl oz): I love that GLOSSYBOX tends to send these BIG deluxe sized shampoo/conditioner samples. Usually when I go out of town, I go for 2-3 days and this size is just perfect for that length of a trip! So, this set is going to go right in my travel bag for my next trip! This shampoo smells amazing!!! Smart color moisture complex that targets your color-treated strands to deeply moisturize and restructure hair fibers wherever needed most.
Sebastian | Color Ignite Multi Tone Conditioner: (Full Sized cost: $16.95 for 6.6 oz, Sample Size: 1.65 oz): Wow! This is a foam conditioner!!! Honestly, I have never tried a conditioner quite like this! I might not be able to wait until my next trip to try this generously sized sample! This micro-bubble conditioner whips, wraps, and wows your strands leaving your hair with long-lasting color and vibrant shine. LOL, "whips, wraps, and wows" how does it do that (who writes this stuff)? Seriously though, this product looks really interesting!
Senna Cosmetics | Double Dose Lip Lacquer (Full Sized!!! Cost $22.00): Yay! A lippie! What girl doesn't love getting a pretty lipgloss. I know that the box's theme is summer; but, I think the shades in this gloss would be perfect for Fall! Lovely! Tip: Wear layered! Use the darker end all over and the shimmery color in the center. This gives the appearance of fuller lips! This extremely shiny gloss formula contains light reflecting pigments that make your lips appear fuller and hydrated. Vitamins and Jojoba Oil add extra conditioning to your pout.
Extra!!! Blushed Fragrance from Ruddy Water (foil pouch sample, Full Sized is 24 pouches for $22.00): This is a fragranced towelette. I think it is for refreshing (not a perfume). ...notes of bright red currant and rich vanilla wrapped around sweet lemon. Sounds nice! I love getting a little "extra". :)
Wow! 2 full sized products in this month's box. The value of this GLOSSYBOX is so clear! The collective worth of all the products far exceeds the actual price of the box. So, if you are looking to get a lot from your money, you will get it here! Plus, this box is full of new (to me) brands that I am very excited to try! Actually, the only brand in this box that I have used before is Sebastian!
I loved this month's GLOSSYBOX! My fellow GLOSSYBOXers, did you like your box this month? I can't wait for next month's box already, lol! I am like "a kid at Christmas" with these beauty boxes!!!
Thanks so much for reading!
XOXO!!!
This post contains referral
links to Birchbox and Julep