It is time to kick off a new blog review series! This is the first post in my "
Palette Princess: Princess Moments with Pretty Palettes
" series. I know, lol, I am so cheesy!!! Ya'll know that I can't resist a good blog series "theme". What can I say? A catchy theme inspires me to write!
There is something just so ultimately girlie about a makeup palette. It makes you want to embrace your younger inner-self and just have fun and play with your makeup! Channel your inner princesses as you transform yourself with a truly great makeup palette or kit! Yes, I am talking about your "princess moment" here...with a palette! ;)
Any other palette fanatics out there?
I must admit, I am a bit of a collector when it comes to palettes. Right up there with blushes, palettes are my next-favorite makeup obsession. I am always on the hunt for a great kit! I love the idea of finding a set with absolutely everything you need in one kit!
When a palette is well-designed, it is a real time saver for me. I just love being able to just grab one item and have all I need at my fingertips. So, using a palette goes both ways for me. Either I grab a great palette when I need a time-saver. Or, I grab a big palette that has lots of color options so that I can spend *more* time on my makeup because I am "playing" with it, lol!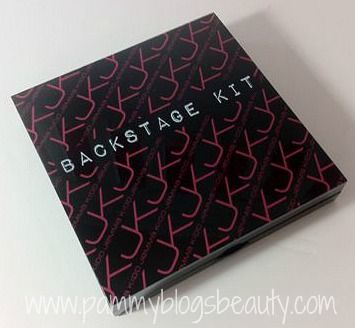 My Intro To Jemma Kidd:
What is even more exciting? This palette is my first introduction to the Jemma Kidd line at Target! I am so excited!!! Target has such a great beauty department. Not only do they have very competitive prices on national brands like Almay, Neutrogena, L'Oreal, Maybelline, Covergirl, and Revlon, but also they have some amazing Target-exclusive brands like Pixi, NP Set, Sonia Kashuk, and Jemma Kidd!
This
Backstage Kit by Jemma Kidd
is a good intro into the brand because it contains such a variety of items: eye shadows, blush, powder, bronzer, concealer, cream highlighter, eyeshadow base, and lip color! A great sampling of the Jemma Kidd line! I just love exploring new brands and discovering what they have to offer.
To find out more about this kit, keep reading after the jump!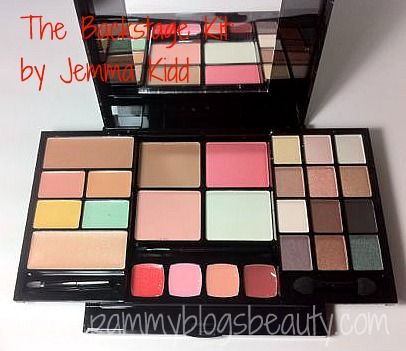 The Backstage Kit by Jemma Kidd:
Wow! Look at this kit!!! You get 26 products in this compact kit. The design of this palette is actually quite sleek considering all of the products packed into this kit.
For me, the beauty of the palette goes beyond the value of just getting a ton of products for the price. The best thing about this kit is how beautiful these products look when combined and worn together! Everything is so well coordinated! Plus, with two different blush options, 4 lip shades, and 12 shadows, you can create countless looks. I love the shade selection and the options! What a fun palette!!!
Specifically, you get:
12 Eye Shadows
2 Blushes
1 Face Powder
1 Bronzer
1 Eye Primer
4 Color Corrective Concealers
1 Cream Highlighter
4 Lip Glosses
The palette view when you first open the lid.
These trays slide to the side to reveal the products underneath.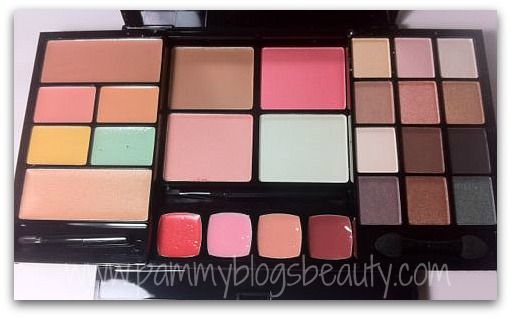 The Cream Products: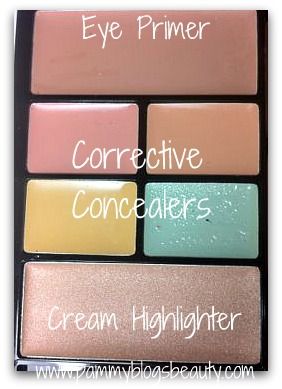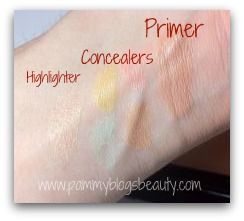 Lets start with the top left tray: the cream products. These products are surprisingly very creamy. I say surprisingly as I automatically assume that cream products that are housed in a larger palette to be on the dry side. With the exception of the Cream Highlighter (which I love to use!), these are the least used products in this kit for me.
The Eye and Lip Primer has a nice creamy texture. With that said, this product might just be a tad too creamy to work well as an eye primer. So, I do not tend to use it much for the eyes. The color is a little darker than I prefer for an eye primer (as I am very fair skinned). As a lip primer, I like it! I think the creamy texture provides a nice base for when you want to nude out your lips a bit for going with a lighter lip look.
The
Corrective Concealers
come in 4 shades: Apricot, Peach, Yellow, and Green. I am typically not a huge user of color correcting concealers. But, I know that many people are fans! The only ones that I am using occasionally are the green (to counteract redness) and the peach (to counteract purple under eye circles). I find the textures of these to be pretty nice; but, the pigmentation is about light-medium. I wish that the peach one was just a tad more pigmented. To use I apply directly onto the area that I want coverage. I blend in and then apply a regular skin tone concealer on top. I am sure that the apricot and yellow concealers are good too. But, I just don't have any areas that need those colors for correction.
The
Cream Highlighter
is a lovely Rose Gold shade. Any Rose Gold fans out there? Rose Gold has been a HUGE trend the past few seasons. So, I am thrilled to finally have a makeup product in a rose gold shade! This highlighter looks just lovely on the skin. I only need the slightest touch of product to add a dewy highlight to my cheekbones, brow bone, and down the center of my nose. I really like that they included a cream highlighter in this palette. Often I skip highlighter as it is just an "extra step" in my makeup routine (and I am always in a "hurry" it seems). Having it in a palette, I am just more prone to use it. It is amazing how a highlighter brightens up your face and makes you look glowy and pretty. Love it!!!
The Eye Shadows:
These swatches really don't do these shadows justice!
Much prettier in real life!
The Eye Shadows:
For me, the Eye Shadows are the stand-outs in this kit! The shade assortment is absolutely perfect! Well, perfect for me! I love neutrals; but, I like to mix things up with colors sometimes too. This palette gives you both: a beautiful range of neutrals from a matte/bone vanilla shade, to an assortment of browns, to a matte black! Plus, some beautiful color is mixed in: a perfect light pink shade, an emerald green, and a gorgeous purple. Some of these shades are exclusive/limited edition and some are from the permanent line. There are too many shades to list; but, just know that they are all listed on the back of the palette.
Texture/Finish/Pigmentation:
Most of these shadows have a shimmery/satin finish. But, there are two mattes: the bone/vanilla and the black. The pigmentation ranges from medium to stronger pigmentation. The shadows are soft in texture and quite buttery. The shimmer really is lovely! I have some faves in this kit including the light pink (Chic), the plummy Dark Purple (perfect for liner or outer corner), the peachy bronze (Vintage), and the exclusive Taupe.
The Face and Lip Products: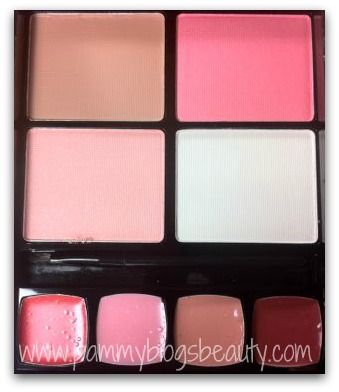 The Face Powders:
The Face Powders in this kit include:Show Stopper Water Resistant Bronzer, Exclusive Berry Powder Blush, Apricot Powder Blush, and the Finishing powder. I really like all the powders in this kit! My only critique here is that I wish they were laid out a little farther apart. My powder brushes are all pretty big and it is hard to hit the pans without getting your brush a bit in the other colors.
The
Bronzer
is stunning! If you are fair like me, you are going to love this bronzer. It is matte and perfect as a bronzer or for coutouring. I love that there is no shimmer and there are no orange tones. I like this bronzer so much that I would purchase this a single once I finish the one in this palette. I have a feeling that of all the products in this kit, I will hit pan on the bronzer first!
The
Blushes
in this palette are super nice too. You get a good selection: one super pigmented blush (Berry) and one light blush (Apricot). They both have a little bit of subtle shimmer that is not very noticeable when they are applied. I need to use a VERY light hand when I use Berry. Just one light touch of my brush to the pan is all I need. It is so pretty! Apricot is a good everyday color as it is quite subtle.
The
Powder
is a translucent finishing powder. As you can see from the swatch, it is quite white. That works for me! However, if you have darker skin, this powder might be too light for you?
The
Lippies
are pretty much glosses in pan form. All of the shades are exclusive except for the 2nd from the left Flaunt. The Shades are: Coral, Flaunt, Nude, and Mauve. While I really do like the texture of these glosses, I would much prefer my glosses to be in wand form so that I can carry with me and reapply throughout the day. That said, I do use these! I think that one of the other first items to hit pan in this kit will be the Flaunt gloss. I really love it and might purchase this in wand form!
The Skinny:
This palette is available at Target and target.com for $35.00 (check for sales though! Right now it looks to be on sale for $24.50).
As you can tell from my review, the Backstage Kit from Jemma Kidd is a total hit for me! You really do get just about everything you need in this kit for a full face minus foundation and a skin tone concealer! I think this kit is an amazing value. Plus, you get so many options! The best part is that these products all work amazingly well together for multiple coordinated looks. This palette is right up there amongst my other favorite palettes!
As soon as the weather cools off a bit this Fall, this palette would be great for Travel. Right now road trips in GA are WAY too hot to tote around cream products (they would all melt!).
Next time you are in
Target
, this kit is worth checking out!