Hello lovelies!
This is my last installment in my
Napoleon Perdis "Nude Bar"
series of reviews. If you have followed my other posts, you know that I am a huge fan of this collection. Missed my previous reviews? Check them out here:
Napoleon Perdis Off Duty Tinted Moisturizer
and
Napoleon Perdis Luminous Lip Veils
.
The "Nude Bar" collection is being featured as a "soft launch". Right now, the collection is only available at
napoleonperdis.com
and at Napoleon Perdis Concept stores. However, this Fall, the collection will launch nationwide at Nordstrom's and Ulta. If you can't wait till Fall, it is nice to know that you can check out this collection online now!
The Nude Bar Collection: Nudes for your Skin and Lips!
Off Duty Tinted Moisturizer
Divine Goddess Lipsticks
Double Agent Nude Lip Palette
Luminous Lip Veils
This review is for the Double Agent Nude Lip Palette. This lip palette is actually quite unique! Keep reading to find out more!!!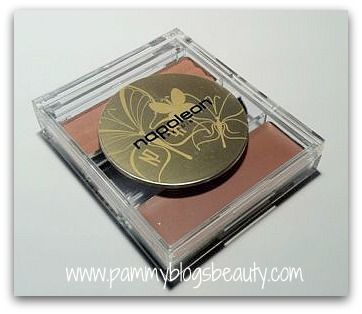 Double Agent Nude Lip Palette:
What a unique concept! This vintage-inspired lip palette contains not only a lipcolor, but also a lip *powder*! I have never tried a lip powder before. So, I am quite intrigued!!!
This lip palette contains a duo of a semi-matte cream lipstick and a mattifying powder. The mattifying powder combined with the lipstick creates a super long-wearing look for your lips.
The lipstick is creamy but not overly sticky or thick. It smooths on nicely with the little brush in the palette. The lipstick and powder are unscented.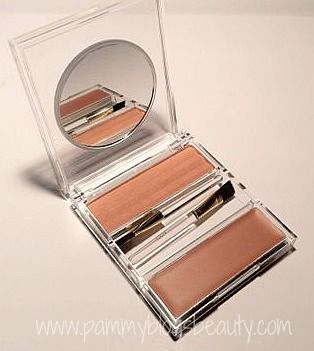 Not Just for your Lips!
Here is where the "Double Agent" comes in:
The cream lipstick can also be used as a blush either on its own or as a long-wearing base for a powder blush!
The setting powder can also be used as a contour powder for your cheeks and face! This could also be used as a nude shadow.
Basically, this palette is an all-around go-to cream and/or powder nude kit! Be it lips, eyes, or cheeks, this palette gives you options!
How I wear:
While you can wear the products in this palette multiple ways, mostly I wear it on my lips. Since I am normally a glossy-look girl, it is a fun twist to do matte nude lips. The look of matte nude lips is a sophisticated and elegant look! It is a different "feel" wearing powder on your lips. It takes a bit of getting used to. But, it is worth it for the long-wear (if that is what you are going for).
The Skinny:
The lipstick is enriched with Vitamin E and the powder contains Vitamin C to nourish and protect your lips.
The Palette features a mirror and small brushes.
This palette comes in one lovely nude shade and retails for $29.00 and is available now online and in the Fall at Nordstrom's!
This is such a cool and unique concept! It is certainly a great option for nude lovers that want a super-long wearing look for lips or cheeks (or even eyes)!