Hello Lovelies!
Here is "part 2" of my coverage of the new Napoleon Perdis "Nude Bar" Collection: The Luminous Lip Veils! If you love a nude pout, you are going to love this beautiful collection of nude liquid lipsticks.
If you missed my previous post, please see my review of the Napoleon Perdis Nude Bar: Off Duty Tinted Moisturizer (I will give you a hint: I loved it!).
As I mentioned in my previous post, this collection is currently on a "soft launch" and is only available at
napoleonperdis.com
and at Napoleon Perdis Concept stores. This Fall, the collection will launch nationwide at Nordstrom's and Ulta. Make sure to get a "jump" on Fall and check out this collection now!
The Nude Bar Collection:
Off Duty Tinted Moisturizer
Devine Goddess Lipsticks
Double Agent Nude Lip Palette
Luminous Lip Veils

To hear more about these lovely lippies, please keep reading after the jump!
Napoleon Perdis's Nude Bar: Luminous Lip Veils
:
The Luminous Lip Veils are a lovely collection of nude liquid lipsticks/lipglosses. The Lip Veils are actually formulated more like a "liquid lipstick" with a gloss-like shine as they wear very creamy/milky and have about a medium pigmentation (not quite sheer but not totally opaque either).
They are available in 4 shades:
Cocoa (rich brown)
Café Au Lait (coffee)
Pretty In Peach (peach nude)
and Caramel Kiss (caramel)
I tried them all except for Cocoa (which I thought might be too brown for me). These lippies are all lovely nudes. No matter what your skintone, you are bound to find that at least one (if not more) of these glosses to be a good nude color for you!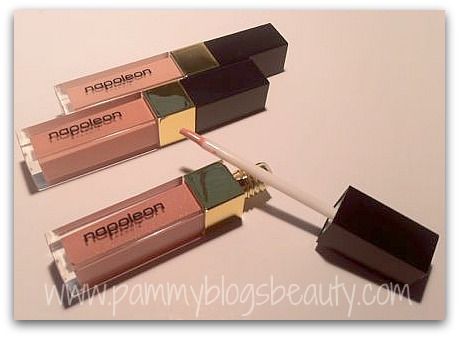 Packaging and Product:
Like all Napoleon Perdis products, the packaging is elegant and sophisticated. I like that you can see the color of the gloss through the tube. The wand features a brush-style applicator that works well. The product carries a very slight and almost vanilla-like scent.
I think that nude lips are the perfect compliment to a gorgeous smoky eye. While these nude lippies are nice for right now, I think that these Lip Veils will be *perfect* for Fall when I wear a smoky eye more frequently!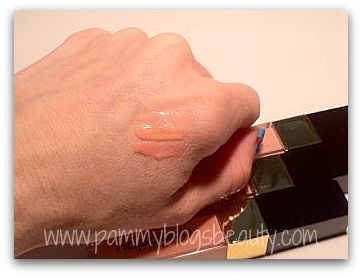 The Skinny:
These glosses retail for $23.00 each and are available at napoleonperdis.com and Napoleon Perdis concept stores.

Lip Veils are enriched with Vitamins E and C and Soybean Oil to nourish the lips.



I really adore these lip veils and am curious to explore Napoleon Perdis's lip products even further!