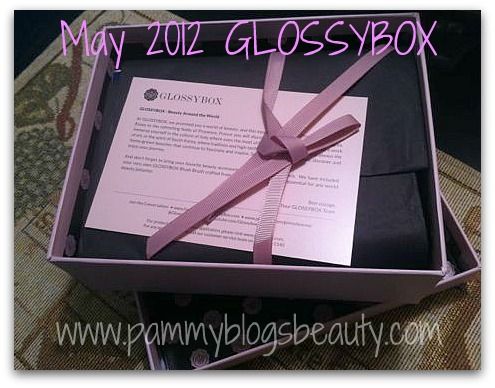 Wow! Ya'll! What an amazing GLOSSYBOX! Ya'll may remember that I had the chance to review
GLOSSYBOX's special Blogger Inaugural USA box
a few weeks ago? That was a special one-time box sent to bloggers to celebrate the launch of GLOSSYBOX in the USA. That box was fabulous! So, of course I subscribed! The GLOSSYBOX featured in this post is my first of the monthly subscription boxes.
What is GLOSSYBOX?
GLOSSYBOX
is the newest beauty sample subscription service to come to the USA. GLOSSYBOX is actually a world leader in the monthly beauty sample box market. GLOSSYBOX has been a phenomenal success across the globe and is available in 19 countries! Now it is finally in the USA! Like other beauty sample services, you pay a monthly fee and get a box of 5 deluxe beauty samples (one of which they promise will be full-sized). The difference? GLOSSYBOX is on the expensive side at $21.00 per month. Yes, that is more than double the price of
Birchbox
(which is still my favorite beauty sample subscription at $10 per month!). For the $21.00 price, I am expecting this box to really deliver!
I really can't compare the GLOSSYBOX directly to Birchbox since GLOSSYBOX is more than double the price. Lets just say that I have higher expectations for the quality and content of the box items in GLOSSYBOX with the high price. The Bottom Line: I need to get my money's worth. But, that is not why I subscribe to these services! I want the *experience* of opening a beautiful and luxurious box filled with unique, special, and high end beauty treats. Some beauty sample services deliver this spot-on, like Birchbox. Some do not (cough, MyGlam). I want the pretty packaging! I want the trill of opening a beautiful box filled with surprises. It is like getting a present; and, lol, I love presents! :)
What is inside the box? Is it worth the cost? Keep reading to find out!
As much as I loved the USA Blogger Inaugural GLOSSYBOX, it didn't really give me an indicator of the value of the monthly subscription boxes (as they treated us bloggers to wonderful full sized products in that one, thanks again GLOSSYBOX!). What that inaugural box did show me was the beautiful presentation of the GLOSSYBOXES. Well, I am happy to say that the monthly boxes are presented and packaged just as beautifully as the inaugural box!
Honestly, as far as subscription boxes go, nothing beats the presentation and packaging of the GLOSSYBOX. It is just beautifully done! So elegant and high-end. There is no question that you are experiencing a luxury beauty box when you open this regal package! This is the St. Regis of beauty boxes!
The Box Itself:
The actual box is lovely! It is an extremely sturdy and totally reusable very light dusty pink with the glossy box crown symbol printed on the top. The inside is a black pattern with the crown symbol in pink. Overall, very designer looking. I have not yet figured out what I am going to "do" with my GLOSSYBOXES. They are almost too pretty for "storage" and would be pretty enough somewhere visible in my house. Fellow GLOSSYBOXERS, I would love to hear what you are doing with your boxes! I use my Birchboxes for makeup and product storage in my rolling cart and for wrapping small gifts. These GLOSSYBOXES are slightly larger and more sturdy than the Birchboxes. So, I think they need to serve a different use.
The Box Contents:
Girls, I literally squealed with glee when I opened this box. I know, I know, I am a dork. But, this box totally excited me!!! Let me go ahead and tell ya that GLOSSYBOX knocked this one out of the park. This box is fabulous!!! It is filled with luxury items that I have either wanted to try or needed to discover!
This box's theme is "Beauty Around the World". So, the items included are all from different countries. Cool!
Lets get to it ya'll! What is inside?
Amore Pacific Moisture Bound Refreshing Hydra-Gel (South Korea: .27 oz sample size, full sized cost $100 for 1.7 0z): This gel moisturizer looks so refreshing! This is a generous deluxe sized sample in a beautiful little jar. This moisturizer looks just perfect for this time of year. A hydrating gel moisturizer that leaves your skin feeling bright and refreshed. Notice your complexion visibly improve, giving you confidence and a natural glow.
Burberry Beauty Lip Mist Natural Sheer Lipstick in Copper N. 202 (UK: .028 oz sample size, full sized cost $30 for .12 oz). OMG, this is the darn-tootin sinkin cutest little lipstick I have ever seen! It is like Hobbit-sized! It truly is a mini of the full sized with its luxe tube and retractable product. I am just dying to stick this in my purse. Talk about travel friendly! This sample is adorable and I would LOVE to see more samples like this in future GLOSSYBOXES! Actually, I have wanted to try Burberry cosmetics for quite a long time. I have a number of handbags by them. So, I am a huge fan of the brand in general. A creamy lipstick that offers a hint of natural, sheer color leaving your lips moist and dewy. The perfect present for the perfect pout.
Marvis Whitening Mint Toothpaste (Italy: Full Sized! 1.23 oz, $7.50): I know from when Birchbox featured Marvis toothpaste in a Birchbox that many people are not into getting toothpaste in a beauty sample box. While it is not the most exciting item in the world, it is a full sized item and a "luxury" toothpaste. The bottom line: this is a product I will use. So, I am content with that. I like the old-school pharmacy type packaging of this product. make the most of your splendid smile with a whitening toothpaste dripping in cool mint freshness, all while protecting against tooth decay, tartar, and plaque.
Phyto Intense Hydrating Mask (France: 1.7 oz sample size, full size cost $38 for 6.7 oz): This is probably the product that I am most excited about in this box!!! I have never tried a Phyto product before; but, I have always wanted to! My hair is so dry. This mask looks like just what I need. I can't flippin' wait to try it! Indulge in luxury and aroma with a conditioning treatment that moisturizes and detangles strands without weighing hair down. Nourish, revive, and delight.
Zoya Summer 2012 Beach and Surf Collection Polish in Tracie (USA: Full Sized!!! .5 fl oz $8): Whoo-hoo! Another full-sized product. Way to go GLOSSYBOX! Plus, I just adore Zoya polishes. Also, this shade is so unique. I do not have anything similar in my polish collection. So, this is a nice addition for sure. Dive into the creamy shades and shimmering sea foils of the Zoya Beach & Surf Collection. Allow your nails to go on vacation everyday. :)
GLOSSYBOX "Extra": GLOSSYBOX blush brush: This is a nice little extra! It is a travel sized blush brush with the GLOSSYBOX name and logo printed on the handle. The hairs are pretty soft and are apparently are the "finest goat hair". The brush head is a nice (yet small) size for blush placement on the cheek. The brush appears to be pretty standard quality (and nicer than the ones that were included in the Glam Bags for comparison). Nice treat!
As ya'll can tell, I am absolutely thrilled with my May 2012 GLOSSYBOX and the GLOSSYBOX service as a whole. Only time will tell if all of the GLOSSYBOXES are this consistently amazing. If so, then call me a huge fan!

What would I like to see with GLOSSYBOX as they move forward with their USA service? I would like to see their website grow with the ability to earn points towards discounts or product purchases for referrals or feedback. They currently do not have this (and Birchbox does: which I love!). From what I can tell through the PR emails from GLOSSYBOX, I believe they are going to implement something like that soon. In the meantime, us GLOSSYBOX subscribers can enjoy the beautiful monthly GLOSSYBOXES! I am already eagerly anticipating my next month's GLOSSYBOX!

I am curious. Fellow GLOSSYBOX subscribers: Did we all get the same box?