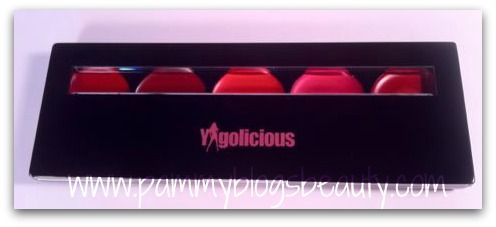 You would think with all the palettes in my collection that I would have a lip palette, right? Well, actually, I am a newbie to lip palettes! Lipstick is so portable and I like to apply it often. So, the idea of a lip palette just hasn't appealed to me. I just thought that it would lack portability for reapplication. So, I really didn't know how I would feel about this lip palette.
Well, when I saw this Smooches Palette by Yagolicious, I was pleasantly surprised. No, it is not as small as a tube of lipstick. But, its slim design allows for great portability with the added bonus of multiple shades!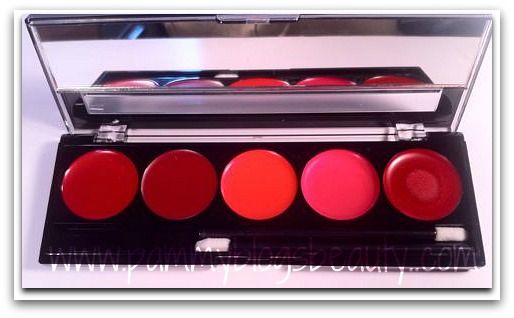 The Smooches Palette by Yagolicious:
This palette offers 5 red-toned lip colors. The lipsticks are enriched with lip-loving ingredients such as Vitamins A, C and E in addition to Soy Protein, Cucumber, Jojoba Seed Extract, Castor Seed Oil, Apricot, Chamomile and Sunflower. In addition, the lipsticks are free from parabens and sulfates.


This palette is a great option for red lipstick lovers or girls who just want to experiment with red lips. I find that reds can be tricky. Having an entire palette of red tones allows you to either find your perfect red from the 5 shades *or* mix the shades to create your own custom color! I, personally, like the "pinkish-red" shade that is 2nd from the right.

As you can see from the swatch below, these colors pack some major pigment! You will get very bold color with this palette. Also, the lip colors have a nice and slightly vanilla scent.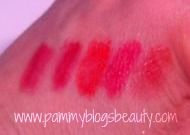 The Skinny:
The Smooches palette is available at the
Yagolicious site
for $34.95.
If you are a lover of red lips or if you just want to experiment with color, this palette might just be for you! I know I am happy to have it in my collection for when I want to rock some major lips!