Ready to get your fairy glow on? Embrace your inner Tinkerbell with Pixi's new feminine and fresh PixiGlow line.
PixiGlow launches this week at Target
!
The PixiGlow line is a collaboration between Pixi and Disney. Makeup and Disney? Two of my favorite things! I love that this line was inspired by the ultimate Pixi...Tinkerbell herself!
I am in the process of testing out so many fun items from this line! Stay tuned for a sprinkling of PixiGlow reviews over the next few weeks. The PixiGlow line is just perfect for Spring! To kick off this PixiGlow review series, lets start with the adorable PixiGlow Fairy Glow Palette.
For this palette, Pixi's creator captured flower-inspired colors that Tinkerbell herself might don: from pastel petal pinks to vivid berry shades.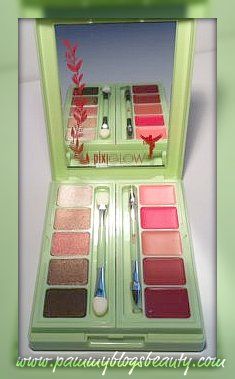 OMG! I adore this pretty palette!!! Besides just being the stinkin' cutest palette ever, the shade selection just works beautifully with my coloring! I have literally used this every day since receiving it. It is currently my favorite full-face palette in my collection! These shades are the perfect assortment for a lovely full-face look! I love it when I find a palette in which I can literally use every single item in it!!!
Get lost in your own reflection with the help of this little Tink-trinket of all your favorite hues. Un-dull &
delight with a few swishes for eyes, cheeks and lips, creating a glowing mirror image & a flawless fairy face.
Baked pigments create a true twinkle on the eye & a faultless magic flash on the skin. Pair with a sweet lip
dew for a perfected, Pixi-pretty Tinker Bell treat. This palette is certainly a delight as easy as a fairy flight!
The Fairy Face Palette is part of the new PixiGlow Disney/Pixi collaboration available at Target.

The Fairy Face Palette retails for $34.00 and contains everything you need for a full face: 5 neutral shimmer shadows, 5 lip colors, and one blush. That is a great deal considering how much makeup is packed into this palette!
The Packaging:
As you can see from the photos. They packaging is beyond adorable! The cover artwork is so inspired! If you are a perpetual fan of fairies, you will love this! It really does inspire you to do "pretty" makeup. This Fairy Face Palette is just totally cute.
You open the palette and see a large decorated mirror on the inner cover and 2 sliding trays holding the 5 shadows and the 5 lip colors. You get a dual-ended shadow applicator and lip brush. The lip brush I use; but, I prefer my own brushes for shadow. These trays slide open to reveal the blush in the bottom compartment. The blush comes with a wide and flat blush brush that is quite soft and usable.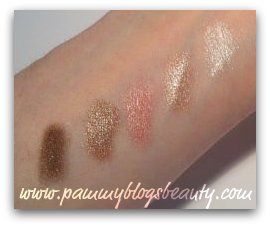 The Shadows:
These shimmery shadows are just beautiful! The pigmentation is great and they apply beautifully. They almost have a metallic finish. What a beautiful assortment of neutrals! I am very pleased with the pigmentation, finish, and wear. If you love shimmery neutrals like I do, then you will love the shadow selection in this palette.
The Lip Creams:
These lip colors are a cross between a cream and a balm. They are super moisturizing! They leave a beautiful and semi-sheer soft tint on your lips. I would describe these as having medium pigmentation (like a highly pigmented tinted lip balm with a glossy finish). My favorite is the very light pink at the top of the palette. So pretty!
The Blush:
I am a perennial lover of blush...and this one is gorgeous! This 3-color blush has a rose shade, a peachy shade, and a tawny neutral shade. Swirl them together for a gorgeous coppery peachy peach shade with high shimmer/almost metallic sheen. I swatched them separately above (but you kinda get the idea?).
As you can tell, I just love this fairy-inspired palette! This palette might just make you fluff your wings and grab a wand...time to embrace your inner Tinkerbell! ;) But seriously...this palette is not just for Tinkerbell lovers...This universally flattering palette is destined to be a favorite for many!
The colors are just perfect for Spring! I know that I will be taking this palette with me when going out of town for Easter! It will have everything I need in just one palette!!!
Stay Tuned for More PixiGlow Reviews:
Check back soon as I will be doing reviews on more items from the PixiGlow collection including the Straight on Till Morning Liner, the Magic Tint Tint, The Catching Shadows Crayon, the Fairy Dust, and the polish!
Thanks for reading!