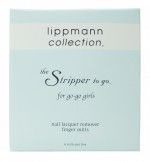 Do you ever have a dilemma when packing for a trip and deciding upon nail color? I sure do! I switch up my polish frequently. So, often one color just won't suffice! But who wants to pack a big bottle of remover? Not me! These cute little, cleverly named, mitts by Deborah Lippmann are the solution!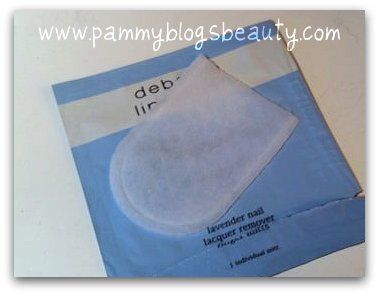 Each box contains 6 individually wrapped mitts for $12.00. Each mitt can remove all the polish on both your fingers and toes (and then some! But, at that point you are out of digits, lol!).
These mitts are literally soaked in polish remover. They are extremely wet...which is both good and bad. Good because you have plenty of remover to work with...bad because your fingers will get all wet. The idea is that you just slip this little mitt over a finger and work from there. Cute idea! But, I prefer to just "hold" the mitt and use it like that. Also, I like the texture of the mitt. No lint!
The scent of these mitts is very nice (for a remover)! It is just the slight hint of lavender.
Just a few swipes of these bad-boys and your polish will be gone. Ready for your next color!
While these are not my go-to for everyday (I prefer big fluffy cotton balls or circular pads), these are perfect for travel or removal on-the-go! I will always have these on hand.