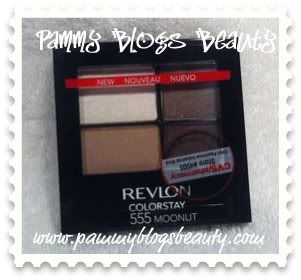 My "
New for 2011
" makeup reviews continue with this
Revlon Colorstay Eye Shadow Quad
in
Moonlit #555
. I really adore neutral shadows. So, this particular quad really jumped out at me from the Maybelline display. But, there were many gorgeous quads to choose from.
Packaging:
The design of the quad is totally different from the previous ColorStay quads. I wish I could do an in-depth comparison. But, I did not own any of the previous quads. For some reason they didn't appeal to me too much. But, these really do! I think possibly because the packaging looks more modern.
Speaking of packaging, one of the "updates" with the new palette design is that the pans are of different sizes. I like that the highlight shade and lid shades are the largest pans as those are the shades I use most often. I go through highlight shades like crazy. I don't know what it is. But, I love me some highlighter, lol! ;)
The Shadows:
Okay, so lets get right to it. How is the quality?
The Shades: This Moonlit quad contains a gorgeous selection of very wearable neutral shades. (see photos and swatches!). These are exactly the types of shades that I like to wear daily.
Texture: The texture seems to vary. Generally, I found the shadows to be a bit on the dry side. I know what you are thinking...powders are supposed to be dry, right? Well, yes...but, I prefer a shadow to have a more buttery texture (a-la WnW or Urban Decay). In this particular quad, the dark outer corner/liner shade (bottom right) and the lid shade (bottom left) had the nicest texture. The highlight and crease shade seemed quite dry to me.
Finish: The highlight and crease shade have a sparkly shimmer while the lid and liner/outer corner colors are more matte (with a slight bit of a sheen).
Pigmentation: I found the pigmentation of this quad to be above average for a drugstore shadow. But, lets face it, Wet n Wild has really raised the bar for quality eye shadows from a drugstore line and I think WnW totally has these Revlon quads beat! I would describe WnW shadows to be highly pigmented while these Revlon quads are of about medium pigmentation.
Wear: Well, lol, I don't wear my shadows for 16 hours on end. But, I can say that the lasting power is very good with these shadows. My shadow stayed put until I removed it. Only a slight bit of fading. I am pleased with the wear.
The Skinny:
There are 16 different quads available.
They retail for around $6.00 (depending on where you go...scope out those coupons and sales ladies!)
The Verdict:
I am not sure if I would purchase any more of these. I think the quality is pretty good. But, I was not blown away (and I think I had gotten my hopes up!). With that said, the actual shades in this quad are really amazing. They are gorgeous colors that work great for everyday wear. Plus, the shades really brought out my blue eyes and wear well with my neutral-cool toned coloring.
I am still undecided if I am going to purchase any more. I might have to take another look at the collection next time I am in the drugstore. Readers: have you tried these? What quads do you like from this new collection?