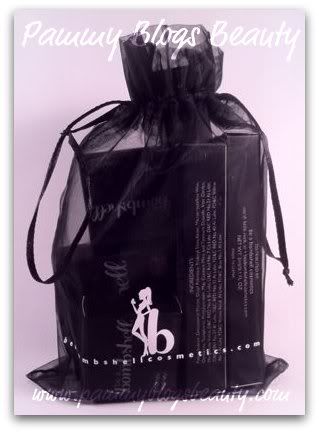 Hey Lovelies!
I have been meaning to post about this cute "surprise" package that I got in the mail a couple months ago! I was totally planning on writing about this sooner. But, alas, having a baby and my blog maternity leave threw me all off schedule! Okay, sorry, I digress! Back to business...
Be A Bombshell Cosmetics
sent me a fun little bag of makeup goodies. It came nicely packed in a cute box. I was already intrigued just opening it!
I'm wondering, "Hmm, is this a new monthly beauty sample service?". The answer, no. But,
Be a Bombshell
does offer personalized suggestions and deals emailed right to you every month if you fill out a beauty profile. The best part, there is no obligation to buy! You can just choose what you want and order or pass. Products end up being about $10 each: 2 products for $19.95, 3 products for $29.95, etc. I have not placed and order from them yet. But, this seems to be the deal. Sounds good! But, the true question is...are these products any good?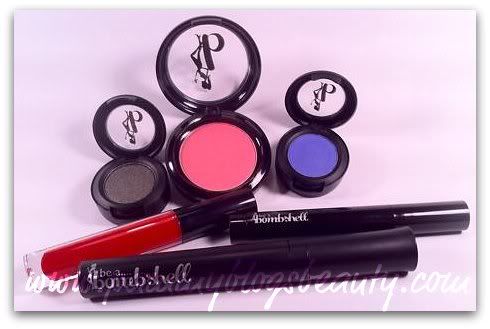 Products at-a-Glance:
I got 6 products in my little surprise bag: A blush, 2 eye shadows, a liquid eyeliner, a mascara, and a lip gloss.
Mascara: Onyx
Eye Liner: Onyx
Lip Gloss: Hot Mess (lol, love this little phrase because I love Christian Serriano! But, yah, it is a bit overused these days)
Blush: Blind Date
Eye Shadows: Money Money and showstopper
Packaging:
These Bombshell Cosmetics are packaged in sleek MAC style boxes and containers. Seriously, they are so similar! The pan sizes are the same as MAC as well. So, they would fit into your MAC palettes. The boxes are black and sleek and uncomplicated. The lids to the shadows and blush are clear and slightly domed with the cutesy Bombshell logo. The packaging feels pretty sturdy and appears to be good quality.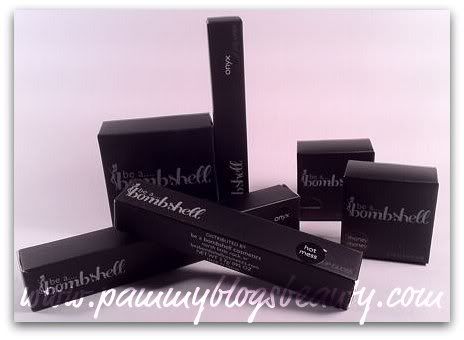 Products:
Eye Shadows:
Showstopper: Matte blueish-purple "periwinkle" shade. I heart purple eye shadows. So, I am digging this color. Pigmentation is about medium. The texture is a bit dry. But, the color is buildable. What a fun color to wear.
Money Money: Wow!!! What a unique color! This shadow is a shimmery blackish olive/army green with gold subtle gold shimmer. It is super-duper pigmented. I really don't have anything quite like this in my collection and am loving wearing this one!
Blush: Blind Date:
Ya'll know that I <3 Blush. So, I am super excited about this one! It is a very deeply pigmented matte color. The shade is just beautiful and totally wearable on my super pale skin. It instantly perks me up! Love!
Lip Gloss: Hot Mess:
Yes, lol, love the name! But, besides that, the lip gloss itself is really pretty. Hot Mess is a very richly pigmented glass-like shine red lip gloss. It is like a high shine liquid lipstick. There is no scent and the applicator is a doe-foot. Packaging is super sleek acrylic. This lip gloss is *so glam* and I am inspired to wear red lips more when out in the evenings. This gloss is hot for sure!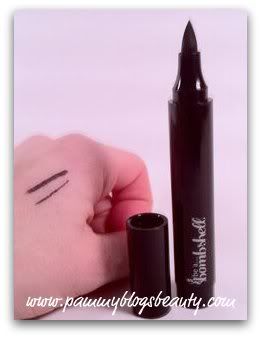 Eye Liner: Onyx:
This is a black felt tip liner. The eyeliner wears all day. I like the shape of the tip of the liner as it allows for a varying your line depending on the pressure you put on the tip. I was able to get a very fine line with this. Great for making cat eyes!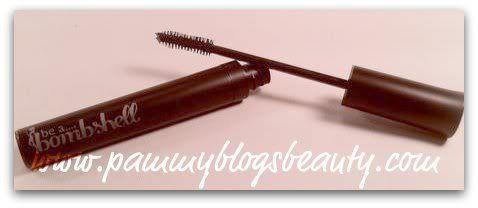 Mascara: Onyx:
This is your basic black mascara. The wand is super long and large (which is not my preference). The brush head is spoolie and big with a bit of an indentation in the middle. Personally, I prefer rubberized brush heads (like CG's lash blast). But, this formula wears pretty well. I didn't get any major volume. But, this mascara seems to lengthen okay.
What fun makeup! All-in-all, the products are good quality. I especially like the blush and the eye shadows (although the pigmentation seems to vary by color). I would certainly recommend checking out this line if you are interested in the MAC-look with great colors and an affordable price! At about $10 each, these products are a really good deal! I just signed up and completed my profile on the Be a Bombshell website. I am very curious to see what gets recommended in my monthly emails!
Discount Code for Pammy Blogs Beauty readers!
Be A Bombshell Cosmetics
is offering a
15% off discount code
for Pammy Blogs Beauty readers! Just enter the code: PAMMY at the checkout. Offer valid through March 31st, 2012.
Let me know if ya'll end up checking out this brand!
XOXO!