Hello there readers!
I am in the process of going through my makeup collection and reviewing items that I realized I have either not reviewed or mentioned before.
This cute little duo is from the Canadian brand Quo, which is available at mass market stores in Canada.
Quo
Couture Eye Shadow Duo
The packaging:
Now, because it is labeled "Couture" I am not sure if this is a specially packaged item, or if all Quo packaging is this fancy? I believe that this was a limited edition item? This certainly does not look like a drugstore makeup item. The packaging is absolutely gorgeous!!! The outer compact has a mirror-like shine and pretty damask type overlay design. Uppity! ;)
The compact itself is well constructed and sturdy. You will get some finger prints from the mirror finish, but that is the price ya just have to pay for that gorgeous mirror shine. At least prints are easily wiped off. Ya'll know me, I like keeping all my makeup items super clean and print free (lol, i can be so "type A" sometimes!).
You open the compact to reveal a completely mirrored interior. The compact mirror itself is a nice size for on the go application and touch ups. It also comes with a little gratuitous sponge tip applicator. I really never use this. But, some people find them useful for packing shadow on the lid.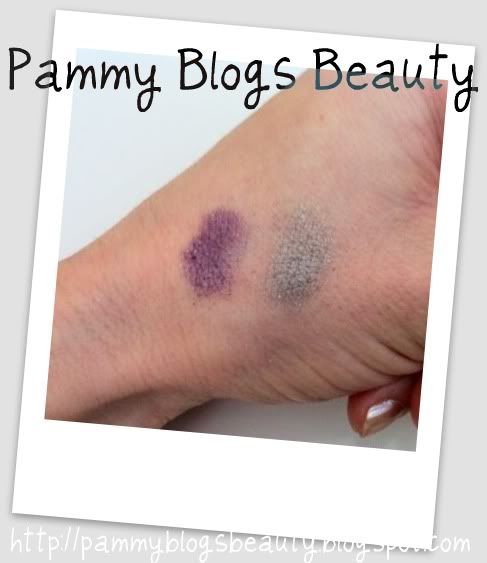 The Shadows:
Wow!!!
The first thing that came to my mind when I put these on were "this reminds me of Urban Decay"!!! Now, don't get *too* excited...I do find Urban Decay to be higher quality than these. But, there really is something about them that just speaks Urban Decay to me. As you read more you will know why.
The Finish:
These shadows are packed with super-chunky glitter. But, the cool thing is, if you apply carefully (as you should will all glitter shadows) by just tapping the color onto your lids with a flat rather than fluffy brush, then you should not experience glitter fall-out. I use this tap method with all my glitter shadows (which are mostly Urban Decay, lol! and now this Quo duo). I am "all about the glitter" except when it ends up as a fall-out mess under my eyes. So, I like to do everything that I can to prevent that. (hmm, I am thinking a future "how to apply glitter shadows" post is needed soon!).
The Texture:
So, back to the sparkle. Yes, these shadows have large chunky silver glitter particles which makes for a less-smooth application, but packs in the sparkle on the lid! You are going to get a bit of a gritty texture because of the glitter.
The colors:
In this duo, you get a beautiful medium toned purple and a medium grey. These colors are highly pigmented! The color you see in the pan (and the pictures) is exactly how the color wears on the lid. So shadows are true to color and wear all day. I am totally impressed!!!
As a long-time fan of neutral shadows, I love it that I am branching out with color with some of my recent makeup finds! I am totally swooning for these pretty shades! The surprising thing is, when you wear stand out shadows in very flattering colors, it can be well...surprisingly "wearable". Really, these colors go so nicely with my skin tone that I find that you can even get away with these vivid colors and glittery finish in the daytime. I mean, the glitter is apparent, but not obnoxious. Can glitter be obnoxious? Well, I suppose. But careful application just makes it pretty!!! But with that said, I do tend to reach for this more when looking for a "fun look" for going out in the evenings.
These shades pair extremely well together. My favorite combo is the purple on the lid with the grey in the crease and black liner. Beautiful!!! Also, they wear separately as lid colors. Very versatile!!!
All-in-all, I totally love this beautiful little duo!!! The shades are extremely flattering with my cool-toned pale skin an blue eyes. These shadows are just fun to wear! Period. I hope to try out some more Quo products in the future.
My Canadian readers: What do ya'll like from Quo? I would love to learn more! I am not sure when this particular duo was released as I got it as a gift from a blogger friend awhile back.
Thanks so much for reading everyone!!!