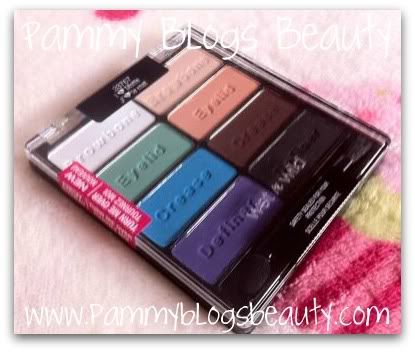 Hello there my dear readers! I am so excited!!! I finally found the Wet n' Wild Holiday 2011 Beauty Bar at my local Walgreens!
I don't know about ya'll, but this is a release that I have been eagerly anticipating all year long! Wet n' Wild is one of my all-time-favorite brands. For drugstore eyeshadow, the quality can't be beat. Actually, the quality is even comparable to high end eye shadows. Plus, I adore the Wet n' Wild Holiday palettes from last year. So, I have been very eager to get my little hands on these palettes!!!
LOL, I must admit that I have been stalking the Walgreen's in my area for a few weeks now! For those of you that haven't found the display yet, be sure to check the asiles surrounding the beauty area in the store. The beauty bar display is on an side unit. The "beauty bar" display at my local store was a couple asiles down from the beauty department. Honestly, it could have been there for a few weeks because I hadn't been looking beyond the beauty area.
So, what is included in this Wet n Wild Holiday 2011 Beauty Bar display?
Limited Edition Holiday Palettes *and* some Wet n' Wild Bestsellers!
Color Icon Brow and Eye Liners

Color Icon Shimmer Pencils

Mascaras

Color Icon Eye Shadow Trios

Color Icon 8-pan Eye Shadow Collection




and the following Limited Edition (swoon!) Palettes:
Color Icon Baked Eye Kit in "Baking a Cake" (6 pan)

Color Icon Baked Eye Kit in "Bake Off Contest" (6 pan)

Color Icon Baked Eye Kit in "Baked, Not Fried" (6 pan)

Color Icon Matte Eyeshadow Colletion in "I <3 Matte" (8 pan)
I am doing reviews for the new Limited Edition Palettes. This review is for the "I <3 Matte" 8 pan palette. Keep reading for my review and more photos (including swatches!):
As many of you ladies know, Wet n' Wild does matte eyeshadow extremely well. Often it is hard to find matte shades at the drugstore. So, not only are you getting a fabulous palette of entirely matte shades. But, also a palette of great quality shadows, period!
Only Matte?
How many of you have a palette of ONLY matte shades? For me, an entirely matte palette is a first! Personally, I prefer combining both matte and satin or shimmer shades for a multidimensional look. I think of this palette as a "resource" of matte shades. So, this is not a palette that I would grab thinking that I have everything that I need for a complete look in one palette. This is a palette that I would grab if I needed to add a matte shadow to an eye look that I am creating with shadows from other palettes. Now, while some of these shadows do appear to have a very slight shimmer to them, they all apply completely matte.
From this palette, I tend to use the white browbone and the skintone browbone shades the most. If my makeup is shimmery (which it often is, I heart shimmer), I like to highlight with matte shadow.
In addition to the browbone shades, the other "standout" shades for me in this palette are the brown crease shade and the black definer shade. Both of these make excellent liners. Also, the matte black is just about one of the best matte blacks that I own.
Quality:
As I mentioned previously, I find the quality of these shadows to be very good. These shades are highly pigmented.
Texture:
The shadows are "soft" and they blend very well. But, I do find that many of the shades lean towards the slightly "chalky" side.
Unique Shades?
Well ladies, if you are a Wet n' Wild palette collector, then you might not "need" this palette as there are many duplicates to previously released shades. But, it is nice to have all these mattes in one place or backups of favorite matte shades.
Price:
You just can't beat the $4.99 price tag on this! Plus, I got it for BOGO 50% off. Also, the current Walgreen's coupon book (available in stores) has a $1.00 off Wet n' Wild coupon. So, be sure to use that!
Packaging:
My only minor complaint here is the packaging. I do wish that Wet n' Wild would improve their packaging. I mean, I realize this is a discount brand and we are getting great quality product. So, for $4.99 a palette, it is not a huge deal or a major complaint. But, ot just would be nice if they were packaged a bit better. I mean, I would even pay more for nicer packaging (shhh!!!). I just wish that it was more sturdy. Some of the pans seem loose in the palette that I purchased. I am always afraid to travel with these Wet n' Wild palettes for fear of breaking them (especially if they are LE!).
Shades:
Left Side:
White
Soft Green
Bright/Light Blue
Medium Purple
Right Side:
Skintone/Cream
Light Peach
Dark Brown
Deep/Dark Black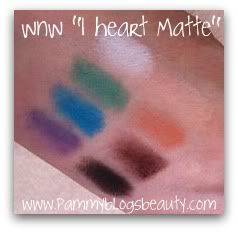 Overall, I am pleased with this palette. What a steal for $4.99 (although I paid 1/2 price! even better!!!). This palette gives you a great variety of matte shadows at a very low price. These shadows have great pigmentation and staying power. Even though many of these shades are duplicates from previous Wet n' Wild palettes, I am still glad to have this palette in my collection.
Did you ladies pick up anything from the new Holiday Wet n' Wild collection? Have you seen these displays in your area? If not, be sure to check out
Nouveau Cheap's Interactive Map
!