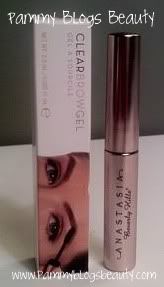 Are you like me? Do you have unruly brows? My brows have a plethora of issues: they are thick, yet there are some sparse patches, they are long and they require trimming, they tend to grow in all directions. I know, I know, lol, these brows must be tamed!
Typically, I comb them out with a spoolie brush and trim as needed. On days that I have extra time in the mornings or on days that I want to look really polished, I fill them in with brow powder or a brow pencil. But, absolutely every day, as the last step of my makeup routine, I finish my brows with clear brow gel.
Typically I go cheap with brow gels. In the past I have used e.l.f.'s clear mascara/brow gel (which is okay at best) and Maybelline Great Lash clear (which I really do like). Honestly, I am not too picky with brow gel. I just want something to hold the brows in place and keep them in place.
For this review I tested out
Anastasia of Beverly Hill's Brow Gel.
I got this in my most recent
Birchbox
! For my review, keep reading!
The Skinny:
Whew, pricey!!! A tube of this costs about $21 for .1 oz
Available at Birchbox, Sephora, or Ulta.
Packaged in a tube with a mascara-style wand.
Product leaves a glossy/shiny finish
This product is super easy to apply and use! You just comb out your brows to desired place with the spoolie mascara-style wand and it distributes the product to keep brows in place. That is it! Your brows will not budge all day with this product on!
I was very excited when I opened up last month's
Birchbox
to find a nice size sample of this
Anastasia Brow Gel
! I had just run out of brow gel. So, I started using and testing out this product immediately. I find that the gel comes out a bit heavily from my sample tube. I find that I often wipe a bit of product off of the brush before I use it.
Also, because of the strong hold, it can make your brows feel a bit hard and "crunchy" (which is an odd feeling, but honestly I don't touch my brows much). But, what is great is that this product absolutely holds all day! It is for sure the strongest hold of the brow gels that I have tried. If your brows are curly or very unruly, you should certainly try out this product! I know I am curious to try out Anastasia's tinted brow gels as well.
Thanks so much for reading beauties!
XOXO!

The sample came in my Birchbox
which I pay for monthly.