What is even better than the change of seasons and anticipation of Fall? The arrival of deliciously thick fashion magazines and all the Fall Fashion and Makeup Launches!
Pixi Beauty
has some great new products lined up for Fall to brighten your complexion! In addition, Pixi's creator, swedish makeup artist Petra Strand, now has a fabulous new blog:
Petra Personally
.
Not familiar with Pixi? Well all you have to do is head down to your local Target store to check the brand out! Pixi is a higher-end Target-exclusive cosmetics line. The packaging is cute, fun, and fresh and the quailty is phenominal. Petra's collection focuses on
enhansing natural beauty
.You can read one of my previous Pixi reviews here:
Lumi Lux Radiance Powder
.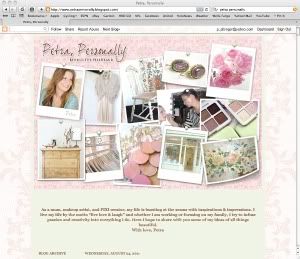 Petra Personally:
Let's talk about the blog first!
Petra Personally
is a great place to visit for fashion, beauty, and lifestyle inspiration. Petra lives her life by the motto "live, love, laugh": this is exactly the type of inspiration I am looking for when browsing blogs!
As you might expect, she gives some great makeup tips! But also, this blog allows you to peak inside Petra's world and discover her inspirations for her makeup line: fresh strawberries for red and Terra cotta tiles for her bronze shades. I think it is always nice when you can ''get to know" the inspiration behind products and the "person behind the brand". Her blog is certainly a fun place to visit!
For product reviews from the new Fall 2011 Pixi line, please keep reading after the jump break!
Pixi Fall 2011
I had the pleasure to test out and review 2 products from the new Fall 2011 Pixi collection:
All-Over Magic
in No. 1
Bare Radiance
and the
Beauty Blush
in No. 3
Perkiest Pink
.
All-Over Magic Powder:
The All Over Magic Powders come in 3 shades:
Bare Radiance
,
Rose Radiance
, and
Brightening Radiance
. I tested out the neutral one:
Bare Radiance
. They are packaged in a .25 oz pan. The compact is pastel green square plastic with a soft feel and the cute pixi fairy logo image. There is a mirror on the inside of the compact. The product retails for $24.00.
The Skinny:
This product is considered an all-over highlighting powder. You can wear it on your cheeks, your eyes, or even your body. The pan contains 4 neutral shades. So, you can adjust the shade depending on which part of the pan you hit. Just apply wherever you want some subtle shimmer and a hint of color.
The shimmer is very finely milled so that it gives you "glow" not "sparkle". I love this! Actually, I find the effect to be somewhat similar to the Lumi Lux Powder that I previously reviewed (and also loved). The difference is that this powder had more of a "bronze effect" on my skin...lightly bronze and a bit "peachy". On my very fair skin, this product gives me just a hint of color. However, if you have darker skin, this might show up just as a highlighter.
In addition to being a pretty highlighter, the powder iteself contains some skin-loving beneficial ingredients. They include: Mica (mineral pigment), Vitamin E (an antioxidant), and Magnesium (for healing).
How I use:
Because of the bronze-neutral toned shade, I liked using this as a super-subtle bronzer to add some bronze color and sheer glow to my face. I just swirl my brush across all of the colors and apply after blush on my forehead, nose, and cheekbones.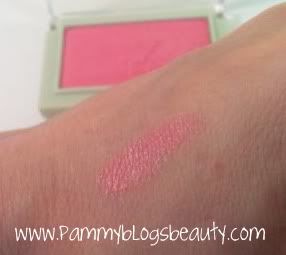 Beauty Blush:
Pixi's beauty blush comes in 3 pretty shades:
Healthiest Honey
,
Purest Peach
, and
Perkiest Pink
. I tested out the shade
Perkiest Pink
(what a cute name, right!). The blush is housed in a tiny pastel green compact with a clear plastic lid. The pan size is .16 oz and the product retails for $16.00.
The Skinny:
These blushes were designed to
enliven and sculpt your face.
As we all know, a beautiful pop of color on the cheeks can work wonders for the complexion! I am a *huge* blush fan (as you loyal readers know) and I always feel prettier the instant that I swipe blush on my face.
This blush looks so beautiful on the skin! It is just an absolutely beautiful pop of pink. This blush has very quickly become my go-to favorite blush!!! It is a medium pink with a golden peach shimmer. Great pigmentation and fabulous staying power!
How I use:
I apply just a couple swipes on the apples of my cheeks and blend up and out. Ta-da! What a great way to perk up your skin!
Beneficial Ingredients:
Like the All-Over Magic Powder, this blush contains some great skin ingredients: Soybean (anti-inflammatory and protective properties), olive and jojoba oil (skin nourishers), Rose Hip (protectant), Honeysuckle extract, and Vitamin E.
What a fun peek into Pixi's Fall 2011 Collection! I am sure that the Beauty Blush is going to be a year-round favorite for me! Be sure to check out Pixi's new blog Petra Personally!
Have you tried any Pixi products? What Target exclusive makeup brands do you like?
Thanks for reading!