Have ya'll had the chance to check out the adorable Pixi line of cosmetics at Target? It is a higher-end line sold exclusively (I believe) at Target stores and the
online Pixi site
. The packaging is fun and fresh and the quality is fabulous. It is certainly a line that I am very curious to explore further! Plus, I just can't resist the "pixi"/fairy theme! :)
This review is for Pixi's Lumi Lux Radiance Powder in No. 1 Peach Petal. For a full review, swatches, and photos, please keep reading after the jump.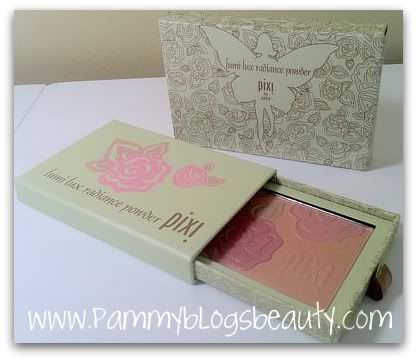 The Basics:
This product is an illuminating all-over powder. According to the packaging, it was designed to add light, radiance, and luminosity to the skin & create a flawless angelic sheen. This powder is great for just perking up your face and giving you a nice subtle glow. It is not quite dark enough to be a blush and is more subtle than your typical highlighters. It is like a finishing powder with a kick. I really like that the effects are so subtle.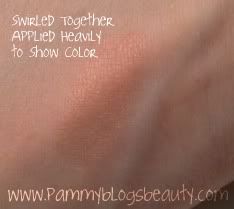 Retails for about $26.00 for .53 oz of product.
The pan is *huge*! At first I thought it was overly large. But as I have been using the product, I realize that it is a great size considering that I use the product practically all over my face on a daily basis.
The packaging is very pretty and girly. It is a rectangular cardboard box with a pull out pan that comes completely out.
The rose imprint design on the powder is just beautiful! Very appealing in the pan. The powder has a slight shimmer. The background is peach with mauve-rose colored roses and nude-taupe-ish leaves.
Application:
You can either apply the colors individually with a small brush, or you can use a larger brush and swirl the colors together. I, personally, prefer to apply it swirled together with a large brush (I have been using the Real Techniques Blush Brush which is rather large). I just swirl the colors together, tap out the brush, and apply all over my face (forehead, cheeks, nose, and chin). I like applying it after foundation and before blush. Then I follow with a bright blush right on the apples of my cheeks.
I love using this pretty perk-me-up powder! Like I mentioned, the effects are very subtle, even on my very fair skin. Remember, this is not a true highlighter nor a blush. It is more like a luminescent finishing powder. I love that it is subtle because I can use it all over my face to really give my complexion a boost. I have literally been reaching for this every day (no matter what other blush or bronzer I wear). While this is a pretty powder for spring and summer, I think this product will be great year-round. Especially when you need a mid-winter perk up for your complexion!
As always, thanks so much for reading and stay beautiful my dears!