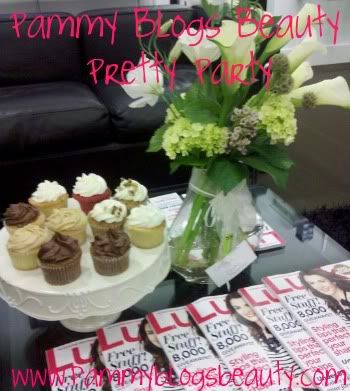 Hey Dolls!
I am so excited to share about my blog's first Beauty Event!!!
Lucky Magazine,
Dior
, and Bloomingdale's hosted a special "
Pretty Party
" for
Pammy Blogs Beauty
! Lucky Magazine contacted me to see if I would be interested in getting about 10 girlfriends together for a fun evening of beauty. Girl-time *and* makeup...perfect! They had me at hello! ;) The goal was just to spend time with friends, learn about makeup, and talk about beauty. Fun stuff!
The Evening:
We all met up at the Dior Counter at the Bloomingdale's at Perimeter Mall in Atlanta. Then, we were escorted to a fabulous private party-area set up. The party area had a demo makeup display, makeup tables and chairs with beauty tools and mirrors, a lounge area and "nail bar" (set up with cupcakes, flowers, Lucky Magazines, Nail Polish, and streaming video of the new Dior Ads) and a photo area. In typical high-end Bloomingdale's style, the service was fabulous and the set up was beautiful. This event was well planned from start to finish!
After our busy days at work, this mid-week event was just what we all needed. I am a huge believer in self-pampering. You can recharge and relax while just feeling good about yourself!
To read more about the event, see photos, and hear about some of our take home items, please keep reading after the jump!
The Dior Master Class:
After some girl talk and cupcakes. We were treated to a
Dior Master Class
with internationally-known makeup artist
Vincent Lee
. While collectively the whole group has had makeovers in the past, a Dior Master Class is different! It is not a makeover, but an actual makeup lesson!
Let me tell you, Vincent was fabulous! The class focus was "How to Apply Makeup". I know what you are thinking, "But you all know how to apply makeup already, right?". Well, yes, but as Vincent pointed out, most often makeovers are done for you. But, you don't have a makeup artist living in your bathroom! So, learning how to apply makeup yourself while using the best technique possible is the way to go! Vincent and his local team of Dior makeup artists were able to see how we were applying it ourselves. In this way, they could correct or help us if we needed it. In education (part of my background as a Speech-Language Pathologist), some call this "seizing the teachable moment"...and that is exactly what they did! So often, how women apply makeup is habitual more than anything else. I learned some great tricks! So, for that alone the evening was a great success. But, I gained much more than that.
Skincare:
We started from square one: Skincare. Vincent expressed that for your makeup to look good. You must start with good skincare. I couldn't agree more! I have always believed that the foundation of any great beauty routine is good skincare.
We were instructed to remove ALL our makeup. We cleansed with cleansing water, toned, applied face serum (The One Essential), eye serum, facial moisturizer, and eye cream. After that, we were fully prepped for our makeup lesson. The best part: None of this skincare irritated my super sensitive skin! I was thrilled!
Makeup Application:
After our skin was cleansed and prepped. We applied a full face of makeup while following the detailed instructions from the Dior makeup artists. I found it quite interesting to apply my makeup in a "different" way! Vincent and his team picked out all of the colors for us. I am always intrigued by the colors that others select for me. I tend to always stay in the same shade families. So, having a makeover or attending a class like this really forces me to branch out of my comfort zone! I love it!
Me and my Bestie at the Event
(Yep, I'm the pregnant one!)
This was before our makeup application.
Here were our steps:
Foundation: Applied with the brush of our choice (I used a kabuki). The spray foundation got sprayed on the brush and then we tapped into our faces.
Concealer: Applied with a concealer brush to my under eye area (my "trouble" spot!). Vincent encouraged me to always apply concealer to my lids as well because I have some redness there. He also mentioned that I could skip eye shadow primer as the concealer on the lid would suffice! I have always wondered about that!
Contouring: This was such a fun step for me!!! We used Dior's fabulous Sculpting Powders. These are blush/bronzer/contour/highlight powders that contour your face and give you some "color" in one step! The striped pan has a highlighter across the top, a "bronzer" or contour shade in the middle, and a base/blending shade on the bottom. You position it so that the contour shade hits the hollow of your cheekbone. You just swipe right on: instant contouring!!! As a perennial "blush lover"...I was like "but what about the blush???" Vincent told us that contouring looks much more natural and that we might find that we don't even need blush after the contouring step. He said if we do add blush. Just to use a slight pop of color on the apples of the cheeks. It makes sense! That is where people blush naturally. I adored the contour powder that I used during this class so much that I purchased it after we were finished: DiorSkin Nude Natural Glow Sculpting Powder Makeup #032 Sable Rose. This was the 2nd darkest shade in the range. I tried the lightest one first (and it was lovely). But, I wanted more definition for contouring. I didn't need any additional blush, bronzer, or highlighter with this. But, of course, it would look lovely topped with my favorite highlighter ever Dior Amber Diamond (my Holy Grail highlighter!!! check out my review here Dior Amber Diamond) . I will be posting a full review soon on the DiorSkin Sculpting Powder. So, be sure to check that out! I *heart* it already!
Eye Shadow: (note: I skipped the eye shadow primer step, but many of the girls applied primer before the shadow): Vincent showed us how to create a dimensional eye with 2-3 shades only using a few swipes of the brush. What a quick method. Highlighter shade to the brow bone and inner corner, dark/contour shade to outer lid (blended inward with color concentrating on outer corner). For "drama" you can add a 3rd shimmery color to the lid. Very simple and very pretty! The shadows that I tried were lovely and pigmented.
Eyeliner: Vincent taught us the "tight lining" method for liner. I have tried this before at home, but not quite like how he showed us! He taught us to go underneath the lashes and basically fill color in from underneath. This gives a very natural defined look to the lash line and lash area. It makes your lashes look thicker as well. I really loved this effect! We used the DiorShow Waterproof Liners (I used #788 Chestnut). I loved the look so much that I purchased the liner!
Eyelash Primer and Mascara: Ooooh! This was a fun step! We all used the DiorShow Maximizer and Mascara. The best part: this was a freebie in our goody bag at the end of the evening! This primer amps up your lashes and also improves their condition. We followed the application of primer with a few coats of mascara. Tip: Coat both sides of the lashes and make sure you start at the root!
Lipbalm: Oooohhhh! I loved this product (I must go back for it sometime!). My lips are always dry. So, I am a bit of a lip moisturizer addict. This Dior Addict Lip Glow Reviver Balm was amazing! It instantly moisturized my lips and gave a little hint of color. This product works much like a "mood" lipstick...it gives a personal color even though the balm is clear and the effect reminds me of a lip stain.
Lipliner: Applied as a base before lipstick. I used a basic dark nude shade (my lips are very pigmented).
Lipstick: I was so suprised at the shade that Vincent selected for me!!! I tried Dior Addict Lipstick in #680. It is a lovely sheer and cool toned mauve. It really perked up my super fair skintone. I asked Vincent why he selected this shade for me as I never usually go this dark. He said that he wanted a color to make my eyes pop and to provide color since the shadows I was wearing were neutral. This is really branching out for me. But, I love it! This is a lovely shade to take me into Fall and Winter. Very wearable.
Lipgloss: I topped off the lip-look with a sparkly gloss.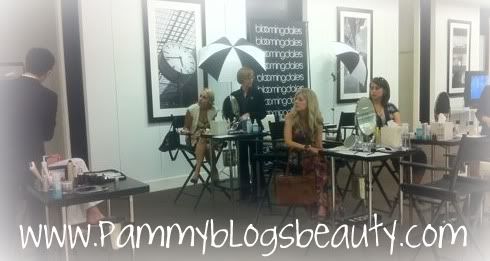 Nuggets of Wisdom
and
Interesting Topics
from our class:
No need to apply a primer if you skin is well prepped with serums and moisturizers! Ladies, it all goes back to great skincare. Right!
Makeup trends are regional. Interesting! I would love to explore this topic further on my blog!
My favorite quote of the evening: "Your eyebrows are sisters not twins!" It is so true! Our faces are not symmetrical. So, no need to niggle over trying to make your eyebrows exact matches! Plus, our faces are expressive. When we emote, our faces do not necessarily reflect that in a symmetrical manner.
Another brow tip: Don't neglect them! This is a step that I (hanging my head in mock-shame) hate to admit that I frequently skip. But, remember, your brows frame your face. What a difference well groomed brows make! Don't forget to blend when you fill them in.
Liner on the top of the lashes is somewhat dated and has an "aging" effect. Tight lining is much more natural and really makes your lashes stand out. Tip: You *must* use a waterproof liner with tight lining.
Lip Tips: Only dab gloss in the center of your lips! Vincent said that all over gloss can look overly wet.
After our makeup lesson. We had a consult with the makeup artists on the products that we needed and they escorted us back to the makeup counter. Lucky Magazine generously donated gift cards for all the party gifts! So, we were all able to shop with a nice discount!

Here is what I got: Full product reviews are coming soon! In addition to my purchases, Dior gave us a cute little gift bag with the Mascara Primer and a cute Metallic Dior zippered wallet/credit card holder. Also, we all got a current issue of Lucky Magazine to take home.
What an amazing event! Thanks again to the lovely folks at Lucky Magazine, Bloomingdale's, and Dior for a wonderful evening with my girlfriends!!!
Thanks to everyone for reading!
Stay beautiful!