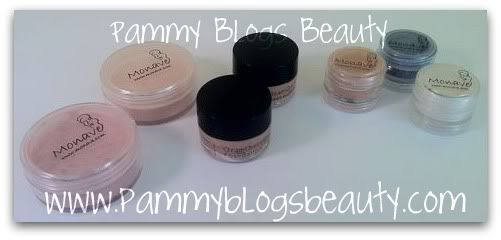 Monave is a great line for those of you interested in makeup that is pure and natural. Monave strives to produce high-quality natural makeup that is founded in organic botanical ingredients. Monave formulas are gluten-free, 95% Vegan, free of parabens/dyes/bismuth oxychloride, never tested on animals. Monave carries both makeup and skincare at affordable prices.
For my full review, photos, and swatches, please keep reading after the page break.
The Mineral Shadows or Versatile Mineral Powders:
Lets start off with some color! We will talk mineral shadows first. On the Monave site, they are referred to as Versatile Mineral Powders. They can be used as shadows or as eyeliner, blush, or nail polish color. It is up to you how you would like to use these powders. However, I tested and used them as eye shadows.
I tried the following shades: #81 Champagne, #66 Butterfly Blue (how pretty is that name!), and #61 m Semi-Matte White.
Monave Versatile Mineral Powders:
#81 Champagne: This is a beautiful shade pack with a ton of glitter/shimmer/sparkle! The sparkle has a silver cast and the base color is a true beige-champagne color. I like this worn on the lids or used as a "wash" of color. I apply by tapping a flat brush onto the lids to minimize fallout.

#66 Butterfly Blue: This is a lovely periwinkle-azure blue shade with glitter/sparkle that flashes gold, copper, and pink. It has a metallic sheen when applied. This is truly a unique color. While rich in pigment, it can also be blended out to look softer. I like wearing this shade in the outer corners of the eye. Pretty!

#61m Semi-Matte White: Like the name states, this is a semi-matte white shade. But, this goes so far beyond your run-of-the-mill white! While it looks like a matte white at first, when it catches the light it has a beautiful metallic sheen from the minerals. I love this as a "base" color to bring out the vibrancy in other shades. Also, I like to wear this in the inner corner tear ducts to brighten up the eyes.



Monave Mineral Setting Powder:
I sampled this in the shade Petal. This is a light setting powder that you can use either on its own or after foundation. In this hot summer weather, I like wearing this on its own to decrease shine and even out my skin with light coverage. This powder gives a smooth matte finish without looking powdery. The shade (see swatch below) is a nice match to my super fair skin (MAC NC 15). Because it is quite sheer, I think it could work for a range of skin tones. Unlike other mineral makeup that I have tried, this does not irritate nor itch my sensitive skin. I will continue to use this powder.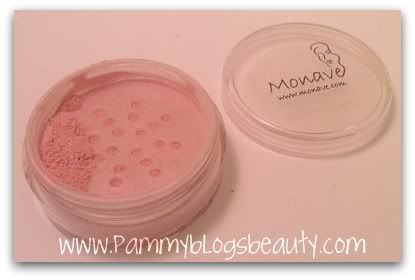 Monave Illuminizer:
This is a loose powder designed to give a beautiful glow to your cheeks and brow bone. It has a very pale pink cast (see swatch below) some shimmer to it, but it is very subtle when applied. The finish is a beautiful glowy mineral sheen. While I think this would have too much shine to apply all over, I love it at the tops of my cheekbones, down my nose, and dusted over my brows. Even my husband has told me that I look "glowy" when I wear this powder.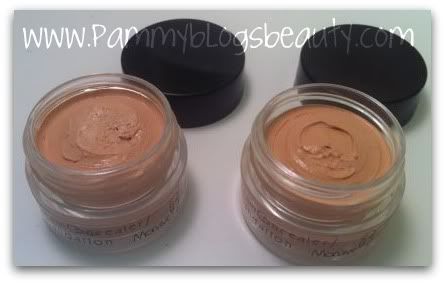 Monave Cream Concealer/Foundation:
This is a smooth and slightly "whipped" cream product. It does double duty. It could either be a full coverage foundation or a medium coverage concealer. I tested out two shades (see swatches below). I found that the shade Paula to be the closest match to my skin tone. But, it was still a little bit too dark on me. This product has a noticeable herbal scent. It smells pretty strongly of lavender to me. Generally I like the scent of lavender. But, I would prefer if this product was not scented.
I primarily tested this as a concealer as the coverage is way to heavy for me for a foundation. I love the buttery smooth texture of this product. The product literally smooths and sinks into your skin like butter. Fabulous texture! I felt that the coverage was just not quite dark enough for my super dark under eye circles (be sure to check out my Cover-It Concealer Review Series!). But, I did like this product for use around the nose area and on my chin.
The finish is very natural: not at all matte yet not totally dewy either. It is a "happy medium" as far as finishes go. I wish the coverage was a little heavier as a concealer because the texture of this product is ideal for the under eye area.
For those of you with under eye circles that are not very dark, this product might just be perfect for you. The good news, you can purchase sample jars on the website!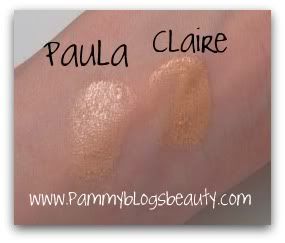 I really enjoyed testing and reviewing Monave Cosmetics! I think the products are of nice quality and are affordable. The biggest plus, the face products do not irritate my skin as other mineral cosmetics have. I would love to explore more of this line.
As always, thanks so much for reading!
Stay beautiful!
XOXO!