With my love of the beach, Stila, limited edition palettes, all-things-girly, and (of course) great makeup...these palettes are must-haves for me!
For Summer of 2011, Stila released 4 Limited Edition
Stila Girl Beach Palettes
. They are Stunning in Sayulita, Haute in the Hamptons, Striking in South Beach, and Wonderful in Waikiki. With their cute cover design, slim size, and value price (only $14.00), these are hard to pass up!
So far, I have purchased Stunning in Sayulita and Haute in the Hamptons. For my review, please keep reading.
The Palettes in General:
Each palette is packaged in typical Stila-style: Cardboard "book" style palette that opens and closes with a magnet. The inner lid features a small mirror and a numbered tip application guide. The right side houses the color cosmetic pans. The palettes contain almost everything you need for color: 4 eyeshadows (with dark shades that can double as liner), 1 blush, and one bronzer/contour/highlight shade.
The eyeshadows are nicely pigmented and they apply and blend well. There is some variation amongst the shades as far as texture and finish. But, overall these shadows are of very nice quality. I find them to be very wearable shades that were well selected to coordinate with the overall palette.
I found the blushes and bronzer/contour/highlighter shades to be very pigmented as well. In fact, I found that they were so pigmented and rich in color that I needed to apply them with a very light hand on my fair skin to achieve a natural looking flush.
The value is undeniable! Only $14.00 for a palette! What a steal for 4 shadows, a blush, and a bronzer/contour. I like reaching for these little palettes on days that I can't decide exactly what I want to do with my makeup. So, I just do my whole face from one of these palettes.
Stunning in Sayulita:
This was the first Stila Summer Beach Palette that I purchased. I love the neutral shadows! Very wearable for every day. The palette, as a whole, leans to the warm side of neutral.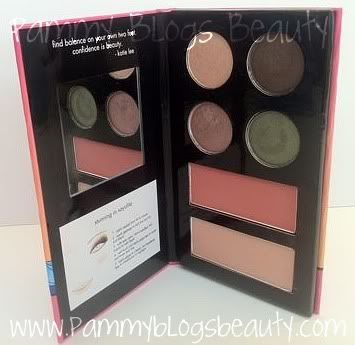 Shadows:
Starfish: Buttery champagne shade with lots of shimmer
Sandbar: Deep chocolate brown with copper shimmer/sparkle
Getaway: Brownish-taupe with a purplish cast and lots of sparkle (so pretty!!!)
Palm Trees: Shimmery pea/mossy green
At first I thought I wouldn't get much use out of the green (palm trees) shade, but I have really been growing to love green on my eye! Typically, I wear starfish on the lid and getaway in the crease with sandbar along the lash line and palm tree in the outer-v and blended.
I'll admit, the blush (playa) is not in a shade that I typically select for myself. It is a rich terra cotta-pink shade. But, it was fun to experiment with. The highlighter (banderas bay) is just gorgeous! It is a sparkly vanilla pinkish beige. Love it!
Haute in the Hamptons:
This one is my fav of these two palettes. Maybe its because the girl on the cover looks like me, lol...kidding (just a hair and attire resemblance). But, really, this is my fav of the two because the shades inside are just very suited to my fair and neutral-cool coloring.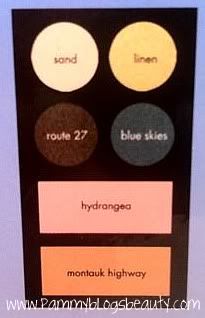 The shadows:
Sand: Vanilla with a hint of shimmer
Linen: True gold with tons of sparkle
Route 27: Deep dark chocolate brown with duo chrome blue/green micro glitter (so unique and pretty!)
Blue Skies: Medium-deep azure blue with slight shimmer
I like using sand all over as a wash with route 27 along the lash line, and blue skies on the outer lid. Blue skies is just lovely! Honestly, I don't have a blue shade quite like this in my collection. So, I am super happy! I don't find that I use linen very often. But, it is very pretty.
Ahh...the blush: I love it! Hydrangea is just beautiful! It is a lovely pink shade somewhere between a Barbie pink and a baby pink. It is totally matte and very wearable. The bronzer shade (montauk highway) is really more like a blush. It is a pretty rosey peach/pink shade.
What fun palettes! While I will probably pass on Wonderful in Waikiki (the shades look too warm toned for me), I am for sure going to pickup Striking in South Beach (LOVE that city...and one of my Besties lives there!). Fun, fun, fun! Can't wait to see what Stila comes out with next as far as limited edition/seasonal palettes!
Have you tried any of Stila's Summer Palettes?
Thanks so much for reading!