As much as I love my various assortment of lip balms, sometimes I just get "bored" with them and enjoy trying something new!
Lip balms, for me, are essential. My lips get so dry that I try to apply throughout the day. I keep lip balms in multiple locations to remind me to put it on: my purse, my desk, next to my bed, around the house, etc.
These little lip balms by DeVine are just great! I adore the wine theme! My husband is a wine and beverage distributor, so we have a great love of wine here at my house. While wine is great to drink, it also contains antioxidants.
DeVine Lip Shimmers
contain these beneficial ingredients.
Keep on reading after the jump for my DeVine Lip Shimmers Review!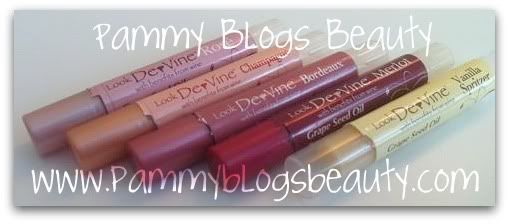 Look DeVine with Benefits from Wine!
These adorable little lip balms contain polyphenols which are wine derived antioxidants that fight free radicals and protect the skin from cell damage. Other key ingredients: Resveratrol and Grape Seed Oil.
The Skinny:
Ingredients are 100% Natural.
Gluten Free, Alcohol Free, and Cruelty Free
Available at Walgreens and at the DeVine Website for $4.99.
Slim design is great for portability. Small enough to keep in your pocket!
DeVine Lip Shimmers have both shimmery tinted lip balms and a clear/plain balm. Each balm is has a wine-themed name which corresponds to the tint color. I didn't swatch these for you as they are all so sheer. On the lips, the tints just give you a hint of color and a very pretty shimmer. The best part: These smell so yummy!!!
Vanilla Spritzer-Untinted balm with notes of warm vanilla. Great every day balm!
Merlot- Deep berry tint.
Rose-Soft pink tint, very natural. This one is my fav!
Bordeaux-Dark cherry tint. Slightly more tinted than the others.
Champagne-Very light strawberry scent and tint.
These are great everyday lipbalms! The Vanilla is your "basic" and the shimmery formulas are good either on their own or layered with glosses or lipcolor.
Exciting News: Giveaway Announcement
DeVine Lip Shimmers is offering a free assortment of DeVine Lip Shimmers to one of my readers. Keep an eye out for a giveaway post within the next couple days!
Stay Beautiful!