Hey there readers! I have a skincare review for you today. This review is for the
Andalou Naturals BioActive 8 Berry Enzyme Mask
.
Andalou Naturals is a natural skin, hair, and body care brand. They strive to create effective products that are both good for you and for the planet! They blend fruit stem-cell science with fair trade ingredients and organic product content (70% certified organic).
For more about this mask, please keep reading after the page jump.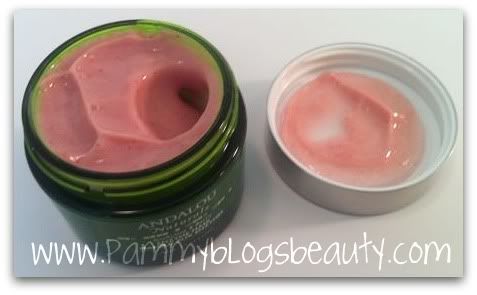 My Skin Background:
My skin is normal-dry this time of year (warm weather). But, it gets very dry in the colder weather. I have sensitive skin and am prone to skin irritations or allergies. I do not break out very often. But, I am currently pregnant. So, my skin gets "temperamental" at times. Since becoming pregnant, I am avoiding many chemical ingredients. I have been seeking out natural alternatives to skincare so that I can be good to my skin and to the baby! While I do not have any major lines or wrinkles, I am interested in age prevention as I am in my 30s. When my skin gets very dehydrated, very fine lines emerge in my eye area. My primary skin concern is my difficulty with very dark under-eye circles.
BioActive 8 Berry Enzyme Mask:
This is a mask designed for sensitive, dry, and/or mature skin.
According to the Andalou site
,
fruit stem cell science renews skin at the cellular level blending nature and knowledge for visable age defying results. BioActive 8 Berry Complex, Advanced Fruit Stem Cells, and Resveratol Q10 create a portfolio of antioxidants to slow cellular damage and stimulate skin firming collagen and elastin, as natural fruit enzymes reveal skin's healthy vitality for soft, smooth, ageless beauty.
Other ingredients include
: Papain (papaya enzyme): gently exfoliates and clarifies, Cranberry Juice: hydrates and improves circulation. Plus the BioActive 8 Berry Complex, like the name suggests, contains Acai Berry, Aronia Berry, Bearberry, Bilberry, Black Elderberry, Goji Berry, Rosehips Berry, Sea Buckthorn Berry with Bilberry Fruit Stem Cell Cultures.
The Skinny:
This product is vegetarian and cruelty free! This product is also gluten free!
This mask retails for $14.95 on the Andalou site. This sized container should last you a long time.
Packaged in a pretty green screw-top plastic jar.
The Scent:
The scent is so amazing that it gets its very own section in this review! OMG! Seriously, you must smell this product to believe it. It smells so very natural and fresh: like berry juice! Honestly, this product smells so good that you will be tempted to eat it (lol, I promise that I didn't!). You guys know that I am not a huge fan of added scents, but this scent is simply the beautiful natural berry smell of the ingredients. I did not find the scent to be irritating to my sensitive skin.
The Product:
The product itself is a thick and rich pink whipped mask. It feels like a gel when you apply it to your face. It goes on semi-clear.
How to Use:
You apply the mask to clean and dry skin. I like to apply after I wash my face in the evenings. The mask feels slightly cooling and refreshing going on. Leave the mask on for about 10 minutes. It slowly dries. But, it does not get "hard" like a clay mask. You will might feel a slight tingling sensation (which feels good, not like an irritation). Rinse skin well and gently dry your skin. This mask rinses very clean. You should use this mask a maximum of 3 times per week. I typically used 1x per week. I always follow this mask with a moisturizer.
I really enjoyed using this nice smelling mask! It was completely non-irritating. Actually, I feel that it soothed and softened my skin. After rinsing the mask, my skin feels refreshed and very soft. This mask is a total treat!
Thanks so much for reading! Stay beautiful!