Hello Dolls!!!
As ya'll probably already know, I have a total "thing" for blushes! There is just nothing like a super flattering blush to instantly perk you up and make you feel pretty, fresh, and healthy! I have been loving this blush for a couple months already and just realized that I haven't reviewed it yet!
I spur-of-the moment picked this up while browsing at Sephora with my Bestie. No, I hadn't been looking for a blush that day and quite honestly, I rarely have spur-of-the-moment makeup purchases. Most purchase are well researched and thought-out. What can I say, I am totally "type A" and I apply research and careful decision to all aspects of my life! But, when presented with a a super pretty makeup color in adorable shiny pink packaging from a brand that I love and trust like BeneFit, well, I just had to try it! I know, I am a sucker for cute packaging! BeneFit *always* delivers when it comes to that!!!
As usual, I digress! ;) This review is for
bella bamba
Blush by BeneFit. So, now on to the blush review, swatches, and photos!!! Please keep reading after the jump!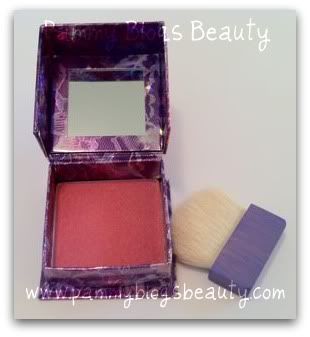 Oh, where shall we start? The packaging you say? Alrighty!
The Packaging:
This blush is seriously TDF cute!!! I mean, really!!! It is your typical BeneFit style "boxed" blush. It is a square cardboard box. Unlike previous BeneFit Blushes, this one has a flip top with a mirror inside rather than a lift-off lid.
The box itself is gorgeous!!! It has a purple/orange/pink color with a really cool hologram overlay that just makes the whole box sparkle and reflect prisms. This is supposed to be a "3D" blush, so I think the packaging is trying to portray the 3D effect?
The Brush:
Nestled inside is a little white natural hair brush with a purple wooden base. This rests on a clear plastic (disposable) insert. Side note: I always keep these clear plastic inserts for my BeneFit blushes as I do not like the blush to sit right on top of the product. Granted, I never use these brushes and probably could just remove them. But, I somehow always just keep the brushes nestled in that little disposable clear plastic tray.
This is a pretty darn decent blush brush! BeneFit has stepped up their game with their brushes! Unlike earlier versions of BeneFit boxed blushes, this brush is dome shaped and seems softer. You could totally use this to apply the blush. I still end up using my regular blush brush out of habit. But, you could totally use this brush that is included in the package and it would work just fine!
The Blush:
Here's the skinny:
You get a large sized square pan. Yes, this product is expensive, but you really do get a lot of product! I find that BeneFit blushes really do last me forever (and they are some of my most frequently reached-for blushes!). I love square pans as you can really swirl and tap your blush brush well within this box. I feel that the deep box shape actually gives you more mileage from this product. How? Well, I always tap off my powder brush back into the box so that any stray powder goes right back on top of the pan. Make sense? I feel that this helps reduce product waste. I always use my BeneFit blushes to the very last bits of the pan! ;)
The Scent: Yummy!!! There is a light and almost fruity scent to this blush. I literally smell it every time I open the box, tee-hee! Yes, I know, I am a total nut I tell ya!
The Color: This is a shimmery and "perky" bright watermelon-like pink blush. Because it packs a lot of pigment it looks somewhat bright on my super fair skin. Bright blushes are very *in* for spring and summer. So, if you are fair like me, and want a nice POP of color, you will get it with this pretty blush. It has a lovely golden shimmer. What a unique shade! I honestly don't have a blush that is anything like this one! :)
The texture is a bit powdery. But, it blends and applies well. All the stray powder gets contained within the box container.
Well, if you are not a fan of shimmer, then you might not like this blush. But, I think the shimmer wears very nicely and is not over the top. You just get a nice glowy look. The shimmer doesn't tend to emphasize pores as some shimmery products do. To me, the shimmer plus the pretty color is a total perk-me-up!
Now, while the box is incredibly cute, I must mention that it is not totally "practical". It is a bit bulky. So, this is not the most travel nor purse friendly item. This cute blush box screams to be displayed! If you have a vanity area set up. This would look very pretty on display.
Last but not least, I just *enjoy* using this blush. The combo of the pretty packaging, the lovely light scent, the amazingly pretty and flattering color, great pigmentation, and wear...you just couldn't ask for a better blush "experience"! It will make you want to embrace your girly side!!! :)
Yes, the price is so steep. But, I truly do love this product! This makes me look forward to more BeneFit blushes in the future as I always am happy with BeneFit Blush Purchases! :) Even Spur-of-the-Moment ones! ;)
Thanks so much for joining me today! Stay beautiful!!!