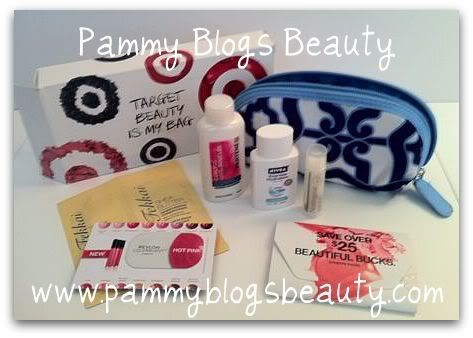 Hello my lovely readers!
This is just a quick post today to show you some cute samples that I got in the mail the other day from Target.com! What a nice surprise!!! I totally forgot that I had signed up for these. Thanks again to G over at
Noveau Cheap
for posting this sample opportunity from Target! Did anyone else sign up for this? Did you receive it too? This was just so "fun" to open! :)
The Package:
I got an adorable Sonia Kashuk makeup bag filled with travel sized goodies and coupons! :) The makeup bag itself is adorable and the ideal size for my purse. :)
Here is what was in the bag:
$25 worth of Target coupons for Beauty Items! Target has such great prices on health & beauty items already, that I will for sure use these coupons. Good deal!
Nivea Express Hydration Daily Lotion
Pantene Curly Shampoo
A *full sized* Neutrogena naturals Lipbalm (I mean, who can't use a lipbalm! Plus, I have been wanting to try this new Neutrogena line!)
Foil packet sample of Fekkai Shea Butter Moisturizing Shampoo and Conditioner. These samples are a pretty good size (one full use) so I am going to stick this right in my travel bag for my next trip!
Revlon Colorburst gloss Foil-on-paper sample (probably not enough to "use", but I should be able to get a good swatch).
Here's to hoping that Target will offer some more beauty-related sample deals!!! :)
Thanks for reading! XOXO and Stay Beautiful!