Stila Red Carpet Palette #3 in "Stunning Starlet"
: Review!
Hello dolls! Did the awards season get you inspired? I know 99.9% of the reason that I watch all of those shows is for the amazing fashion, hair, jewelry, and makeup!!! Those lucky stars!!!
Well, if you are feeling like you need a little "star treatment" yourself, then you might want to check out these cute Stila Red Carpet Palettes at Ulta! They were released a couple months ago, and I am quite sure they are still available, although I did snatch the last one at my local Ulta. Actually, I purchased this cute palette set the day before the Academy Awards. I must admit, I can't resist a good "theme" and it was "Red Carpet Season"!!! So, the timing of the Stila's release of this palette was ideal! Now, if only I had a red carpet event to go to, lol!
But, as spring approaches, so do festive spring occasions and events such as weddings, parties, and for those vastly younger than me...formal dances! So, now is a perfect time to bring some glamour into your look and experiment with "red carpet inspired" makeup for a special event or just for fun!
Well, the Stila Red Carpet palettes are going to give you all of the color cosmetics you need for a cohesively beautiful look! I lucked out when I purchased mine as Stila was doing an event at Ulta (I got a free lipglaze with my purchase, Score!)
For my review, swatches, photos and more, just keep on reading after the jump!
Wow! What a great deal! I *LOVE* the prices that Stila has been offering lately with their collectible sets and palettes and hope that this is a trend that will continue! This collection has 3 "smaller" palettes:
Stunning Starlet
($25),
Glamour Goddess
($25), and
Breathtaking Beauty
($25) (which I origionally had my eye on, but it was out of stock when I was shopping!), a BIG palette:
Camera Ready Blockbuster Palette
($42), a full makeup kit (in a case):
Music's Biggest Night Makeup Playera
($60), a smaller eyeshadow palette:
Red Carpet Ready Eye Shadow Palette
($20), and a
lipcolor
($22).
The set includes a palette with 6 eye shadows, an all over shimmer powder, and a convertible color (cream lip color and blush in one) and a mini Glamoureyes mascara. With the Ulta special Stila event, I was also able to get a Stila lipglaze, in kitten, for free with this purchase. We are talking well over $100 worth of products for only $25. Ya'll know that I *heart* a good deal! Especially when it is from one of my fav makeup brands!
The Skinny:
It probably goes without saying, but this palette/set is an *amazing* deal for $25!!! Shadows, lipcolor/cheek color, and mascara all in one kit! :)
The shadow selection is beautiful!!! The colors are neutral yet colorful! There are two shimmery pink highlight shades, a deep Burgundy, lovely light purple, blue-ish charcoal, and a mid-tone brown. The colors are organized left to right as base, lid, and crease colors. That kind of organization is especially great for beginners, but also helpful to keep the palette organized.
The shadows are all richly pigmented and buttery in texture. These apply and blend like a dream! Super great quality! In comparison to some of my recent Stila purchases (the Travel Palettes), the shadows in this Red Carpet set seem more pigmented than in my Stila travel palettes. Anyone else notice this?
When these shadows are applied together, the overall look is very shimmery and beautiful! These are definitely shadows for a glamourous evening look.
Shadows: Here is a shade breakdown:
Paparazzi (base): A very light, shimmery highlight shade with microglitter. Absolutely beautiful! This packs a ton of sparkle and shimmer. Just gorgeous! This one is probably my fav of the whole palette. I love this on the lid actually. It really brightens your eyes and makes you look "awake"! :)
Red Carpet (lid): A bronze flecked (microglitter) deep burgundy. Lovely shade. It really makes my blue eyes pop!
Hollywood (crease): A matte mid-toned brown. I love this just above the crease to blend out smoky shades. I have really fallen in love with shadows like this lately. It is so nice to have a matte shade included in this palette. Mixing matte with shimmer/glitter shadows brings so much dimension to your look. IMHO, all palettes should contain a shade such as this! Seriously, it seems like such a tame and bland color at first glance, but wow! This is a great shade!!! Great for crease work, adding dimension, or even doing your brows!
A List (base): Here is another shimmery light pink that looks a bit more "white" than Paparazzi. So glam!
Vip (lid): Have I mentioned lately how in love I am with purple-toned shadows? Well, this one is just lovely. A light-mid toned purple with purple and blue micorshimmer. I actually like wearing this one as a crease shade instead of a lid shade. So beautiful!
Backstage (crease): This is a blue-ish charcoal grey with charcoal microglitter. I like doing outer "v" work with this one.
Kitten (all over shimmer)
: This is a pure gold highlight shade. It actually looks "too gold" on me when worn as a highlight on the cheeks, so I prefer wearing this as a shadow. I have a Stila Kitten single shadow and this Kitten highlight is "golder" than my kitten shadow (Kitten shadow has a hint of pink, while this Kitten highlight is pure gold).
Stunning (Convertible Color):
Convertible colors are multi-use. This can be worn as a blush or a lip shade. The shade "stunning" is a reddish brown. This is much to ruddy and warm toned on me as a blush (but would look nice as a blush on those with warmer toned skin or darker skin). It shows up rather orange on my skin (see swatch). So, I prefer wearing this as a lip shade with just the lightest tad dabbed on my lips.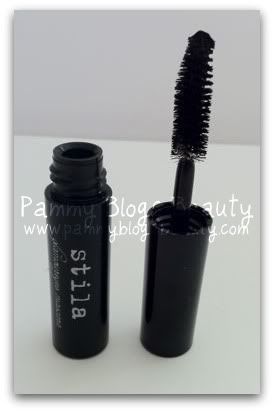 Glamoureyes Mascara:
This is actually my first introduction to Stila mascara! Generally, I am a total drugstore girl with mascara (I replace frequently, so I never want to spend very much on it). So, I am super happy that this was included in the set! I love how tiny it is (ya'll know how I like my small-sized products). Great for travel or your purse! It has a thick and dense brush (which I like). I got both length and volume with this mascara.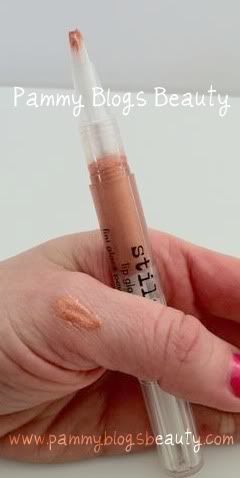 My free gift:
Stila Lipglaze in Kitten
: Have I ever mentioned to you readers that Stila lipglaze is my all-time fav high end lipgloss (if I haven't, then maybe you have noticed that my logo-image girl is holding what looks like a Stila gloss)? I adore the texture and scent of Stila glosses!!! Also, I like the click pen style applicator with the brush. Super easy to apply Kitten is a shimmery pinkish/goldish/bronze gloss. It packs a ton of shine and shimmer and it tops off this "glamorous/red carpet look". It is moisturizing and long lasting (for a gloss) without being overly sticky. I find the shade to be a bit "too gold" for my coloring. But, I like to use it for just a pop of shine on top of lipstick (just in the center of the lips and blended out).
In summary, I totally love this palette! You get a great range of high quality shadows in a variety of finishes. The shimmer colors give such a glamorous punch to your look! Really, the sparkle factor is just beautiful (and very Red Carpet!). The shades were extremely well chosen for this palette. You can do your entire eye-look with this kit! No need to reach for any other shadows! I love that!!! Also, you get a great highlight shade: Kitten (which I really prefer as a shadow), a Convertible color, and a mascara! Everything you need to create a great look!