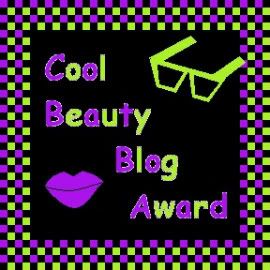 Hey there dolls!
Just a quickie post to announce that I was awarded the "Cool Beauty Blog Award" from Rizzie over at
Glamadazzle
. So, Ya'll head on over and check out her amazing blog! She is a super sweet blogger! :) She also has a super-duper giveaway going on, so check out that link in my side bar. :) Thank you Rizzie!!!
So, the rules with this Cool Beauty Blog Award:
Thank the person who gave you this award (check! See above).

Share 5 "cool" facts about yourself! (e.g. you love blue lip gloss, you love neon eyeshadow...)

Pass on this award to 5 beauty blogs you think are the COOLEST ever, and let them know!
Okay, so....here it goes!
Five "Cool Facts"
I'm Trendy. I adore Fashion!!! I am a Fashion Magazine-junky who loves scoping through the pages to finding the coolest new trends...and following them. I try to recreate looks by "Shopping my own closet", but yes...sometimes new purchases are required! ;) So, my style is somewhat of a merge with classic and trendy...I'm an Urban Hipster, lol!
While I love being fashionable, I truly am a geek at heart! I made good grades all the way through school and am super-quiet when you first meet me. I am a borderline Sci-Fi/Fantasy Fiction (esp the "vampire" genre...and, um yah, Star Wars!) geek who reads all the time! :)
I have a tattoo. I got it a million years ago it seems. It is a tiny blue moon with stars on my right shoulder. No future body art is planned, although I have always wanted to get a Welsh Dragon tattooed somewhere and the Chinese symbol for love and patience. Hmm...
I think I look the "coolest" when I have a blunt angled bob. I had this style for years and am contemplating growing out my bangs and going for this edgier look again. I can do edgy, but it looks more "cute with an edge". LOL, I have a bit of a "baby face" so I can only pull off "this much" edge. :)
Edgy makeup? Hmm, probably the "coolest" makeup that I go for is in the realm of nail polish. I will pretty much wear any color, but tend to go for the wild colors on the toes. I LOVE glitter polish and love wearing glitter polish on my fingernails! Huge fan of glitter here!!! Other "cool" makeup looks that I go for are purples...purple toned lip colors are my faves lately!
Now here is my list of cool blogs (too see links for other blogs that I love and adore, click some of my previous blog awards on my side bar and it will link you to blogs that I have awarded in the past).
In no particular order (go check out these amazing blogs!!!)
Thanks for reading and stay beautiful!!!