Affiliate Link
Press Sample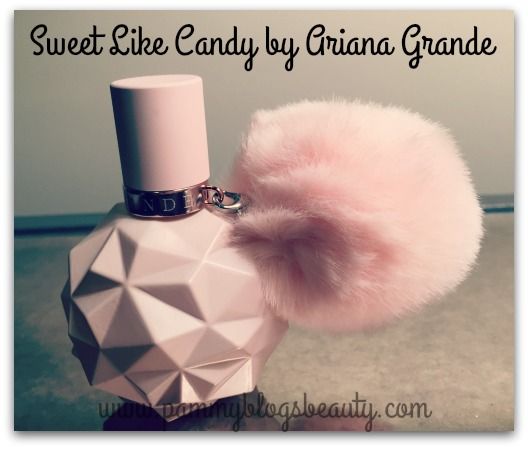 Sensational Scents:
It is almost Fall. That means I am on the cusp of a major perfume rotation! In the Spring and Summer, I tend to switch to super light scents with refreshing appeal. As the weather starts to turn towards Fall, I start craving my deeper, sweeter, and muskier scents.
I am already a fan of Ariana Grande's fragrances. So, I was excited to hear about her newest scent (released in July of 2016) Sweet Like Candy. Sweet Like Candy is a nice new twist on her orgional debut fragrance. This is a sweet blend of blackberry and bergamot combined with delicate florals and finished off with deeper woodsy notes as well as marshamallow and vanilla. I must say, those notes are almost always the types of scents that I gravitate towards this time of year.
SWEET LIKE CANDY by Ariana Grande
, is the newest pillar of her top selling fragrance collection in creation with LUXE Brands.

The jewel like bottle is delectably dipped in a ballet pink, matte candy coating - adorned with a fluffy almost whipped cotton candy pom pom. As the name alludes, the scent is a sweet addiction with notes of sugar-frosted blackberry, creamy cashmere woods, marshmallow and vanilla.
THE FRAGRANCE
A luscious burst of sugar-frosted blackberry and juicy Italian bergamot sparkles with sweet addiction, while creamy cashmere woods whipped with a delicate touch of pink floralcy will keep you coming back for more. The final wink is sure to delight with velvety layers of crème de cassis, fluffy marshmallow and sexy vanilla blended together to leave a head turning, alluring trail.
Sweet Addiction (TOP)
Blackberry
Italian Bergamot
Pear
Delightfully Dangerous (HEART)
Jasmine Sambac
Plummeria
Dewy honeysuckle
Sexy Wink (DRY DOWN)
Crème de cassis
Marshmallow
Cashmere woods
Sexy Vanilla
The scent is a sweet scent with a girlie and young vibe while also displaying a deep sexiness. I really enjoy wearing it! I often get asked what I am wearing when I am wearing Sweet Like Candy. The scent is fun and flirty and sexy without being at all overpowering. It really has a nice balance! I completely enjoy wearing it!
The Packaging:
Can we just take a moment to admire the total cuteness of this bottle! The bottle is a matte ballet pink adorned with a cute puff. So cute!
The Sweet Like Candy Collection:
The collection includes the following:
Eau de Parfum: 3.4 oz spray $59

Eau de Parfum: 1.7 fl oz spray $49

Eau de Parfum: 1.0 fl oz spray $39

Eau de Parfum .34 rollerball $20

Hair Mist with Pom Pom Hair tie $20
Sweet Like Candy by Ariana Grande is available at Ulta. Ulta has such great selections for perfume! Be sure to check it out next time you are in Ulta doing your beauty shopping!
Affiliate Link