Affiliate Link
Press Sample
I have offically jumped on the Essential Oils bandwagon! I have been seriously exploring the world of Essential Oils over the past few weeks and I am totally hooked. From diffusing oils in my home, to applying topically, to making fun DIYs...there are so many ways to encorporate Essential Oils into your life! Not only do you get the amazing benefits of aromatherapy, but I really do believe there is a medicinal quality to Essential Oils.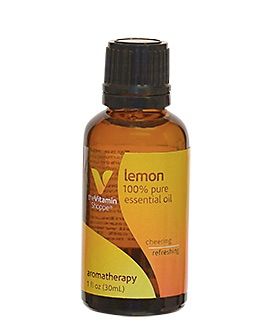 Lemon Sugar Scrub:
Lemon (and other citrus) essential oil is fabulous for improving your mood, purification, immune support, and cleaning. The scent is very invigorating and uplifting! I recently made this super easy Lemon Essential Oil sugar scrub with The Vitamin Shoppe's Lemon Essential Oil. It is super easy and fun to make. I like using this homemade scrub in the shower in the mornings for an invorgorating start to my day. Note: with any citrus Essential Oil, be sure to apply a SPF as citrus oils can increase sun sensitivity.
I am really impressed with both the quality and the scent of The Vitamin Shoppe's Essential Oils. For the quality and price point, you really can't beat it! My
Lemon Essential oil from The Vitamin Shoppe
is a huge 30 ml/1 fl oz bottle of 100% pure Essential Oil and it retails for $7.99.
Ingredients:
Directions: Use sugar as the base then add in oils. Mix ingredients together and apply.
Lemon Essential Oil Counter Cleaner:
I have been using vinegar and water to clean my counters for years. Now that I am into essential oils, I can amp up my usual vinegar and water mixtures with naturally antibacterial essential oils like lemon essential oil.
Here is my Lemon Essential Oil Counter Cleaner recipe:
1 1/2 cups water
1/2 cup vinegar
8 drops lemon essential oil
Add ingredients to a glass spray jar and shake up.
More Ideas for Beauty DIY's:
DIY Recipes:
• dry scalp? apply a few drops of avocado oil to help restore moisture
• chapped lips? add a few drops of argan oil to brown sugar for an exfoliating lip scrub
• split ends? try a few drops of macadamia or argan oil in your hair
• dry skin? add 1 tbsp of coconut oil to your bath water, soak and enjoy!
• dry cuticles? rub a few drops of argan oil on your nail beds for a moisturizing treat
Sparoom Aromafier Fragrant Aromatherapy On-The-Go:
No essential oil experience is complete without a diffuser! Now, I do love using my plug in ultrasonic diffuser. However, a portable battery operated diffuser like the Sparoom is a total essential! I love that you can move it from room-to-room depending on where you are in your house. Plus, it is travel friendly! It is a compact little unit that really pumps out some great diffused aromatherapy! It has a pretty powerful battery operated fan (note: it also has a USB plug so you can run it from your computer, too).
The Sparoom Aromafier is my go-to diffuser for my kids' rooms and the play room. I like that I can set it out of reach (and not have to worry about plugging it into an outlet). I really enjoy diffusing uplifiting blends in this for my kids playtimes. Plus, when my kids are under the weather, I can put this in their rooms to diffuse healing aromatherapy overnight. I am thrilled with it! It is super easy to use. You literally just add a few drops to the removable pad and then turn the device on with a button. It is that easy! I highly recommend this portable diffuser. Plus, what a great deal! This mini diffuser retails for $10.49 at the Vitamin Shoppe.
I am constantly searching Pinterest for Essential Oil information and fun ideas for blends and diffusing as well as DIY Essential Oil projects. If you are not already following, please check out my
Essential Oils Pinterest
board. I add new pins to this category almost daily! ;) Also, be sure to comment below if you have a favorite Essential Oil DIY that you would love to share or a link to your blog with DIY recipes and Essential Oil ideas! :)
Affiliate Link