Affiliate Link
Press Sample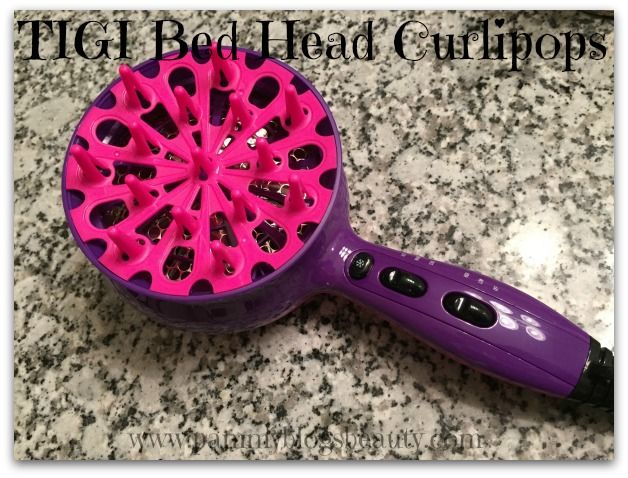 Every once in awhile I come across an item that is just too cute to not mention! That is why I am excited to tell you guys about Tigi Bed Head's adorable Curlipops Tourmaline Ionic Diffuser Dryer. I mean, girls...it is pink and purple! ;)
No, I do not have curly hair that I need to diffuse. However, I do have hair that can caputure a bit of a wave when coaxed. This dryer is great for that! If I want to go with the beachy sexy look, I just spray in a salt-spray and then just scrunch up my hair while it air dries. If I need to get out the door, I will finish up my scrunching and drying with this Curlipops Diffuser dryer.
I have a few other great uses for the
Curlipops dryer
! I do intensive protein hair treatments about 2x every 6-8 weeks. If you have not read about my Aphogee hair treatment routine, be sure to check out that post here. During the Aphogee treatment, I have to sit and dry the treatment into my hair for about 45 minutes. This process is *so much easier* with the curlipops dryer with the diffused heat (rather than a strong air flow from a typical dryer). So, I am thrilled!!!
Also, I must mention, my daughter loves it when I dry her hair with the Curlipops rather than a regular dryer! She is only 4 and has never really loved the hair drying experience. Well, the more gentle flow of the Curlipops dryer is much more tolerable for her.
The Curlipops has two heat settings and two speeds (plus a cold shot button) to customize your drying experience. Also, it has an attachment that you can use (or leave off). The dryer has 1875 watts of power. The Curlipops Diffuser retails for $34 at Ulta.
The
Curlipops Diffuser Dryer
is getting a lot of use in my house! Be sure to check it out next time you are in Ulta, it is just too cute to pass up, right?
Affiliate Link