Affiliate Link
Press Sample
Happy National Relaxation Day: Celebrate with Luxury Products!
Did you know that today,
August 15th
, was
National Relaxation Day
?
While that day has passed, I think that finding time to relax every day is so imortant! I mean, I know that I could certainly use some relaxation. Day-to-day life can be stressful. We must feed our mind and soul and nourish it when we can! Why not celebrate this idea by treating yourself to luxuries at home with beautifying essentials from
C.O. Bigelow, mē
and
Soap & Paper Factory
.
Why? Because you deserve a treat!
I love C.O. Bigelow candles! The Lavender Peppermint is one of my favorites. It literally smells like a spa. The scent is lasting and the scent throw fills the whole room. The frosted glass candle holder has an understated eleagance that I really appreciate for my home decor. A coveted collection of scented candles from America's oldest apothecary. From imbuing every room with lush fragrance to setting soft mood lighting, candles turn your home into a sanctuary. The brand's dedicated chemists developed nine scented candles using a proprietary blend of waxes with lead-free wicks to ensure even melting. Each specially-crafted candle is infused with the highest quality fragrance oils at concentrated levels to fill your dwelling with timeless scents. Available in Freesia, Lemon, Amber, Lavender-Peppermint, Musk, Eucalyptus, Fig, Smoke and Neroli
I didn't get a chance to try out the eye mask, however, the satin pillow cases are so luxurious! I feel like consistant sleep on both these pillow cases both soothes your skin and diminishes frizz in your hair. I
n as little as two weeks, see brighter, glowing skin. In as little as four weeks, see fine lines disappear.
Copper
is an essential mineral known to enhance skin appearance for a healthy, youthful glow. Whenever the beauty boosting pillowcase or eye mask touches your skin, the copper ions in the fabric interact with the skin's upper layers during sleep to improve the appearance of skin overnight.
Cost: $55 pillow case, $25 eye mask
This is probably one of the prettiest bottles of bubble bath that I have ever seen. It almost looks like a very tall and thin wine bottle. I love the look of this bottle on my bathtub. The scent is gorgeous and I am a fan of the decadent bubbles. This would be a great treat for yourself or it would make a gorgeous gift! This super luxe bubble bath is skin softening and so bubbly! The unique fragrances possess qualities to relax and nurture. These products are also paraben and sulfate free. Available in Green Tea, Gardenia, Lavender, Lemon Verbena, Jasmine, Marine, Tuberose and Neroli.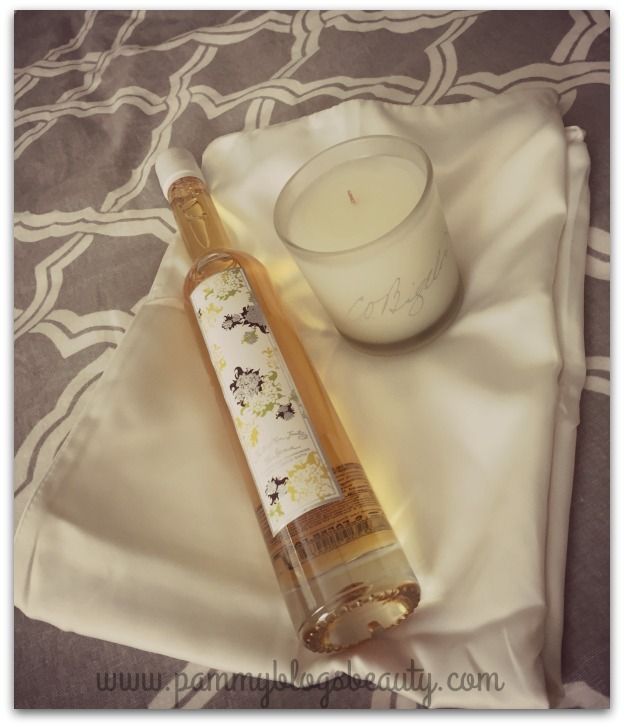 I hope you have a relaxing day! I know that I am planning a nice bath for tonight. We should all relax more. Especially us busy Moms. We need pampering, too! :)
Affiliate Link