Affiliate Link
Press Sample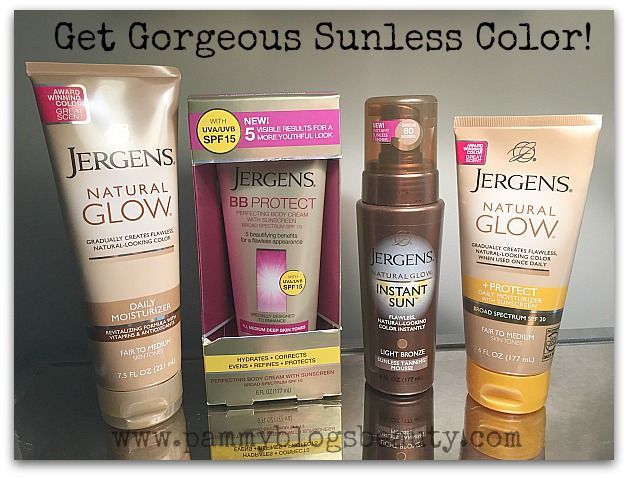 It is already Back-to-School time here in GA. However, the sun is still shining and the Summer heat is still blazing. Gone are the days of lounging at the pool during the week. However, it is still the time to bare your skin and show off your Summer glow!
As ya'll know, I am a super fair girl who rarely tans. I like to play it safe in the sun and acquire my Summer glow sunlessly. That is right. I am all about sunless tanners and bronzing products! For the longest time, Jergen's Natural Glow has been a staple in my body skincare routine. I practically use it year-round (with weekly use in the warmer months when I bare more skin). So, I am super excited to share today about some awesome new sunless tanning products from Jergen's as well as some old favorites of mine!
I can't even count how many tubes of this amazing product that I have purchased in my lifetime. lol! Clearly, I love it! There are a few different formulations of this product and I have just about tried them all.
Right now I am switching off between the
Jergen's Natural Glow Daily Moisturizer
and the
Jergen's Natural Glow + Protect
(this is the Daily Moisturizer plus and addtional SPF 20). This product gives me an easy gradual tan within 2-3 days of application (with color noticable after the first application). I love using this product because of the ease. Rather than go through the full self-tan process with a classic self tanner (which involves careful exfoliation), it is much easier to slap the Jergen's Natural Glow on my skin a few times a week on a weekly rotation. So easy! You apply it just like you would a moisturizer. I primarily use this on my legs to give them some color. Otherwise, my legs would be stark white! My arms and chest get sun from just being outside (even with SPF). So, application of Natural Glow on my legs really evens out my color for my whole body. I just LOVE this stuff and will continue to use it for as long as they make it!!! I am a huge fan!
This super light and airy mousse gives such gorgeous and natural looking color. The mousse itself dries in only 60 seconds. So, you do not have that down-time waiting for the product to dry before getting dressed. Love that! For my light skin tone, I use the Light Bronze formula. This is such a quick and easy way to get a tan! I use this product and then can keep extending my tan with the Jergen's Natural Glow Daily Moisturizer.
Jergen's BB Protect SPF 15 Body Cream:
I have been a loyal fan of Jergen's BB Body Cream ever since it first launched. So, I am super excited about this new BB Protect Body with SPF 15! This body cream is awesome! It has a beautiful perfecting luminous skin-adjusting tone that just makes your skin look so lovely. I especially love using this on my arms and legs and large areas of exposed skin. Now that it has SPF 15, I can also protect myself from the sun while wearing this product! This time of year, I prefer body creams with SPF. So, now I don't have to sacrifice SPF for a luminizing and perfecting tint. I can get both in one product! Plus, can I just mention that I adore the scent. It has the same scent as the origional Jergen's BB Body and I just love it. If you are a fan of Bath and Body Works Twilight Woods scent, I would say this scent is a near dupe for it.
If you are looking for new ways to get your Summer Glow sunlessly, be sure to check out these awesome products from Jergen's! This is just a small assortment of the complete Jergen's Natural Glow range. Be sure to check out the full range of
Jergen's Natural Glow products here
!
Affiliate Link